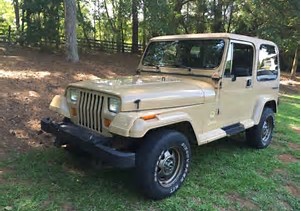 The Jeep Wrangler Sahara is a cheap fun to drive car that you could take anywhere. it has a soft top that is difficult to put up but you can equip the Jeep Wrangler Sahara with a hard top for long distance traveling or rainy/bad weather. It has a spear tire mounted on the back for easy access when needed. Besides the soft top being hard to operate, it has a couple more issues. It is a ruff ride and has about the same amount of noise driving it as a motorcycle. Even though it has its difficulties, you get an off-roading experience from this Jeep like no other!
Jeep Wrangler Sahara Edition:
Production: 1997 - Present
Class: Off-Road Vehicle
Body Style: 2 door Off-Roader
Length: 12'8
Width: 5'8
Height: 4'5
Transmission: 5 Speed
Power:
Ad blocker interference detected!
Wikia is a free-to-use site that makes money from advertising. We have a modified experience for viewers using ad blockers

Wikia is not accessible if you've made further modifications. Remove the custom ad blocker rule(s) and the page will load as expected.