Jay Leno (born April 28 1950) is an American comedian, actor and television host.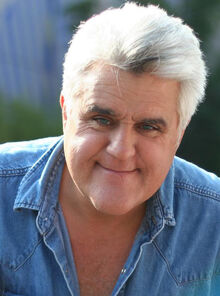 Leno owns approximately 286 vehicles (169 automobiles and 117 motorcycles). He also has a website called Jay Leno's Garage, which contains video clips and photos of his automobiles in detail, as well as other vehicles of interest to him. Leno's Garage Manager is Bernard Juchli. Among his collection are two Doble steam cars, a sedan and a roadster that were owned by Howard Hughes, and one of nine remaining 1963 Chrysler Turbine Cars.
He has a regular column in Popular Mechanics which showcases his car collection and gives advice about various automotive topics, including restoration and unique models, such as his jet-powered motorcycle and solar-powered hybrid. Leno also writes occasional "Motormouth" articles for The Sunday Times, reviewing high-end sports cars and giving his humorous take on automotive matters.
Leno opened his garage to Team Bondi, the company that developed the critically acclaimed video-game L.A. Noire, which is set in Los Angeles in the late 1940s. Leno's collection contained almost 100 cars from this period, and allowed the team to recreate their images as accurately as possible. Some of his notble cars he owns includes the McLaren F1, the Lamborghini Miura, Countach, as well as the original Ford Mustang Concept.
Ad blocker interference detected!
Wikia is a free-to-use site that makes money from advertising. We have a modified experience for viewers using ad blockers

Wikia is not accessible if you've made further modifications. Remove the custom ad blocker rule(s) and the page will load as expected.