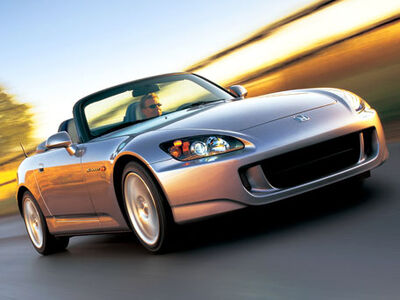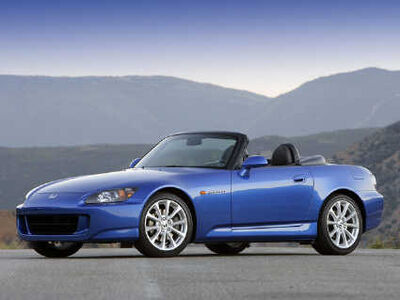 The Honda S2000 is a roadster that was manufactured by the Honda Motor Company to mark their 50th anniversary. The Honda S2000 did not disappoint with its 9000 rpm redline (Giving it the highest production car redline), perfect 50-50 weight balance and "X-bone" frame. The car was originally launched in 1999 as a 2000 model and continues in the tradition of the lightweight roadster "S" cars such as the S600 and S800.
With over 40 years of Honda racing technology packed into this little ragtop roadster, the Honda S2000 is at home both on the track and on the road. It is a sports car that is desired by both weekend warriors and tuners alike. They appreciate the car for its incredible stock performance as well as its thriving modification following.
Like previous "S" cars, the name of the S2000 comes from its engine displacement of approximately 2000cc (although Honda would later introduce a 2200cc model, still under the S2000 name). From its inception in 1999 to 2003, S2000s were manufactured in Honda's Tochigi plant. S2000s since then have been manufactured in the Suzuka plant.
See Autopedia's comprehensive Honda S2000 Review.
Recent Changes
Edit
Due to the fallout of the 2008 Credit Crisis and the recession it brought, Honda, struggling as every other manufacturer, has decided to bring an end to the slow-selling S2000 by MY 2010. But before that, Honda has released a special version for Europe called the Ultimate Edition. The final S2000 will feature exclusive "Grand Prix White" paint, a red leather interior, color-matched stitching and numbered doorsill plaques. Underhood, it retains the 2.0-liter VTEC-equipped four-cylinder putting out 237 hp and 153 lb-ft of torque through a six-speed manual transmission, but benefits from a new set of wheels and an optional hard-top. [1]
According to the U.K.'s WhatCar? Magazine, the second generation Honda S2000 won't go on sale until 2009. The existing S2000 will remain largely unchanged until that time, the report said. This means the S2000 will have been on the market ten years without any major changes, compared to a typical Japanese car product cycle of just five years.
Styles and Major Options
Edit
The Honda S2000 is available in one base trim:
The base model comes standard with:
237hp 4-Cylinder 8000 rpm engine
JDM 242PS @ 7,800 rpm, 162 lb-ft @ 6,500-7,500rpm
6-Speed Manual Transmission
Double Wishbone Suspension with Coil Springs
17" Alloy Wheels
Bridgestone Potenza RE050 Tires
Electrically Powered Soft Top
High-Intensity Discharge Headlights (HID)
Glass Rear Window with Defroster
Power windows and doors
Short-Throw Shifter
Leather-Trimmed Seats
Textured Aluminum Pedals
Today's actual prices by city can be found at CarsDirect.
Trims
base
MSRP
$34,050
Invoice
$30,643
Gas Mileage
Edit
EPA Estimates for various trims of the Honda S2000 are as follows:
Trim
(6 speed), Premium gas
MPG
20/26
Reliability
Edit
Owners of the Honda S2000 can count on Honda's reputation for building reliable cars. The general consensus is that the S2000 provides outstanding reliability and mechanical build. J.D. Power gave the S2000 5 out of 5 stars in both Overall Dependability and Mechanical Quality.
The S2000 is ranked 7th place in Top Gear's latest reliability survey.
The Honda S2000 comes standard with Dual Front Airbags (SRS), Side-Impact Door Beams, Vehicle Stability Assist (VSA) with Traction Control and Anti-Lock Braking System (ABS).
The 2007 Honda S2000 comes in the following exterior colors:
Berlina Black
Grand Prix White
Laguna Blue Pearl
New Formula Red
Rio Yellow Pearl
Silverstone Metallic
The 2007 Honda S2000 comes in the following interior colors:
Main Competitors
Edit
Hybrid Models
Edit
Currently, Honda has no plans to offer a hybrid version of the S2000. However, they will continue to offer the Honda Accord Hybrid, Honda Civic Hybrid and Honda Insight.
Unique Attributes
Edit
The Honda S2000 is different than conventional sports cars because it uses a gimmicky but fun racecar inspired feature. Instead of starting the engine using the turn of a key, the S2000 allows you to "start your engines" by using a red button located just to the left side of the steering wheel that brings the engine to life. Albeit, this feature has become standard on most cars in the following years.
This also allows the driver to position their hands on the stick during ignition, as oppose to turning the key or pressing the button on the right side.
Resale Values
Edit
Thanks to its Honda reliability and desirability amongst driving enthusiasts, the S2000 holds its value well in the used car market. In fact, Edmunds.com rated the Honda S2000 #1 in their Top 10 Cars With the Best Residual Value for 2006 article.
Generations
Edit
Second Generation (2004-2010)
Edit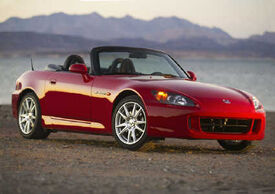 The second generation Honda S2000 was released in 2004. It had newly designed 17" wheels and wider Bridgestone Potenza RE050s (215/45R17 in front and 245/40R17s in the rear) along with a retuned suspension that reduced the car's tendency to oversteer. The F20C 2.0 L engine was also revised with the introduction of the F22C1 2.2L variant to the North American market with more torque and redline reduced to 8,200 rpm providing more low-end performance. To improve fade resistance and stopping power at and near the limit, the brake pad material is now a new metallic compound.
In addition, cosmetic changes were made to the exterior with new front and rear bumpers, revised headlight assemblies with HID headlights, new LED tail-lights, and oval-tipped exhausts. The color "Rio Yellow Pearl" was added to the lineup and Spa Yellow was dropped. Interior changes included: red / black colored seats, increased shoulder room by 0.5", a reshaped steering wheel, metallic-look trim, new center console with two cup holders, and an updated gauge cluster. The last thing changed in 2004 was the S2000's weight from 2810lbs to 2835lbs.
2005 saw no changes in the Honda S2000
The 2006 model introduced a drive by wire throttle, a Vehicle Stability Assist system, and brake assist. "Laguna Blue" was added to the exterior color options along with the wheels being redesigned, new daytime running lights, and a "check gas cap" light. Interior changes included: revised seats, additional stereo speakers integrated into the headrests, and additional headrest padding where the previous seats had helmet depressions and screens.
In 2007, S2000s with "Grand Prix White" would only be available with red / black interior and the colors "Suzuka Blue Metallic" and "Sebring Silver Metallic" were dropped.
First Generation (2000-2003)
Edit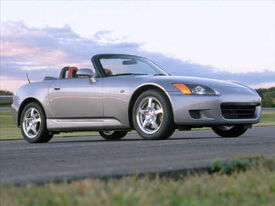 The first generation Honda S2000 was originally launched in 1999 as a 2000 model. It featured 16" wheels with Bridgestone Potenza S-02 tires. The first S2000s (2000 to 2003 models) came equipped with a 2.0L (1997cc) F20C I4 engine producing 240 hp (179 kW) at 8,300 rpm and 153 ft·lb (208 Nm) of torque at 7,500 rpm. It had aggressive but simple styling and a racecar simple interior. It utilized Honda's most cutting edge racing technology, such as the X-bone frame that decreased weight but brought incredible strength to the convertible structure.

In 2001 both a console clock and wind deflector became standard features.

For 2002 the plastic rear window was replaced with a glass window, equipped with defroster. The window was smaller in size and the top frame had to be redesigned to accommodate the glass. Steering feel and handling progression were improved by making significant changes to suspension spring rates, anti-roll bar stiffness, and shock calibration. Changes to the interior included a combination leather and aluminum shift knob, a solid red interior for the silver exterior color, and door panel net storage pockets. On the exterior, the Honda badges were enlarged and the color "Suzuka Blue Metallic" was added and "Sebring Silver" replaced Silverstone Metallic.
The 2003 Honda S2000 only saw the addition of a tan interior for S2000s in white.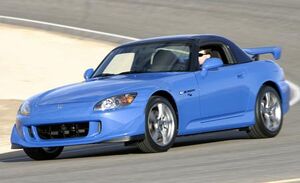 The Honda S2000 CR (Club Racer) was shown at the 2007 New York Auto Show, will be the highest S2000 trim level and will be on sale this fall.
Suspension and steering modifications
The S2000 CR has the same 237-hp, 2.2-liter engine as other S2000s. The most dramatic changes involve springs and shocks that Honda calls "significantly stiffer." Although no figures are available, Thicker anti-roll bars round out the suspension changes are anticipated. A quicker steering ratio will allow drivers to avoid shuffling hands in tight corners. A limited slip differential and defeatable electronic stability control carry over from the regular S2000.
Tires
The S2000 CR's biggest handling gain over the regular S2000 may come from gumball Bridgestone Potenza RE070 tires similar to those used on the former Japanese-market NSX-R. The 215/45R-17 front and 255/40R-17 rear tires have a treadwear rating of 140, which means they're barely able to be called conventional street tires.
Front and rear spoilers
A large body kit and a rear cowl fairing behind the seats are claimed to smooth airflow over the S2000 CR. A rear spoiler was also added. The wing has three distinct horizontal surfaces: the upturned outside sections produce downforce while a flatter center section smoothes airflow over the car. Honda claims overall downforce on the rear axle at speed, a rare trait for a street car.
Weight savings and chassis
Air conditioning and the sound system are jettisoned in the name of weight savings, but you can add them back in as options. The S2000 CR also loses its power folding softtop to shed a few pounds, and in its place it gains a beefy rear strut tower brace with four mounting points. This is said to enhance the already stellar rigidity of the S2000's shell so it won't flex when cornering. A removable aluminum hardtop provides shelter from the elements and admission to tracks where open-top cars aren't allowed. With the top off, the S2000 CR will weigh approximately 2765 pounds, almost 90 pounds less than the regular S2000.It's significantly faster on a track, according to Honda, the result of these changes is a claimed two-second reduction in the S2000 CR's lap time around Honda's Tochigi test track.
Interior modifications
Every special edition needs to look unique, so the S2000 CR has a bunch of dress up features that distinguish it. The most obvious is the Apex Blue paint, which is a pearlescent bright blue evocative of Audi's Sprint Blue. Black badges and gunmetal gray five-spoke wheels round out the exterior mods. Abundant yellow stitching on the doors, steering wheel, seats, and shifter (which has shorter throws than the already insanely short ones in the regular S2000) complements yellow woven seat inserts. Faux-suede seat bolsters and door panels replace the leather items on the regular S2000 in the name of grip, and they'll also broaden the S2000 CR's appeal to PETA members. Faux carbon fiber trim is a slavishly trendy addition, but we can forgive anything in a car this raw.
Pricing
The S2000 CR goes on sale in the fall of 2007 as a 2008 model. The car shown at the New York show isn't 100 percent production correct, but the body kit, spoiler, and wheels are accurate renditions of what you'll see in dealers. Pricing isn't confirmed, but it will certainly be more than the regular S2000's $35k base price and probably less than $40k. Given the expected production volume of less than 2000 units (no limit was confirmed), Honda will lose money on the deal, a fact that company representatives actually admit. Such corporate honesty is rare, but Honda can afford it. The S2000 CR is a fitting tribute to the man who put "Honda" and "performance" together in the popular lexicon.
From Honda's Offical Site:
"Introducing the next lineup in the legacy lineage of the Honda S2000: the S2000 Club Racer. The S2000 CR's goal is simple: maximize pure potential on a racetrack by substantially improving track times through enhanced chassis balance and feel. It's lighter: a sleek and aerodynamic aluminum hard top replaces the standard S2000 soft top. When removed, the CR is approximately 90 pounds lighter. Air conditioning and stereo become optional equipment. It's an aggressively track-tuned suspension: taut new chassis, quicker steering ratio, wider rear tire size and increased structural bracing give the S2000's already exceptionally rigid platform the added control any sport enthusiast would desire. It's an aggressive stance: the aerodynamic package is tuned to reduce lift at track speeds. Yet the S2000's heritage—uncompromising, racetrack-ready performance and its surprisingly compatible, everyday usability—remain constant. The 237-horsepower, 2.2-liter, 16-valve DOHC VTEC® 4-cylinder engine, the short-throw 6-speed manual transmission, the perfect 50/50 weight balance and the iconic tenacious handling all keep the S2000 CR the purest of true roadsters. The end result is pure adrenaline. The club racer-inspired 2008 Honda S2000 CR. Strap in come fall 2007 when the S2000 CR joins the sports car ranks as an entirely new S2000 trim level. And get racetrack ready"
Worldwide
Edit
In foreign markets and its homeland the Honda S2000 is offered in different trims, but overall is the same vehicle offered in North America. First generation S2000s in Japan were quoted with an additional 10 hp due to a small difference in the engine compression ratio. In Japan there is also a "type V" available that comes with variable steering ratio (VGS) depending on vehicle speed. In addition, originally the F22C1 2.2L engine was intended only for the North American market in 2004, but it was also introduced to Japan in 2006.
In the UK, the S2000 is offered in the convertible trim or the S2000 GT, which comes with a removable hard top.
Design quirks and oddities
Edit
Refer to any pop-culture tidbits about the vehicle in this section.
The "Audio Control" button located above the Start Button is a single action push button, though it's circular shape and prominent protrusion from the dash should lead one's intuition to believe it was a knob.
Car and Driver's 10 Best List for 2000-2002 and 2004
Highest-ranked model in the J.D. Power and Associates 2004 Vehicle Dependability Study's "Premium Sports Car" class
The F20C engine won the International Engine of the Year award in the "1.8 to 2 liter" size category for five years from 2000-2004
The "Most Wanted Convertible Under $35,000" in 2004 & 2005, Edmunds.com
2003 J.D. Power Initial Quality Study 3rd winner (Prenium sports car)
External Links
Edit
News & References
Enthusiast Sites and Online Forums
Ad blocker interference detected!
Wikia is a free-to-use site that makes money from advertising. We have a modified experience for viewers using ad blockers

Wikia is not accessible if you've made further modifications. Remove the custom ad blocker rule(s) and the page will load as expected.