Honda Civic Type-R
Honda
aka
FN2 (3 Door)
FD2 (4 Door)
Production
1997-Present
Class
Sports Compact, Sports Sedan
Body Style
3 dr Hatchback
4 dr Sedan
Length
4270 mm (Hatchback) 4540 mm (Sedan)
Width
1785 mm (Hatchback) 1770 mm (Sedan)
Height
1445 mm (Hatchback) 1430 mm (Sedan)
Wheelbase
2635 mm (Hatchback) 2700 mm (Sedan)
Weight
1320 kg (Hatchback) 1260 kg (Sedan)
Transmission
6 speed Manual, FWD
Engine
1998cc 16V DOHC i-VTEC K20Z and K20A
Power
201 PS @ 7800 rpm
193 Nm of torque @ 5600 rpm (Hatchback)
225 PS @ 8000 rpm
215 Nm of torque @ 6100 rpm (Sedan)
Similar
(competition)
Designer
Designer (lead designer if it was a team effort)
The Honda Civic Type R is the highest performance spec of the Honda Civic made by Honda Motor Company of Japan. The "Type R" designation is given to models that have been specially developed and tuned in house for the sole purpose of circuit competition and as a high performance vehicle from Honda's stables. Its lineage can be traced directly to the 1992 Honda NSX Type R, featuring a lightened and stiffened body, specially fine tuned engine and upgraded brakes and chassis. Other characteristics are the use of the special colour from the days of Honda's successful F1 winning car from the 60's called "Championship White" and a Honda emblem with a red background. Red is also used in the interior to give it a special sporting distinction and to seperate it from other Honda models. In Japan, a one-make series of Honda Type R cars where privateers can purchase a off-road Type R and compete in a series championship is a stepping stone for many aspiring racing drivers. The Type R has helped to increase Honda's overall image in racing as well as in the sports car consumer market.
See Autopedia's comprehensive Honda Civic Type-R Review.
Recent Changes
Edit
Japanese Market 4 Door Sedan- 2008 facelift- rear combination lamp. New body colour. Black and Deep Purple. 2009 option list change - Optional BBS light weight wheels offered as maker option
Styles and Major Options
Edit
Japanese Market 4 Door Sedan - One grade. Japanese buyers can order an off-road lightweight stripped down FD2 for the 'Civic One-Make Race' series
The 2018 Honda Civic Type R USA won't be here for no less than a year after the dispatch of the new standard Civic, possibly more. We're wagering on a mid 2017 presentation as a 2018 model, with a sticker price  of Honda Civic Type R 2018 USA around $30,000.
JPY 2,850,000
MODEL Trims
Trim1
Trim2
Trim3
Trim4
MSRP
$Price1
$Price2
$Price3
$Price4
Invoice
$Price1
$Price2
$Price3
$Price4
Gas Mileage
Edit
11.4 km/L (according to Japanese testing standards) As seen on the FuelEconomy.gov website, the City/Highway MPG averages are as follows:
Trim
Trim1
Trim2
Trim3
Trim4
MPG
c/h
c/h
c/h
c/h
Engine and Transmission
Edit
Specifications, details, graphs, pictures and other information regarding the powertrain is placed in this section.
Performance
Edit
Please make sure to write information of the vehicle's performance in a third-person point of view. This section should include information about the car's acceleration figures, handling, braking, etc.
If using information gathered from Road Test articles from a reputable automotive source, then please make sure to cite the quote.
Reliability
Edit
Warranty options and scheduled maintainance information should be mentioned here.
Dual-front Airbags
Front-side Airbags
Side curtain Airbags
Anti-lock Brakes
Traction Control System
Stability Control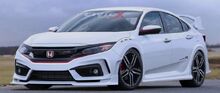 Add Photos of the vehicle here.
Please make sure not to use copyrighted photos.
List the colors that the particular <MODEL> is offered in.
Main Competitors
Edit
Hybrid Models
Edit
If there are hybrid versions of this vehicle manufactured, then please elaborate a little bit on it here.
Unique Attributes
Edit
If there are any features of this vehicle that sets it apart from other vehicles in its class, then mention those unique attributes here.
This most recent era Civic is longer than the past model, and it now brags a portion of the best inside volume among reduced cars, an inside encompassed in premium materials and choice plastics. The available route framework goes through a vast, simple to-peruse screen, which additionally fills in as the control community for sound, CarPlay and atmosphere control.
Rear-situate legroom is great in the sedan, however be careful with the wide ledges when entering and leaving. At 15.1 cubic feet, the Civic sedan's trunk is gigantic. Hatchback Civics brag 25.7 cubic feet of space with the rear seats up and somewhere in the range of 20 extra cubic feet with them down.
The 2018 Honda Civic Type R features two lower grapples and one upper tie stay at each of its detachable rear seats for installing car seats. The middle seat features an upper tie as it were. The Insurance Institute for Highway Safety gave the Civic an Acceptable rating for its LATCH car-situate framework, yet noticed that the lower stay connectors are covered profound inside the seats, making them ungainly to reach.
The 2018 Honda Civic Type R has a top-flight cabin. Materials – including plastics – are of good quality, and many feel soft to the touch. The inside is additionally exceptionally quieted, fit for keeping out wind and street commotion similarly and also cars that cost twice to such an extent. Overall, the Civic's fit-and-complete mirrors what you would discover in more upscale Honda models or passage level Acuras.
Resale Values
Edit
Add more fields as necessary.
<MODEL> Year
Year X
Year X-2
Year X-3
Year X-4
Resale Value
$
$
$
$
Criticisms
Edit
"Type R has grip, but lacks the chassis sophistication of a Golf GTI or Focus XR5." Wheels Magazine "It is high maintenance, you always have to concentrate on the job, and it never lets you rest." CarsGUIDE
Generations
Edit
Fill in as many as appropriate. Add more if necessary and pictures wherever applicable.
Please make sure NOT to use copyrighted pictures.
Current Generation: (2017-Present)
Edit
The Civic Type R Prototype was unveiled in September 2016 at the Paris Motor Show, and the production version unveiled at the 2017 Geneva Motor Show, ahead of the model's European launch in the summer. The new car builds on Honda's heritage in developing high-performance hatchbacks, and represents the segment's ultimate expression of dynamic purity
The design is based on the Civic hatchback, with a winged carbon fibre splitter with red accent line, slatted ducts, diamond-mesh air intakes, red 'H' badge above a new air vent at the nose of the car, new intake on the bonnet, an air scoop sited centrally in a trapezoidal recess, smoked lenses for the LED headlights and indicators and side repeaters, carbon fibre side skirts, 20-inch piano black alloy wheels with red accents, 245-section high-performance tyres, enlarged wheel arches, carbon fibre diffuser runs below the wider rear bumper, 3 tailpipes with a pair of directional strakes at each side, central tailpipe in bright metallic red, unique peaks at the roof flanks point backwards.
On April 3rd, 2017, the preproduction Type R achieved a lap time of 7:43:80 on Nordschleife, almost 7 seconds faster than its predecessor, setting a new record for FWD cars.
The Civic Type R went on sale in the United States on June 14 2017, with a starting price of $33,900.
Fourth generation (2015-2016)
Edit
In September 2012, Autocar made a report about the confirmation of the next-generation Honda Civic Type R at Paris Motor Show. The preview took place at Geneva Motor Show in March 2014. Owing to the history of Honda Civic Type R, this merged as the first factory turbocharged Civic Type R thus allowing to compete healthily with rivals as such of Volkswagen Golf R and Ford Focus RS.
Production
Edit
In January 2015, Honda announced that the production-ready model of the 4th Generation Civic Type R would debut at the 85th Geneva Motor Show alongside the European debut of the NSX. In March 2015, Honda debuted the 4th generation Civic Type R at the Geneva Motor Show.
Features
Edit
Engine Performance and Specifications
Edit
The Honda Civic Type R is powered by K20C1 Direct Fuel Injection 2.0-litre VTEC Turbocharged engine with Earth Dreams Technology. An R+ button is provided to increase the responsiveness of the chassis, throttle and engine for enhanced driving thrills. Maximum power is 228 kW (310 PS; 306 bhp) at 6500 RPM and maximum torque of 400 N·m (300 lb·ft) at 2500–4500 RPM. The engine is mated to a 6-speed manual transmission with a factory equipped plate-style limited slip differential. Honda quotes that the Type R does 0–62 mph in 5.7 second although users reached it in 5.2 seconds and produced a 1/4 mile time of 14.2s at 105.6 mph (169.9 km/h). It has a top speed of 167 mph (269 km/h).
The engine is manufactured at Honda's Anna Engine Plant in Ohio before being exported to the UK.
Capacity
Edit
The hatchback has ample boot (trunk) capacity despite its size, with the rear seats up the Civic Type R has 498 L (30,400 cu in), while flat rear seats down it combines 1,214 L (74,100 cu in) of boot space. It rides on 19 inch alloy wheels with 235/35 R19 tyres.
A full refill of an empty fuel tank is 50 L (13 US gal) and fuel consumption is 30.1/46.3 mpg and 38.7 mpg combined. Combined CO2 is 170g/km and the Civic Type R has achieved Euro 6 Emission Standard.
Safety Features
Edit
The Civic Type R is equipped with dual front airbags, front side airbags and front and rear side curtain airbags. For braking performance, it is fitted with front brake of 18 inch vented and drilled disk and rear brake of 16 inch solid disk. Anti-lock braking system, electronic brake-force distribution, hill start assist, and vehicle stability assist are standard across the variants.
United Kingdom
Edit
The British got to witness its sale as of July 2015 with price tags of GBP 29,995 for the base Type R model and £32,295 for the Type R GT model. Although they both were priced differently, differences are limited to additional equipment and amenities. Key specifications related to power figures remain the same for both variants.
In July 2015, Swindon, England (HUM) started exporting its all-new Honda Civic Type R to Japan for the first time. However, Japan will only receive 750 units.
Hong Kong
Edit
The 2016 Honda Civic Type R is sold in Hong Kong through the official dealer. Like the previous generation Japan market only Civic Type R FD2, import car dealers are also offering grey market Japanese FK2 imports. Due to strong demand, FK2s reserved through the official dealer has a car delivery wait time of 4 months.
Brunei Darussalam
Edit
As of 2016, one unit of Honda Civic Type R is seen at one of the showrooms located in Beribi, Brunei Darussalam. It is however not imported by official distributor of Honda (Happy Motoring Sdn Bhd) rather being imported by grey market. Price starts at B$92,000 (US$64,000).
South Africa
Edit
The 2016 Honda Civic Type R is also officially sold in South Africa throughout dealerships in the country.
Malaysia
Edit
Malaysia local private car dealers also reselling the imported Type-R with unofficial price (RM299,999.00).
Indonesia
Edit
Honda Civic Type R sold by private import for Rp.1.500.000.000 in 2015.
Third generation (2007–2010)
Edit
The third generation Civic Type-R will also be the final model due to the reason being that the engine won't comply with the new upcoming Euro V emmission regulation. Production will stop in October and sales will end in December.
Second generation (2001–2005)
Edit
In 2001 Honda introduced the next generation of the Civic Type R (EP3) as a unique 3-door hatchback to the UK market, which was manufactured in Swindon, England. This EDM (European Domestic Market) Civic Type R featured a 200 PS (150 kW; 200 hp) 2.0L i-VTEC engine (K20A2) and the regular Type R treatment of seam welding, close ratio 6-speed transmission and uprated brakes, but did not include some of the other higher-end features, such as the helical LSD and red Recaro race-seats, that were standard in the previous generation EK9. However, Honda of Japan marketed a JDM (Japanese domestic market) version of the EP3 (which was exclusively manufactured in Swindon, UK and was shipped to Japan), which retained the highly renowned helical LSD similar to that of the EK9 and red Recaro race-seats. Other differences included a more track-oriented chassis/undercarriage settings as compared to the EDM, as well as a 215 PS (158 kW; 212 hp) i-VTEC engine (K20A) had a fully balanced crankshaft assembly with different intake manifold, exhaust manifold, higher-lift camshafts, higher-compression pistons, chrome-moly flywheel and ECU programming. All of the Japan-spec K20A Type-R powertain were built in Japan and shipped to the Swindon plant to be installed in the Japan-spec Type-R EP3. The JDM EP3 was also available in the traditional Type R championship white while the EDM was not. The EDM has more relaxed gear ratios and some high rpm torque traded for low rpm torque compared to the JDM . The JDM Civic was said to be the better of the two.
The EDM EP3 Civic Type R was much acclaimed by motoring journalists across the UK, winning 'Hot Hatch of the Year' awards more than once from Top Gear, Fifth Gear and What Car?. The Civic Type R became a popular alternative for mainstream drivers clocking huge sales numbers. The 2001 release of this CTR (Civic Type R), as it is commonly referred to, also indicated Honda's return to Formula One after almost 10 years as an engine supplier to the Jordan and BAR teams – this eventually led to the full-fledged comeback as a dedicated F1 works team in 2005 with Honda gaining full ownership of British American Racing.
2004 saw this successful CTR updated with many improvements – revised EPS with quicker steering, revised suspension settings, projector headlamps (JDM came equipped with halogens only while the EDM came with an option for HIDs with self-levelling motors), lighter clutch and flywheel assembly etc.; based on Honda literature, this facelifted (FL) model was targeted at addressing customers' and critics' feedback such as understeer on the limit (due to the front MacPherson strut setup), numb steering response and lack of low end torque.
The base price for the 2001 Civic Type R (EP3) in the United Kingdom was of £23,100 (about US$34,650).
Performance (all figures are manufacturer claims)
0–60 mph in 5.8/6.5 seconds (JDM/EDM pre-FL), 5.8/6.4 secs (JDM/EDM FL) 0–100 mph in 15.1/16 secs (JDM/EDM FL) Top speed 141 mph (227 km/h) and 146 mph (235 km/h) (JDM/EDM)
Mugen made an upgraded version of the JDM Civic Type R, it has a sport exhaust system and an engine tuning, special Mugen Grille, and anti-roll bars for pro racing activities.
30th Anniversary Special Edition
Edit
In 2003 – 2004 facelift and pre facelift Honda decided to celebrate 30 years of producing the Civic by offering a special edition 30th Anniversary Type-R. The special edition features special red and black sports seats Type R from world-renowned seat maker Recaro, air conditioning and privacy glass on the rear windows. It also has a lighter fly-wheel and clutch. The JDM addition has red bucket seats from Recaro, red carpet and door cards, a leather MOMO steering wheel, and also comes in the famous championship white. 30th Anniversary models were available in Nighthawk Black, Satin Silver and Milano Red and the JDM addition comes in championship white. Only 300 of these models were produced, 100 in each colour.
Premier Special Edition
Edit
In 2005 Honda introduced the Premier edition which had Recaro Trendline seats (similar to those found in the Anniversary Edition, only in red and black rather than all red), a darker shade of fabric on the rear seat centre sections, a Momo Steering Wheel, Red Carpet, Door Linings, "Type R" embossed into the front brake callipers and privacy glass on the rear windows. Air conditioning was an option. They were available in Milano Red, Nighthawk Black, Cosmic Grey and Satin Silver.
C Package
Edit
In 2004 Honda introduced the "C Package" option (¥330,000 JPY) to Japan's Civic Type R line-up which included an additional colour, Satin Silver Metallic, HID lighting, rear privacy glass, automatic air conditioner and outside air temperature sensor.
First Generation/Origins (1997–2000)
Edit
The first Civic to receive the 'Type R' name was based on the 6th-generation fan-base 'EK' Civic. The contributing base model was the JDM Civic 3-door hatchback called SiR, code named EK4. Like its big brother the Integra Type R DC2/JDM DB8, the Civic SiR's transformation into a Type R was achieved by working on the base model and improving it to Honda's idea of a car capable of high performance on the circuit.
The first Civic to receive the Type R badge was introduced in August 1997, as the EK9. The EK9 shared many characteristics with the Integra Type R DC2/ JDM DB8 such as omission of sound deadening and other weight-reduction measures, a hand-ported B16B engine, front helical limited-slip differential and close ratio gearbox. The B16B engine boasted one of the highest power output per litre of all time for a naturally-aspirated engine with 185 PS (136 kW; 182 hp) from 1.6L of engine displacement. For the first time, a strategically seam welded monocoque chassis was used to improve chassis rigidity. The interior featured red seats, red door cards, red Type R floor mats, a titanium shift knob, and a Momo leather-wrapped steering wheel.
Interior of a Honda Civic Type R (EK9) on display at the Honda Collection, Japan.
In 1998, the Civic Type R Motor Sports edition was released. It came with steel wheels, no air conditioning, no power windows, no power steering, no radio, and came with the standard Type R interior.
Worldwide
Edit
In Australia, the hatch only Civic Type-R first went on sale in August 2007 to join the growing list of hot hatches on the market selling at $39,990 AUD in limited numbers.
Design quirks and oddities
Edit
Refer to any pop-culture tidbits about the vehicle in this section.
List out notable awards that the model has recieved while in production. Boldface the company or organization that gives out the award, and Italicize the name of the award.
External Links
Edit
Please include any external sites that were used in collaborating this data, including manufacturer sites, in this section.
News and References
Enthusiast Sites and Discussion Forums