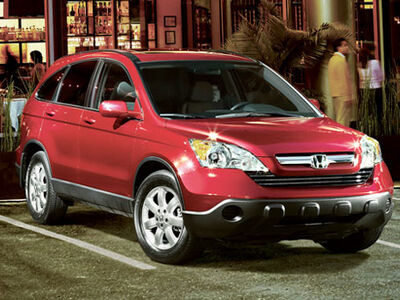 The Honda CR-V is roomy, convenient and easy to drive. You can put lots of stuff in it and the back seats are quite comfortable. It rides smoothly, more so than most SUVs. It's surprisingly maneuverable in tight quarters and handles well on winding roads yet it's stable at freeway speeds, even in stiff crosswinds.
The Honda CR-V and Toyota RAV-4 were the first of the cute-utes, small vehicles based on cars that delivered the cargo versatility of a sport utility, an upright seating position, and all-wheel drive.
The CR-V shares its basic structure with the Honda Civic, giving it the ride quality and handling of a car. Besides being less expensive, the CR-V is smaller and more maneuverable than a full-sized SUV. Most important, it doesn't look like a minivan.
The CR-V isn't much good off-road, but it's available with a choice of front-wheel drive or all-wheel drive, the latter giving it good winter weather capability.
This second-generation CR-V was launched as a 2002 model and the styling was revised for 2005. For 2006, the CR-V carries over with virtually no changes except for two new paint colors.

See also the main fact sheets for the (2006) Honda CR-V.
High Points
Edit
Handling
Cabin Space
Interior Quality
Safety Features
Reliability
Noise insulation
Improved in comfort for the 2010 facelift.
Low Points
Edit
Engine Power (no V6 option)
Ride noise
Road vibrations
Rigid suspension
Body roll
Controversial looks
Performance and Handling
Edit
Among all versions of the CR-V, permformance and handling remains effecitively unchanged. The differences in trim levels are interior and exterior feature based, rather than the performance related.
The 2.4 liter dual-overhead cam four cylinder i-VTEC engine provides 156 HP. The engine may rev harder than expected in high demand situations, but without pushing the redline. While not the most powerful in its class (since many of its competitors offer a V6 engine), the CR-V has more than enough pep for daily use, though it isn't designed to be a heavy duty towing machine. With a full load of passengers or a hardware store run, expect sluggish response, particularly on hills.
The five-speed automatic transmission is smooth as glass, shifting exactly where expected. The drive-by-wire throttle has perfect timing, and responsive. Merging into LA traffic isn't a problem. The optional 5-speed manual transmission somehow reduces mileage by 1 mpg in both city and highway driving, but improves off-the-line performance slightly.
Washboards and rough roads are transmitted to the cabin, though most occassional bumps are absorbed well by the suspension. Adding the AWD capability makes driving in snow and mud a breeze, although the CR-V is not up to true four-wheel conditions.
The Vehicle Stability Assist feature helps make sure that you stay on track, despite the slight tendancy of the CR-V to understeer.
All Wheel Drive
Edit
Honda's Real Time 4WD system on the CRV utilizes a Dual hydraulic Pump Rear Differential and 4WD Transfer case. The Dual Pump Rear Differential operates the front wheels during normal conditions then automatically transfers power to the rear wheels when needed, without the driver engaging the system. To allow the ABS braking system to work when the CRV is engaged in four-wheel drive operation the 4WD will turn off if the brakes are applied.
Later Model CRVs equipped with automatic transmissions also have a lockup torque converter and Grade Logic program which aids the CRV when climbing steep inclines by keeping the transmission in the lower gear. The 2007 and later Model 4WD system was improved and sends an additional 20% more torque to the rear tires than earlier models.
The All Wheel Drive System makes the CRV well suited for light off-roading known as "green laning" on dirt roads, muddy unpaved roads and through snow. Many CRV AWD owners also rountinely use their vehicles on the beaches.
Accessories are available through the Honda Dealerships for outdoor activites such as a Skid Plate to protect the front underbelly of the CRV when off roading as well as a roof cargo rack and brackets to hold kayaks and bicycles.
Gas Mileage
Edit
Ignoring the Ford and Mercury Hybrids, the Honda CR-V comes in fourth place in compact SUVs for MPG - behind the Toyota RAV4, Ford Escape, and Mazda Tribute. But the difference between first and fourth is only one MPG. The Saturn VUE with a four cylinder and 5 speed manual transmission ties the CR-V at 23/39.
Also of note, the Toyota RAV4, even when outfitted with a 3.5 liter, 279 HP V6, is rated at the same combined mileage, and only one MPG lower in city driving by the U.S. Environmental Protection Agency.
For combined MPG, this reviewer sees over 25mpg for city/highway driving in Los Angeles.
For safety, the Honda CR-V is ranked as the number one safe compact SUV by NHSTA [1], achieving a perfect 5 stars in front and side impact ratings. For rollover, the CR-V recieved four stars.
Much of the credit for its safety rating goes to Honda's Safety for Everyone program, which makes anti-lock brakes, Front Airbags, Side Airbags, and Side Curtain Airbags standard on all versions of the CR-V.
Reliability and Maintenance
Edit
The CR-V is low maintenance. There's no scheduled maintenance for at least 105,000 miles, except for oil changes, and even those are required only every 10,000 miles. However, several owners report needing to replace the rear-differential fluid every 15,000 miles.
Consumer Reports and others rate reliability 5 stars (out of 5).
Interior and Comforts
Edit
Front seats are wide and tall; legroom is generous. A tiltsteering wheel is standard, although there is no telescope feature available. Knee room for very tall passengers can be tight in the front passengers seat, as the glove box juts into your knee space.
Rear seat legroom is very generous. Sliding split back seats in the rear allow you to adjust them by 6 inches, permitting you to adjust for passenger or cargo space, as needed.
A fold-down table between the front seats contains two cup holders and trays for smaller items. Several nooks and compartments are scattered throughout the front console, including a compartment that will hold 8 CD cases. (This compartment has been converted by a few owners into a soda can cooler, by redirecting the air conditioning output through a small hole in the back of the compartment)
The stereo system is Honda standard. While it will satisfy most people, audiophiles will likely quickly replace it with something better. The stock speakers are much better overall, although LX buyers should seriously look at adding the two additional speakers that come standard with the EX and SE versions.
The exterior look and feel of the CR-V rivals that of many mid-sized SUVs, including its bigger sibling, the Honda Pilot. Perhaps the most unique appearance factor of the CR-V are its high-mount brake and turn lights. They definatley increase visibility, and provide a nice styling touch.
Several reviewers have commented that the SE full body clading looks better, but others feel that the two tone cladding is preferable, as it is less likely to show wear and scratches as the car ages. 2006 added separate normal and highbeam lamps, which are a bit underpowered.
Styles and Options
Edit
The 2006 Honda CR-V comes with a four cylinder engine and a choice of front-wheel drive (2WD) and all-wheel drive (4WD) Three trim levels are available, LX, EX, SE.
The LX 2WD ($20,395) and LX 4WD ($21,595) comes standard with a five-speed automatic transmission, air conditioning with micron filtration, AM/FM/CD/cassette stereo, cruise control, an adjustable steering column, power mirrors, power windows, front and rear power outlets and a removable folding picnic table. LX also comes standard with integrated keyless entry and 16-inch steel wheels. Aluminum alloy wheels are available as a dealer-installed accessory.
The EX comes only with 4WD, but offers a choice of five-speed manual ($22,850) or five-speed automatic ($23,750). EX trim adds a premium stereo with CD changer, steering-wheel-mounted audio controls, rear privacy glass, aluminum wheels, a power moonroof, outside temperature gauge.
The SE ($25,450) comes standard with four-wheel drive and the five-speed automatic. The SE interior is upgraded with heated leather seats and a leather-wrapped steering wheel and shift knob. Exterior additions include body-colored door mirrors, bumpers, side molding, door handles and spare wheel cover.
Safety features that come standard on all CR-Vs include frontal and side-impact air bags, anti-lock brakes (ABS) and Vehicle Stability Assist with traction control (an electronic stability control system).
Main Competitors
Edit
External Links
Edit
Autopedia Contributor Favorites
Honda Manufacturer Site
Community Sites
Ad blocker interference detected!
Wikia is a free-to-use site that makes money from advertising. We have a modified experience for viewers using ad blockers

Wikia is not accessible if you've made further modifications. Remove the custom ad blocker rule(s) and the page will load as expected.