The Gumpert Apollo is the first and only supercar produced by Gumpert Sportwagenmanufaktur GmbH in Germany. The Apollo is a street-legal race car with up to 650bhp weighing less than 1100kg. It has an Audi-sourced, 4.2L V8 engine with two turbochargers and gull-wing doors.
Prices start at 198.000 EUR (£190,000 GBP) $380,000 USD
Designed to take on the Porsche 911 GT3, it is a mid engined, rear wheel drive two seater constructed on a tubular Chromoly frame, with fiberglass or optional carbon fiber body panels. An Audi 4.2L V8 engine is joined to a six-speed sequential gearbox. Estimated top speed is 360 km/h (223 mph) with 0-100km/h (0–62 mph) reached in 3.0 seconds.
The project is the creation of Roland Gumpert, a former Audi employee who oversaw many a rallying success working as competitions chief in their Quattro division. Gumpert's partner is Roland Mayer, the boss of German tuning house MTM.
Gumpert claims the car has as much downforce as any car that would run in the DTM German touring car championship and hopes to produce 150 Apollo's between 2005 and 2008.
See Autopedia's comprehensive Gumpert Apollo Review.
Recent Changes
Edit
At the 2009 Geneva Motor Show, Gumpert unveiled the top-ranging Gumpert Apollo Speed - a monstrous hypercar based on the mid-ranging 700 hp model. What separates the Speed from other 'regular' sun gods are a new induction system, revised wheel arches, re-tweaked rear end w/ a more efficient adjustable spoiler. This translates to a 3.0 second sprint from naught to 100 kph (62 mph) and 8.9 to 200 kph (124 mph). Keep your foot firmly planted on the throttle and you will reach a top whack of 360 kph (224 mph). Other goodies will include leather or Alcantara trim + competition-style removable steering wheel and a racing-sourced four-point harness. [1]
Styles and Major Options
Edit
Certain vehicles come in different trim levels or body styles. Features and major options should be mentioned here.
Add more fields as necessary.
MODEL Trims
Trim1
Trim2
Trim3
Trim4
MSRP
$Price1
$Price2
$Price3
$Price4
Invoice
$Price1
$Price2
$Price3
$Price4
Gas Mileage
Edit
Add more fields as necessary.
As seen on the FuelEconomy.gov website, the City/Highway MPG averages are as follows:
Trim
Trim1
Trim2
Trim3
Trim4
MPG
c/h
c/h
c/h
c/h
Engine and Transmission
Edit
Specifications, details, graphs, pictures and other information regarding the powertrain is placed in this section.
Performance
Edit
The Gumpert Apollo can do 0-62 in 3 seconds. The top speed, as Top Gear claims, is 224 mph. However, this car has been said to go as fast as 230 mph.
Reliability
Edit
Warranty options and scheduled maintainence information should be mentioned here.
This section should reference points on safety ratings and features of the vehicle.
Add Photos of the vehicle here.
Please make sure not to use copyrighted photos.
List the colors that the particular <MODEL> is offered in.
Main Competitors
Edit
Create links to other <MAKE> <MODEL> pages in this section.
Hybrid Models
Edit
Gumpert is preparing a hybrid version of the Apollo supercar and plans to enter it in the 2008 Nurburgring 24-Hour race piloted by Heinz-Harald Frentzen and Dirk Muller. The vehicle is powered by a 3.3-liter 630 hp V8 supplanted by a 100kW electric motor powered by a lithium-ion battery pack weighing 190 kilos in place of the regular car's 4.2-liter Audi twin turbo mill. Like other hybrids, the Apollo's setup will make use of braking energy to recharge its batteries.
Unique Attributes
Edit
If there are any features of this vehicle that sets it apart from other vehicles in its class, then mention those unique attributes here.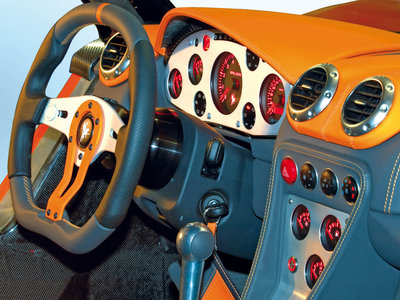 This section should include information on the interior's design, build quality, ergonomics, space (head and legroom, front and rear), features, stowage compartments and overall comfortability and livability. Add pictures wherever applicable and keep information in a third-person point of view.

Resale Values
Edit
Add more fields as necessary.
<MODEL> Year
Year X
Year X-2
Year X-3
Year X-4
Resale Value
$
$
$
$
Criticisms
Edit
Please make sure to keep critiques in a third-person point of view. If using criticisms from a reputable automotive source, then please make sure to cite the quote.
Generations
Edit
Fill in as many as appropriate. Add more if necessary and pictures wherever applicable.
Please make sure NOT to use copyrighted pictures.
Current Generation: (YYYY–present)
Edit
Worldwide
Edit
If the vehicle is sold in other markets worldwide, then this is the section to mention that information. Also, mention if the <MODEL> goes by another name in these other markets.
Design quirks and oddities
Edit
As of October 13, 2008, the Gumpert Apollo is the record holder for the fastest lap of a production car on the Top Gear test track.
List out notable awards that the model has recieved while in production. Boldface the company or organization that gives out the award, and Italicize the name of the award.
External links
Edit
Ad blocker interference detected!
Wikia is a free-to-use site that makes money from advertising. We have a modified experience for viewers using ad blockers

Wikia is not accessible if you've made further modifications. Remove the custom ad blocker rule(s) and the page will load as expected.