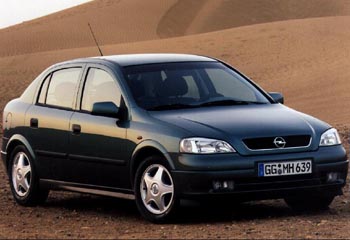 The second generation General Motors Astra (G/B) is the successor of the F/A Astra. It's more safer and refined than its predecessor and is sold in various continents excluding North America and Asia. It won two Australia's Best Cars awards in 2002 and 2003.
See also the main fact sheets for the General Motors G/B Astra.
High Points
Edit
Great styling
Tight, rattle-free body
Good corrosion protection
Zippy four-cylinder motor
Miserly fuel consumption
Low Points
Edit
Clunky gearshift
Cam belt problem
Performance and Handling
Edit
With the European-designed chassis, the ride is firm but is excellent for road-holding abilities with minimum body roll. The hydro/electic power steering is precise and offers good road feel.
Gas Mileage
Edit
For fuel consumptions of 1998 Holden Astra, follow this link.
Fuel Consumption Guide for 1998 TS Astra
The G/B Astra underwent EuroNCAP crash testing and earned 25 points out of 32 (4 stars) for occupant protection but scored 7 points (1 star) for pedestrian safety.
EuroNCAP 1999 Opel/Vauxhall Astra Result
The Holden Astra was offered 4 stars and is less likely to cause harm to other motorists according to the Used Car Safety Rating.
UCSR Safety Report: 1998-2006 Holden Astra
Reliability and Maintenance
Edit
G/B Astras are generably reliable and not many faults have been reported. However, a design fault of the cam belt tensioner can cause the belt to become loose, skip a tooth or two or break. It's recommended that the timing belt should be changed every 60,000 kilometres (32,500 miles).
Interior and Comforts
Edit
Styles and Options
Edit
Opel Astra
Edit
Vauxhall Astra
Edit
Holden Astra
Edit
City
Adjustable (tilt/reach) steering column
Dual front airbags
8 speaker Blaupunkt stereo system with CD Player
CD
15 inch Alloy wheels
ABS
Dual airbags
8 speaker Blaupunkt stereo system with CD Player
Suede-appointed seats
SRi
Main Competitors
Edit
External Links
Edit
Autopedia Contributor Favorites
Community Sites
Ad blocker interference detected!
Wikia is a free-to-use site that makes money from advertising. We have a modified experience for viewers using ad blockers

Wikia is not accessible if you've made further modifications. Remove the custom ad blocker rule(s) and the page will load as expected.