Ford Transit Connect
Ford
aka
Type aka here, not up there
Production
2002-Present
Class
denote market class
Body Style
how many doors+how many seats+what type of body
Length
SWB: 173.9 in (4,420 mm)

LWB: 189.7 in (4,820 mm)

Width
72.2 in (1,830 mm)
Height
SWB: 72.6 in (1,840 mm)

LWB: 72.0 in (1,830 mm)

Wheelbase
SWB: 104.8 in (2,660 mm)

LWB: 120.6 in (3,060 mm)

Weight
SWB Wagon: 3,630 lb (1,650 kg)

LWB Wagon: 3,979 lb (1,805 kg)

Transmission
6-speed PowerShift semi-automatic (twin-clutch)

6-speed manual B6 5-speed manual iB5

Engine
1.0 L EcoBoost I3

1.6 L EcoBoost I4 2.5 L Duratec 25 I4 1.5 L Duratorq TDCi

Power
N/A hp @ N/A rpm
N/A lb-ft of torque @ N/A rpm
Similar
similar (competition)
Designer
Designer (lead designer if it was a team effort)
The Ford Transit Connect is a compact panel van developed by Ford Europe and derived from the Ford Focus. The first generation was designed by Peter Horburyand introduced in 2002 to replace the older Ford Escort and Fiesta-based Courier van ranges, which had ceased production in the same year. It has been imported to the North American market since the 2010 model year. In North America, the Transit Connect does not have a direct predecessor; the closest vehicle to its size was the standard-length Ford Aerostar cargo van, which ceased production in 1997.
The Ford Tourneo Connect, a leisure activity vehicle, is a Transit Connect with side windows and rear seats. All Transit Connects bound for the United States are imported in this configuration to avoid the 25% "chicken tax" on imported light trucks. In 2013, US Customs told Ford that they must stop this practice of importing vans disguised as passenger cars.
Recent Changes
Edit
At the 2010 LA Auto Show, Ford launched its civilian version of the transit connect called the XLT Premium Wagon.[1]
Styles and Major Options
Edit
Certain vehicles come in different trim levels or body styles. Features and major options should be mentioned here.
Add more fields as necessary.
MODEL Trims
Trim1
Trim2
Trim3
Trim4
MSRP
$Price1
$Price2
$Price3
$Price4
Invoice
$Price1
$Price2
$Price3
$Price4
Gas Mileage
Edit
Add more fields as necessary.
As seen on the FuelEconomy.gov website, the City/Highway MPG averages are as follows:
Trim
Trim1
Trim2
Trim3
Trim4
MPG
c/h
c/h
c/h
c/h
Engine and Transmission
Edit
Specifications, details, graphs, pictures and other information regarding the powertrain is placed in this section.
Performance
Edit
Please make sure to write information of the vehicle's performance in a third-person point of view. This section should include information about the car's acceleration figures, handling, braking, etc.
If using information gathered from Road Test articles from a reputable automotive source, then please make sure to cite the quote.
Reliability
Edit
RECALL ALERT: Ford recalling nearly 34,000 Transit Connect vehicles over headliner concerns
This section should reference points on safety ratings and features of the vehicle.
Add Photos of the vehicle here.
Please make sure not to use copyrighted photos.
Main Competitors
Edit
Electric Models
Edit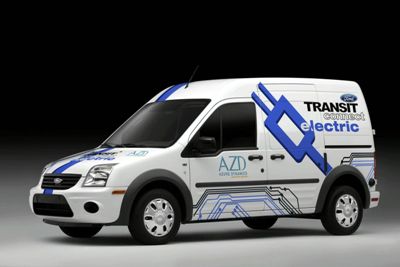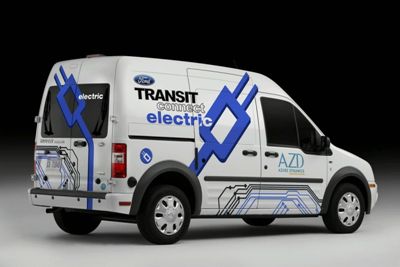 Beginning late 2010, Ford will start production on an Electric version of the Transit Connect. Powered by advanced lithium-ion battery technology, the zero-emissions vehicle can be recharged using either 240-volt or standard 120-volt power outlets. Being an eco-minded vehicle, performance is not blistering however a top speed of 121km/h (75mph) is adequate for its purpose as an urban commercial transporter. A full battery charge is claimed by Ford to yield a 129km (80 miles) range. Other specifications include 135 cubic feet (3.8 cubic metres) of cargo volume with 59.1 inches (150cm) of floor-to-ceiling load height so its utilitarian raison d'etre remains intact, power steering, a 39-foot (99cm) curb-to-curb turning circle and split rear cargo doors that open at a standard 180 degrees, or the optionally available 255 degrees.
Unique Attributes
Edit
If there are any features of this vehicle that sets it apart from other vehicles in its class, then mention those unique attributes here.
This section should include information on the interior's design, build quality, ergonomics, space (head and legroom, front and rear), features, stowage compartments and overall comfort and livability. Add pictures wherever applicable and keep information in a third-person point of view.
Resale Values
Edit
Add more fields as necessary.
<MODEL> Year
Year X
Year X-2
Year X-3
Year X-4
Resale Value
$
$
$
$
Criticisms
Edit
Please make sure to keep critiques in a third-person point of view. If using criticisms from a reputable automotive source, then please make sure to cite the quote.
Generations
Edit
Fill in as many as appropriate. Add more if necessary and pictures wherever applicable.
Please make sure NOT to use copyrighted pictures.
Current Generation: (YYYY–present)
Edit
Fifth generation (YYYY–YYYY)
Edit
Fourth generation (YYYY–YYYY)
Edit
Third generation (YYYY–YYYY)
Edit
Second generation (YYYY–YYYY)
Edit
First Generation/Origins (YYYY–YYYY)
Edit
Worldwide
Edit
The Ford Transit Connect is manufactured in Turkey. It is sold across Europe and in the United States of America.
In New York, CNG-powered Transit Connects has been employed as America's new Yellow Cab.[2]
Design quirks and oddities
Edit
Refer to any pop-culture tidbits about the vehicle in this section.
List out notable awards that the model has received while in production. Boldface the company or organization that gives out the award, and Italicize the name of the award.
External Links
Edit
Ad blocker interference detected!
Wikia is a free-to-use site that makes money from advertising. We have a modified experience for viewers using ad blockers

Wikia is not accessible if you've made further modifications. Remove the custom ad blocker rule(s) and the page will load as expected.