Template:For Template:Use mdy dates
Ford Focus (third generation)
250px
Manufacturer
Ford Motor Company
Country
{{{country}}}
Production
2010—present
Class
Compact
Body style(s)
{{{body style(s)}}}
Layout
FF layout
Engine(s)
{{{engine(s)}}}
Transmission(s)
{{{transmission(s)}}}
The third generation Ford Focus (also known as MK III) debuted at the 2010 North American International Auto Show as a 2011 model. The cars shown were a 4-door sedan and 5-door hatchback, also debuting a new 2.0L direct injection I4 engine. A 5-door estate(wagon) was previewed at the Geneva auto show a month later.[1]
Starting 2011, Ford decided to reunite both international and North American models by releasing the international third generation worldwide. The previous North American version was thus discontinued, and the new model was launched simultaneously in North America and Europe on May 2, 2011, both having started production near the end of 2010.[2][3] Production in Asia, Africa, and South America will follow later.
Ford debuted the all-electric Ford Focus Electric at the Consumer Electronics Show in 2011 to compete with the Nissan Leaf and the Chevrolet Volt and announced the hot hatch ST model at the Paris Motor Show in September 2010.
The Ford Focus was the best-selling car in the world for 2012.[4]
The design of the new Focus took Ford's Kinetic Design to a new level. At the front, lights have an all new shape while a trapezoidal grille has been changed with triangular features. At the rear, hatchback tail lights are positioned lower similar to Ford Fiesta unlike the first and second generation hatchback models where lights used to be taller and thinner near the rear windscreen. The interior has been completely changed from the second generation in the NA and International versions. Ford wanted to make the Focus more upmarket so it offers two types of central consoles, the basic is available in lower trims with smaller engines and the premium is available with top trims and engines.
This new generation of Focus incorporates a redesigned cabin with improved materials, and new infotainment technologies. In North America this helps to differentiate it from recently decontented competitors such as the MK VI Volkswagen Jetta. Following the industry trend towards decontenting, and in keeping with the sedan's downmarket "economy car" image vs. the "premium" hatchback, the earlier sedan's space-saving gas strut trunk hinges are replaced with cheaper, intrusive goose neck hinges.
Production
Edit
Despite the Focus being promoted as a global car,[5] it is built in several different factories around the world, with changes to engine line-ups and trim levels to suit regional markets. Production locations include:
Saarlouis, Germany, production commenced December 2010 for the European market.[6]
Wayne, Michigan, United States, production started in February 2011 for North America.[7]
Vsevolozhsk (St Petersburg), Russia, production commences in July 2011, with the estate(wagon) model starting in January 2012.[8]
Rayong, Thailand, commenced May 2012 for the Asian and Australasia markets, and replaces the previous Philippines plant used for the last generation Focus.[9]
Chongqing, China started production of the Focus for the Chinese market in May 2012.[10]
Taoyuan, Taiwan started production of the Focus for the Taiwanese market in Nov 2012.
North America
Edit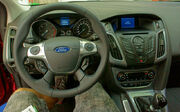 Like in most other non-European markets, only the 4-door sedan and 5-door hatchback are offered in the United States and Canada. The EPA rated fuel economy at 28 city/38 hwy MPG for the 6-speed automatic, and 26 city/ 36 hwy MPG for the 5-speed manual.[11] The SFE package, which can only be added to the sedan SE trim with PowerShift semi-automatic dual-clutch transmission, improves highway fuel economy to 40 MPG.[12] The platform that the new Focus is based on is 25% stronger than the previous North American version.[13]
Various trim levels are available, with SE and Titanium on both sedan and hatchback, and a budget S level for the sedan only.
Engine lineup in North America
Edit
The Focus was launched with only one engine option, a 2.0-litre direct injected, Ti-VCT 4-cylinder, will produce Template:Convert/hp. Mid-2012, Flex Fuel capability was added.[14] The engine is a derivative of the port fuel-injected 2.0-liter engine in the previous generation Focus.[15] In late 2012, the range was joined with the Focus ST with a turbocharged 2.0-litre producing Template:Convert/hp.
Specifications
Edit
Running Changes
Edit
Color choices were restricted during summer 2011, due to supply issues caused by the 2011 Japanese earthquake/tsunami. When black and dark blue returned they were replaced by different shades, although the phaseout of Kona Blue in favor of Sonic Blue had been planned. In January 2012, Ford announced that the formerly automatic-only Titanium model would be offered with a manual transmission. In March 2012, Ford revised the ordering guide for the Titanium models to also have a MyFord Touch delete option, replacing it with the non-touch version of MyFord. Although MyFord Touch is an $995 option on SEL models and the PowerShift automatic a $1095 option on S and SE, no discount is applied to either manual or non-Touch Titanium models. 2013 model year changes for non-STs are; SE models gain standard SYNC and alloy wheels, the SEL trim is discontinued in favor of an "SE Appearance package" that includes most of the SEL features but with standard trim choices limited to black leather, while Titanium models also pick up standard leather upholstery. All now come standard with the 5-speed manual leaving the SFE pack as the last remaining automatic-only Focus (apart from the direct-drive electric), and color choices are rearranged.

Outside North America
Edit
European models
Edit
The UK range is available in hatchback and estate(wagon) in a large number of trim variants including: Studio, Edge, Zetec, Zetec S, Titanium, Titanium X and ST. Most other European countries, including the Republic of Ireland (who also drive on the left like the UK), also include the four-door saloon.
New Zealand models
Edit
The New Zealand range is available in hatchback, sedan and wagon form. Variants include: Ambiente, Trend, Sport and Titanium. In the 2013 lineup there is one diesel available, in the form of the Trend wagon. This is a Duratorq 2.0L Turbo Diesel Common-rail Injection (TDCi) Diesel engine with the 6-speed PowerShift automatic transmission.
Engine lineup outside NA
Edit
1.0 litre Ecoboost
This three-cylinder engine is produced in two variants, producing 100 hp and 125  hp. It will replace 1.6 L Ti-VCT Duratec in 2012.[19]
1.6 litre Duratec Ti-VCT
This engine is updated from previous model but it's updated to EU5 norms. It's available in three versions, 85, 105 and 125 hp (141/150/159 Nm).
1.6 litre Ecoboost
This newly developed engine comes with Ford's Durashift B6 manual gearbox. In the Focus it's available with 150 or 182 hp, both versions produce 240 Nm of torque along with 270 Nm in overboost function.
1.6 litre Duratorq
Just like petrol Duratec, this diesel engine is upgraded for emissions and economy. Even it's not all new this engine has 8 valves instead 16 on previous model. It produces 95 hp and 230 Nm in basic version and 115 hp/270 Nm (285 with overboost) in top version. For Focus Econetic model, engine will produce 105 hp.
2.0 litre Duratorq
Top of the range diesel engine is highly updated and available with Ford PowerShift transmission, it comes in three versions, 115/140/163 hp producing 300/320/340 Nm of torque.
ASEAN range
Edit
In March 2012, the Focus is launched to the ASEAN markets at the Bangkok International Motor Show.[20] The Thailand range includes: 1.6 Ambiente, 1.6 Trend, 2.0 Sport 5-door, 2.0 Titanium sedan, 2.0 Sport+ 5-door and 2.0 Titanium+ sedan trim levels.,[21] in Malaysia there is 2-liter variants only.
Taiwan range
Edit
Assembly starts by the end of 2012
2 petrol engines (1.6L Ti-VCT 125 PS and 2.0L GDI 170 PS) and 1 diesel engine (2.0L TDCi 163 PS) available, all comes with PowerShift transmission (manual transmission model is unavailable).
8 trim levels:
Hatchback: 1.6 Ti-VCT Trend, 2.0 GDI Trend, 2.0 GDI Sport, 2.0 TDCi Sport
Sedan: 1.6 Ti-VCT Ambiente, 1.6 Ti-VCT Trend, 1.6 Ti-VCT GHIA, 2.0 TDCi Trend
Korea Range
Edit
2.0L TDCi Duratorq Diesel is only available engine in Korean market (available in 140 hp and 163 hp configuration), all comes with PowerShift transmission (manual transmission model is unavailable).
3 Trim Levels: Trend (140 hp), Sport (163 hp), Titanium (163 hp), all available in both hatchback and sedan body style.
2.0L Ti-VCT GDI Sport five door hatchback with either the five speed, dual clutch manual transmission, or the six speed "Power Shift" automatic transmission is the only model currently offered, manufactured at the Thailand facility. Its width dimensions at 1810mm currently are not within the favorable Japanese compact car tax classification.[22]
Specifications
Edit
5-door hatchback model, availability varies between markets
Engine
Gearbox
Power, Torque
Urban (l/100 km)
Extra-urban (l/100 km)
Combined (l/100 km)
Top speed
0–100 km/h
(seconds)
Emissions
(Template:CO2)
Petrol engines
1.0 L Ecoboost (from 2012)
5M
Template:Convert/PS, Template:Convert/Nm
5.9
4.1
4.8
Template:Convert/km/h
12.5
109g/km
1.0 L Ecoboost (from 2012)
6M
Template:Convert/PS, Template:Convert/Nm
6.3
4.2
5.0
Template:Convert/km/h
11.3
114g/km
1.6 L Ti-VCT Duratec
5M
Template:Convert/PS, Template:Convert/Nm
8.0
4.7
5.9
Template:Convert/km/h
14.9
1.6 L Ti-VCT Duratec
5M
Template:Convert/PS, Template:Convert/Nm
8.0
4.7
5.9
Template:Convert/km/h
12.3
136g/km
1.6 L Ti-VCT Duratec
5M
Template:Convert/PS, Template:Convert/Nm
8.0
4.7
5.9
Template:Convert/km/h
10.9
149g/km
1.6 L Ti-VCT Duratec
6A
Template:Convert/PS, Template:Convert/Nm
9.3
4.8
6.4
Template:Convert/km/h
11.7
1.6 L Ecoboost
6M
Template:Convert/PS, Template:Convert/Nm
7.6
4.9
5.9
Template:Convert/km/h
8.6
137g/km
1.6 L Ecoboost
6M
Template:Convert/PS, Template:Convert/Nm
7.6
4.9
5.9
Template:Convert/km/h
7.9
137g/km
2.0 L Ecoboost
6M
Template:Convert/PS, Template:Convert/Nm
9.9
5.6
7.2
Template:Convert/km/h
6.5
169g/km
Diesel engines
1.6 L Duratorq
6M
Template:Convert/PS, Template:Convert/Nm
5.1
3.7
4.2
Template:Convert/km/h
12.5
109g/km
1.6 L Duratorq Econetic
6M
Template:Convert/PS, Template:Convert/Nm
3.9
3.1
3.4
Template:Convert/km/h
11.8
88g/km
1.6 L Duratorq
6M
Template:Convert/PS, Template:Convert/Nm
5.1
3.7
4.2
Template:Convert/km/h
10.9
109g/km
2.0 L Duratorq
6A
Template:Convert/PS, Template:Convert/Nm
6.6
4.3
5.2
Template:Convert/km/h
10.9
2.0 L Duratorq
6M
Template:Convert/PS, Template:Convert/Nm
6.1
4.1
4.9
Template:Convert/km/h
8.9
124g/km
2.0 L Duratorq
6A
Template:Convert/PS, Template:Convert/Nm
6.6
4.3
5.2
Template:Convert/km/h
9.5
134g/km
2.0 L Duratorq
6M
Template:Convert/PS, Template:Convert/Nm
6.1
4.1
4.9
Template:Convert/km/h
8.6
124g/km
2.0 L Duratorq
6A
Template:Convert/PS, Template:Convert/Nm
6.6
4.3
5.2
Template:Convert/km/h
8.9
134g/km
ECOnetic
Edit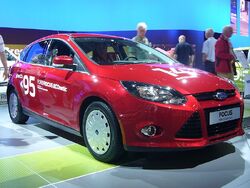 Main article: ECOnetic
The second generation Focus ECOnetic for 2011 includes new technologies as Auto-Start-Stop system, Smart Regenerative Charging, Eco mode, Active Grille Shutter, ultra-low rolling resistance tyres, Shift Indicator Light and revised final drive ratio targeting 95g/km average CO2 emissions and 80mpg.[23] Third generation Focus ECOnetic will have improved Ford's Duratorq 1.6 litre 105 hp engine with standard coated Diesel Particulate Filter (cDPF).[23]
Focus Electric
Edit
Main article: Ford Focus Electric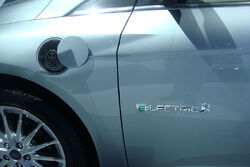 In January 2011 Ford launched its pre-production version based on the Focus Mark III under the new name of Ford Focus Electric at the Consumer Electronics Show, rather than the traditional North American Auto Show.[24] with sales scheduled in the U.S. market by late 2011[25] and in Europe by 2013.[26] The concept electric car was unveiled at the 2009 Frankfurt Motor Show as the Ford Focus BEV.[27][28] The Focus BEV was based on the European second generation Focus.
For the Focus Electric, Ford used a complete electric drive train developed and supplied by Magna Steyr,[29] and uses a 23 kWh, liquid-cooled lithium-ion battery pack, has a range of Template:Convert/mi on a charge, and a top speed of Template:Convert/mph.
The Focus Electric will be built at the Michigan Assembly Plant in Wayne, Michigan on the same line as the gasoline-powered version of the Focus, the C-Max Energi plug-in hybrid and the C-Max Hybrid.[25][30] Initial production will be limited, with production to be ramped up in 2012.[31]
Ford announced that sales of the Ford Focus BEV are slated for late 2011, and it will be available initially only in 19 metropolitan areas including Atlanta, Houston and Austin, Texas, Boston, Chicago, Denver, Detroit, Los Angeles, San Francisco, San Diego, New York City, Orlando, Florida, Phoenix and Tucson, Arizona, Portland, Oregon, Raleigh-Durham, Richmond, Virginia, Seattle, and Washington, D.C.[25]
The Ford Focus Electric was awarded the 2011 Green Car Vision Award at the 2011 Washington Auto Show.[32]
Focus ST
Edit
Beginning Summer 2012 (UK)/late 2012 in the US, Ford offered a new performance-oriented hot hatch Focus ST, as first revealed at the 2010 Paris Motor Show and then at the 2011 Frankfurt Motor Show when more details were announced, including the availability of an estate(wagon) version for European markets, and the possibility of a sports sedan version for North American markets.[33]
The ST features a new, more aggressive exterior design, including a redesigned front bumper with larger air intakes and grille, larger rear wing, wider side sills, center exit exhaust, and alloy wheels. Inside, the car receives a trio of additional gauges mounted in the dashboard, faux-carbon fiber trim, and sport seats with body colored inserts and stitching. The car will be offered three trim options: ST1, ST2 and ST3; the same three options that were available with the MkII ST.
Differences between the US and European models besides the lack of the wagon model outside Europe and Federally-required amber side reflectors are limited to paint and trim: Euro ST1s get all-cloth Recaro seats while North American ST1s use the same seats as the 2012 SE Sport Package; Red seat accents on the Recaro seats are not available on North American ST2s; Euro ST3s feature a leather Recaro rear seat setup; The rear headrests are different in each market; Red is the only exterior color included in the base price in Europe while yellow is the only extra-cost color in the US; The optional MyFord Touch system that is fitted to ST2/ST3 models in North America is not offered in Europe; The North American ST utilizes a full-size spare tire while the Euro ST features a mini spare or fix-a-flat setup, depending on what audio system is fitted; The Euro ST offers further options (some grouped in option packages) compared to the North American ST including: gray wheels, red brake calipers, pop-out door guards, heated windshield, lane departure system, and active speed limiter; Headlight washers are fitted to the Euro ST3; Only the ST3 model in North America features the handbrake, armrest, and cup holder design from the Focus Titanium, while all Euro Focus STs have that setup; The Euro Focus ST features a height-adjustable front passenger seat.
The ST will use a Template:Convert/hp & Template:Convert/Nm version of the 4-cylinder 2.0L EcoBoost engine, a gain of 25 hp above the previous Focus ST which used a larger 2.5L 5-cylinder engine.[34] It is resultantly estimated that the ST will reach Template:Convert/km/h in 6.5 seconds, while its top speed will be Template:Convert/km/h. Compared to the previous ST, the new model has the same 0 to 100 km/h time and has a 2 mph higher top speed. Another significant improvement is weight; the new car is Template:Convert/kg lighter than its 5-cylinder powered predecessor.[35]
The ST did feature in the remake of the film The Sweeney, coming out in September 2012. Ford gave six ST-badged Focuses to the production team.[36]

Focus RS
Edit
Following the merger of Ford's North American Special Vehicle Team (SVT), the European TeamRS and the Australian FPV divisions[37] to the development of Ford's global performance vehicles, Ford's Advanced Product Creation and Performance Vehicles director Hermann Salenbauch announced that the decision to sell Ford Focus RS/SVT to North America depends on feedback from the media and customers.[38] However, the product would only appear 2 years after the release of the third generation Focus models.[39] On August 4, 2011 Ford's global boss for small cars, Gunnar Herrmann, revealed to magazine Drive that the third iteration of the hot-hatch was in the works. New RS will be FWD with more than 305 hp (227 KW) which will be transferred to the road with so-called 'Revoknuckle' suspension. The new RS is expected in late 2013 or 2014 in Europe, North America, and the rest of the world.[40]
Marketing
Edit
The Ford Focus was promoted in The Amazing Race, a reality show featuring 11 teams racing around the world. The Focus was used in a few seasons as the mode of transportation for the racers. In the 18th installment, the 2012 Ford Focus was also used as a prize for the first team that completes a leg of the race.
References
Edit
External links
Edit
Wikimedia Commons has media related to: [[Commons:Category: Category:Ford Focus
Ford Focus

]]

Template:Ford Motor Company vehicles Template:Ford North America timeline 1980 to present