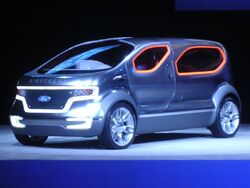 The Ford Airstream is a concept car which made its debut at the 2007 North American International Auto Show in Detroit, Michigan. The Ford Airstream is a retro-futuristic crossover SUV that was inspired by the classic Airstream recreational vehicle trailers built since the 1930s. The modern Ford Airstream concept includes a plug-in hybrid hydrogen fuel cell drive system, called HySeries Drive, that operates exclusively on electrical power. Ford calls the Ford Airstream Concept "a futuristic look at crossovers" as "modern touring vehicle(s)" for recreational travelers. The concept vehicle was designed in cooperation with Airstream - a division of Thor Industries.
External links
Edit
Ad blocker interference detected!
Wikia is a free-to-use site that makes money from advertising. We have a modified experience for viewers using ad blockers

Wikia is not accessible if you've made further modifications. Remove the custom ad blocker rule(s) and the page will load as expected.