Fiat Grande Punto
Fiat
aka
Fiat Punto
Grande Punto
Production
2005 - present
Class
Family Hatchback
Body Style
3-door hatchback
5-door hatchback
Length
4030 mm
Width
1687 mm
Height
1400 mm
Wheelbase
2510 mm
Weight
1015-1205 kg
Transmission
Five-speed Semi-Automatic
Five-speed Manual
Six-speed Manual
Engine
1,242 cc four-cylinder petrol
1,368 cc four-cylinder petrol
1,248 cc MultiJet diesel
1,910 cc MultiJet diesel
Power
1.2 - 65bhp
1.4 - 77bhp
1.3 MultiJet - 75-90bhp
1.9 MultiJet - 130bhp
Similar
Ford Fiesta
Peugeot 207
Designer
Giugiaro
The third generation of the Fiat Punto model range was unveiled at the 2005 Frankfurt Motor Show, and sales began in European markets by the end of that year. The car, named the Grande Punto to mark it out from the previous generation Puntos, was designed by Italian design house Giugiaro, and is built upon the platform which Fiat and GM engineered together (essentially a modernised version of the GM Gamma platform). The Grande Punto is intended to be a family hatchback, and is available in three- and five-door formats.
The Grande Punto has, so far, been quite the sales success, and combined with the success of the Nuova Panda, has helped turn the Fiat company from an unprofitable, unwanted car maker into one of Europe's most prominent manufacturers.
Recent Changes
Edit
For 2010, the Grande Punto lineup gets a comprehensive facelift and a name change: Punto Evo. The facelift consists of new front and rear bumpers, updated interior with new dash, improved seats, enlarged storage compartments and better instrumentation. The Punto Evo also features a new "Blue&Me-TomTom" infotainment system that combines telephone, navigation and information functions on a color touch-screen. The Punto Evo is slated to be unveiled at the 2009 Frankfurt Motor Show. [1]
From 2009, the Grande Punto will be made available with a natural gas option dubbed the Grande Punto Natural Power. The methane-powered car is motivated by Fiat's dual fuel 1.4 litre 8 valve Fire Inline-4 engine capable of a 310 km (195 miles) range. Prices will start at €12,300. At the current price of Natural Gas in Italy, Fiat says the car will cost as little as €3.8/100 km to run. [2]
In 2006, the critically acclaimed MultiJet diesel engine range was added to the Grande Punto, in 75hp, 90hp and 130hp forms. This allows a MultiJet to be available with each trim level. Also in 2006, a UK-market specific edition was released, named the Active White. This is intended to be a cheaper and more basic version of the Active, aimed at those living in the city looking for a cheap runabout.
Since its release in 2005, very few changes have been made to the Grande Punto. The car, available in three-door and five-door variants, is sold with three different trim levels - the Active, Dynamic and Sporting. The specification and colour charts are almost identical to when the vehicle was released, however at the 2007 Geneva Motorshow, Fiat unveiled an Abarth version of the Punto, which hints at expansion of the model range in the near future.
Styles and Major Options
Edit
The Grande Punto range, like other Fiat models, is systematic, with three distinct clear-cut models, and each successive model adding onto the previous. Apart from trim level, Grande Punto buyers can also choose whether their car will be three- or five-door, with the five-door edition being typically £700-1000 more expensive than the three-door. Transmission options are a five-speed semi-automatic, five-speed manual and a six-speed manual.
The Active
Edit
The Active is the base of the Grande Punto range. Sold with only the 1.2 petrol and 1.3 75hp MultiJet, and featuring basic equipment as standard. This includes a radio/CD player, colour-coordinated bumpers, electric windows, remote locking and driver and passenger airbags. Wheel options are 15-inch pressed steel, with pastic trims.
The Active White edition omits the electric windows, and is available in only white. The engine choice is limited to only the 1.2, but this allows it to be a whole £600 cheaper than the Active.
The Active Sport adds deeper bumpers and side skirts, along with 15-inch alloy wheels. A CD/MP3 player is also included, and engine option is limited to a 1.4 petrol.
The Dynamic
Edit
The Dynamic builds upon the specification of the Active, but adds more colour and engine options to the range. The Dynamic can be specified with a 1.2 petrol, 1.4 petrol, or the 1.3 MultiJet 90hp.
Alloy wheels are standard, as is air conditioning, electric windows and mirrors, and in some markets the SkyDome full-length sunroof is offered. Also, in addition to the driver and passenger airbags of the Active, the Dynamic adds side and roof airbags - and is one of the only cars in this class to do so.
The Sporting
Edit
The crown of the range until the Abarth version arrives. Again, building on the Dynamic, this car is fully loaded, and is given only the best engines and colours. As such, the Sporting can be specified with the 1.9 MultiJet 130hp and the 1.4 petrol.
The expansive specification includes 17 inch alloy wheels, Bluetooth communication, Radio/CD/MP3 player, bodykit, Dual Zone automatic climate control, ESP stability programme and electric sports seats, amongst others.
Grande Punto Trims

Active White

Active

Active Sport

Dynamic

Sporting

MSRP

£7485

£8004

£8910

£8910-10600

£10710-12300
Gas Mileage
Edit
Engine

1.2 Petrol

1.3 MultiJet 75

1.3 MultiJet 90

1.4 Petrol

1.9 MultiJet 130

MPG

47.9 mpg

60.1 mpg

60.1 mpg

47.9 mpg

48.7 mpg
Reliability
Edit
By all accounts, the Fiat Grande Punto is a tremendously reliable car in all variants - as expected of a car released in 2005. The Grande Punto has featured highly in numerous European customer satisfaction surveys.
Every Grande Punto sold is supplied with a three year/30,000 miles (depending on which comes first) manufaturers warranty, as well as a 10 year anti-corrosion guarantee.
The EuroNCAP, the European car safety body, have given the Grande Punto a maximum five-star rating in their rigorous crash-testing schedule. The five star rating breaks down into the following scores:
Front Impact - 14 points, 88%.
Side Impact - 18 points, 100%
Child Occupant Protection - 35 points, 71%, three out of five stars.
Pedestrian Rating - 19 points, 53%, three out of four stars.
Overall - Five Star safety rating.
Grande Punto
Edit
Grande Punto Abarth
Edit
Grande Punto Abarth SS 180HP[3]Edit
Abarth Punto EVO
Edit
| | | |
| --- | --- | --- |
| Metallic Colors | Pastel Colors | Solid Colors |
| | | | | | |
| --- | --- | --- | --- | --- | --- |
| Psychedelic Azure |   | Exotica Red |   | Ambient White |   |
| | | | | | |
| --- | --- | --- | --- | --- | --- |
| Jungle Grey |   | Caribbean Orange |   | Rock'n'Roll Blue |   |
Main Competitors
Edit
The Grande Punto is in the immensely crowded Family Hatchback sector, which is the biggest selling sector in almost every European country. The Grande Punto locks horns with the European Ford Focus and Honda Civic, along with the Peugeot 207.
However, due to its ultra-competitive pricing, the pound-for-pound competition comes from the class below - smaller cars like the Toyota Yaris and Renault Clio.
The hotly anticipated Abarth version should be ideal competition for the Mini Cooper S, SEAT Leon FR, Renault Clio RenaultSport 197 and Honda Civic Type R.
Fiat will not be producing or developing an electric-petrol hybrid Grande Punto, but instead will focus its efforts on renewable BioFuel compatibility. We may even see an ultra-enonomical version, similar to the Panda MultiEco, with enhanced aerodynamics, reduced weight and cleaner powerplant.
Unique Attributes
Edit
The Fiat Grande Punto is unique amongst its Fiat siblings in that it's the first Fiat model to be sold in Australia for twenty years. The Grande Punto went on sale in 2006, and has since been crowned 'The Most Economical Car in Australia'. Fiat hopes to sell the rest of the range there soon.
The Grande Punto is the only car in its class to be styled by a prestigious design house like Giugiaro.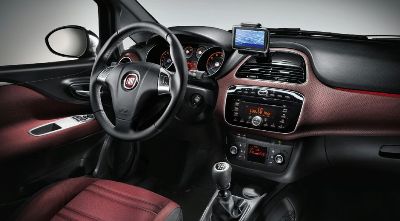 Resale Values
Edit
Resale values for the Grande Punto are average for class, with a three year old example retaining around 40-47% of its original value.
The Abarth example, if released, could boost this figure depending on the price on release and press reaction.
Criticisms
Edit
BBC Top Gear Magazine: 'It may well look like a mini-Maserati, but quality is lacking.'
Jeremy Clarkson: 'It may be the biggest car in its class, but that means it's the heaviest. Therefore, 0-60mph takes an ice age.'
Parkers - 'The hard plastics aren't that nice to touch.'
Worldwide
Edit
The Grande Punto is sold throughout Europe and Australia under the same name. Fiat develops an estate version of the car for emerging markets in countries such as China and India, which will be more rugged and cheaper than the standard car.
Design quirks and oddities
Edit
The Fiat Punto page for information about the Grande Punto's predecessors.
External Links
Edit
Ad blocker interference detected!
Wikia is a free-to-use site that makes money from advertising. We have a modified experience for viewers using ad blockers

Wikia is not accessible if you've made further modifications. Remove the custom ad blocker rule(s) and the page will load as expected.