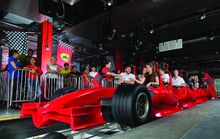 Template:Infobox amusement park Ferrari World is a Ferrari themed amusement park on Yas Island in Abu Dhabi.[1] The central park is situated under a Template:Convert/m2[2] roof making it the largest indoor amusement park in the world.[3] Ferrari World officially opened on 4 November 2010.[4] The theme park is home to Formula Rossa, the world's fastest roller coaster.[5]
The iconic roof of Ferrari World was designed by Benoy Architects.[6] It is modelled after the side profile of a Ferrari GT. Ramboll provided the structural engineering, masterplanning and urban design, geotechnical engineering and the façade engineering.[7] The roof has a total surface area of Template:Convert/m2 with a perimeter of Template:Convert/m. The theme park, measuring Template:Convert/m2, is located under this Template:Convert/m high roof. These factors make Ferrari World the largest indoor theme park in the world.[1]
A Ferrari logo adorns the roof of the building and measures Template:Convert/m by Template:Convert/m—the largest Ferrari logo ever created.[3][8] 12,370 tonnes of steel has been used to support this roof.[1] The centre of the roof is marked by a 100 m (328 ft) glazed funnel.[6] The structure was declared complete on 29 October 2009 with the park due to open one year later.[1][9]
Attractions
Edit
Jack Rouse Associates, a Cincinnati based visitor experience design firm, was responsible for the design of most of the park's 20 rides.[1][10] On 20 July 2010, Ferrari World announced the names of all of the opening day attractions.[11]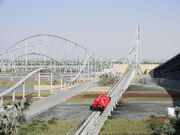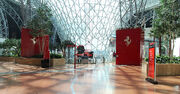 Formula Rossa - a hydraulically launched roller coaster manufactured by the Swiss coaster design firm Intamin. It is currently the world's fastest roller coaster, reaching a top speed of Template:Convert/km/h.[3][21][5][8][13][14][20][22][23]
G-Force - a spaceshot tower which launches riders over Template:Convert/m up and out of the building.[1][8][13][23]
Junior Grand Prix - a racing school for budding Scuderia drivers who can drive child-sized Ferrari F1 racers[1][8][11]
Junior GT - a driving school for children. Guests receive a training session before jumping in their own child-sized F430 GT Spider to navigate a network of streets[1][8][11][25]
Junior Training Camp - a soft play area where children can paddle their own miniature Ferrari and play with a foam model of an F1 car.[11]
Made in Maranello - a virtual tour inside the Ferrari factory in Maranello giving guests a glimpse into the design, assembly and testing of a Ferrari GT.[11]
Paddock - a realistic recreation of the Ferrari team's set up at European F1 races.[11]
Fast Lane - an interactive theatre which allows guests to call the shots on how a virtual driver is to race.[11]
Racing Legends - a journey showcasing significant moments in Ferrari racing history[11]
RED: A Theatrical Spectacular of Speed and Passion – Conceived, designed and produced by Thinkwell Group, RED is a 25-minute live show that pays tribute to the passion of Enzo Ferrari with shadow play, pas de deux performances, scarf dances, choreographed trampoline displays, juggling acts, German wheel sets, stunt skating and racing antics.[26]
Scuderia Challenge - a set of state-of-the-art racing simulators featuring authentic Ferrari F1 steering wheels and seats[1][6][8][11]
Speed of Magic - A fantasy 4-D journey following the adventures of a boy that plays a game who has to beat a fly named Nello, named after the last portion of the Ferrari car, Maranello but loses and his dad calls him so he would ride the Ferrari but when putting on his shoes, Nello is voiced by Lucien Dodge while Alex Goot provides his singing voice. Nello sings Let It Go, Firework and more songs by Alex Goot (Nello's singing voice). Nello from the video game steals the Ferrari keys from his dad while tying his shoes and chases it as he travels through a kaleidoscope of natural and phenomenal environments, where no Ferrari has gone before[1][8][20]
Viaggio in Italia - a recreation of an aerial voyage over Italy similar to the Disney's California Adventure/Walt Disney World's Epcot ride, Soarin' Over California[11]
Shopping and dining
Edit
Guests can purchase merchandise from several retail outlets throughout the park including the largest Ferrari Store in the world and a Ferrari boutique capable of creating personalised souvenirs. The food and beverage outlets aim to provide a true Italian dining experience.[24]
New attractions
Edit
A new dark ride attraction is being developed by Ferrari World under the leadership of Mr. George Walker, Art Director, that will feature an entirely new roller coaster. The ride is being made by Dynamic Attractions of Vancouver Canada and is expected to open in 2015.
References
Edit
External links
Edit
Wikimedia Commons has media related to: [[Commons:Category: Category:Ferrari World
Ferrari World

]]
Template:Ferrari World Attractions
Ad blocker interference detected!
Wikia is a free-to-use site that makes money from advertising. We have a modified experience for viewers using ad blockers

Wikia is not accessible if you've made further modifications. Remove the custom ad blocker rule(s) and the page will load as expected.