Dodge Caliber
Dodge
aka
Production
2006-2011
Class
Compact
Body Style
Wagon
Length
173.8 in.
Width
68.8 in.
Height
60.4 in.
Wheelbase
103.7 in.
Weight
3156 lbs.
Transmission
5 Speed Manual
Engine
2.4L Four Cylinder
Power
172 hp @ 6000 rpm

165 ft-lbs. @ 4400 rpm

Similar
Ford Focus
Designer
Trevor Creed
The Dodge Caliber is the replacement for the Neon, and went on sale in the spring of 2006 with the 2007 model year. The Caliber is a 5-door hatchback roughly the size of a Neon, and was first shown at the 2005 Geneva Motor Show. It features styling elements derivative of larger Dodge vehicles, such as a crosshair grille and large wheel arches. The production Caliber will be one of the first modern Dodge-branded vehicles for sale in the European market. It debuted publicly on January 10, 2006 at the North American International Auto Show, amid jokes by David Spade. The base price is $13,985.
Recent Changes
Edit
For 2010, the Dodge Caliber gets a brand new interior while the EU market gets a new diesel engine.[1]
The Caliber uses a continuously variable transmission (dubbed CVT2 by Dodge) sourced from Jatco (a Nissan subsidiary), the first DaimlerChrysler car to employ this technology. It uses a four-cylinder 1.8–2.4 L Global Engine Manufacturing Alliance (GEMA) gasoline engine.
The car also features an electronically-controlled all-wheel drive system with variable torque between speeds of 25 and 65 mph for optimal handling.
The Caliber rides on the GS platform, co-designed with Mitsubishi Motors. It shares the platform with the Mitsubishi Lancer, but is most similar to the Jeep Compass and Jeep Patriot.
The Caliber is built at the Belvidere Assembly (IL) plant, where its predecessor was produced.
The Chrysler Group announced a marketing plan for the first year of the cars' production. The plan included 20% of the budget going towards online marketing, a blitz of print ads and a number of television ads.
It should also be noted that Dodge is marketing the Caliber the exact opposite than they marketed the Neon when it first came out. When the Neon first came out, they sold advertised it mostly on its cuddly looks, with many ads consisting of just the front end of a Neon and a big "hi" over it. For the Caliber, they are claiming that it is "Anything but cute", and its ads show it repelling cuteness.
Three models were available at the Caliber's launch, with a fourth available mid-2006.
The base SE model features front wheel drive and a 1.8 L 148 hp (110 kW) GEMA I4 attached to a 5-speed manual transmission. A 2.0 L 158 hp (118 kW) version of the engine is available as an option, which comes with the CVT2 transmission. There is no automatic transmission for the 1.8 L engine, nor is there a manual transmission for the 2.0 L. The standard configuration for the SE lacks air conditioning, and does not have power windows, door locks, or mirrors. The grille surround is body-colored, while that of all other models is chromed. There is no tachometer, and no assist handles. Fifteen inch steel wheels are standard. Some options are not available on the SE.
The SXT has the same engine choices as the SE but many more features are available as standard. Air conditioning is standard equipment at this level, including the Chill Zone beverage cooler inside the front lower glove compartment. The driver's seat adds height adjustment, the passenger seat now folds flat for load-carrying, and the rear seats now recline. Power windows, locks, mirrors, and remote keyless entry are now included. The grille surround is now chromed, and 17-inch steel wheels are now standard, with 17-inch aluminum wheels as an option. The cargo area light now doubles as a removable, rechargeable flashlight, while the front dome light now incorporates reading lamps. The front console now includes a 115-volt 2-prong power outlet.
Some Dodge publications mention a SXT Sport model, while others (e.g. the Dodge website) list a SXT "E" package with identical features. This consists of 17-inch aluminum wheels, color-keyed cloth seat inserts, color-matched instrument panel trim, and fog lamps.
The R/T model has 172 hp (128 kW) 2.4 L version of the GEMA engine, equipped with the CVT2 transmission, and programmed with an 'AutoStick' feature giving six simulated fixed ratios in a clutchless manual mode in addition to the standard CVT 'Drive' mode. 18-inch aluminum wheels are standard, while chromed are an option. At launch, all-wheel drive was the only option, with front-wheel drive and a manual transmission promised later. ABS is standard, and the suspension and steering are tuned for performance.
Externally, the R/T is distinguishable by body-color/chrome door handles (replacing black on other models), a chrome side molding, chromed exhaust tip, and front fog lights as standard, as well as R/T badging.
Internally, the car comes as standard with color-keyed fabric seat inserts, leather seats being an option as on the SXT. Color-keyed instrument panel trim is also standard, as is a leather-wrapped steering wheel with audio controls and speed control, and a cargo area cover (all options on the SXT).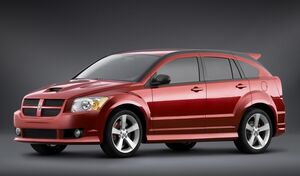 The SRT-4 model, introduced at the Chicago Auto Show in February 2006, is a replacement for the Dodge Neon SRT-4 modified by Chrysler's Street and Racing Technology group. It features a turbocharged version of the 2.4 L engine with a class-leading 300 hp (224 kW). This is routed to the front wheels with a six-speed manual transmission. The SRT-4 uses the large 13.3 in (338 mm) front vented disc brakes with dual-piston calipers and 11.8 in (300 mm) rear single-piston disc brakes from the Chrysler 300C. The suspension is lowered as well.
Dodge claims a 5.9 second sprint to 60 mph (97 km/h) with quarter-mile (0.4 km) acceleration in less than 14 seconds. They also promise 28 mpg (8.4 L/100 km) on the highway. The SRT-4 will be available in the spring of 2007.

Model
Year
Displacement
Engine
Power
Torque
Notes
SE
SXT
2007–
1.8 L
GEMA I4
148 hp (110 kW)
125 ft·lbf (169 N·m)
2.0 L
GEMA I4
158 hp (118 kW)
141 ft·lbf (191 N·m)
Diesel
2007–
2.0 L
Diesel I4
140 hp (104 kW)
229 ft·lbf (310 N·m)
Europe only
R/T
2007–
2.4 L
GEMA I4
172 hp (128 kW)
165 ft·lbf (224 N·m)
SRT-4
2007–
2.4 L
GEMA turbo I4
300 hp (224 kW)
260 ft·lbf (353 N·m)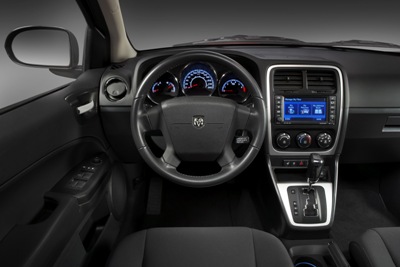 Criticism
Edit
Drive journalist Richard Blackburn nominated the Dodge Calibre as the worst car of the decade.
External links
Edit
Ad blocker interference detected!
Wikia is a free-to-use site that makes money from advertising. We have a modified experience for viewers using ad blockers

Wikia is not accessible if you've made further modifications. Remove the custom ad blocker rule(s) and the page will load as expected.