Search By Model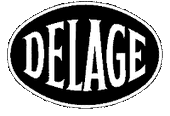 Defunct
The Delage Automobile company was established in 1905 in Levallois, a northwesterly suburb of Paris, France. It was founded by Louis Delâge (1874-1947), an ambitious young engineer who had been working for the Peugeot car company. Initially, the company was only an assembly plant, acquiring engines and drive trains from other manufacturers to use with their own body designs purchased from others. By 1908, success saw the operation in new production facilities and competing in Grand Prix motor racing. A year later, they were making their own engines and fabricating advanced body designs. Delage cars began winning important races until the onset of World War I in 1914 when the new factory in nearby Courbevoie was converted to military production.
Post-war, the Delage company prospered, producing high quality, well-engineered touring and luxury saloon cars. In motor racing, Great Britain's Dick Seaman and female driver Kay Petre gained fame in their Delage racecars while France's Robert Benoist and René Thomas were among the leading drivers of their day. In 1914, Thomas traveled to the United States and drove a Delage to victory at the Indianapolis 500 and in 1924, he set a new land speed record at just over 143mph (230 km/h). The first ever British Grand Prix, held in 1926, was won by the French team of Louis Wagner and Robert Sénéchal driving a Delage 155B. Throughout the mid 1920s, Delage vehicles dominated racing, with Benoist winning the British, French, Spanish and Italian Grand Prix races.
However, the Great Depression of the 1930s took its toll and in 1935 the company went into voluntary liquidation. The Delage plant in Courbevoie was closed and its contents sold. A license to manufacture cars under the Delage name was negotiated with the Delahaye automobile company who continued to produce a Delage model until it went out of business in 1953.
Models
Delage CO (1918, 6 cyl, 4,524 cc)
Delage DI (1920, 2,121 cc)
Delage CO2 (1921)
Delage 2 LCV (1923, 12 cyl, 2L)
Delage GL (5,954 cc)
Delage DE
Delage DH (12 cyl DH, 10,5L)
Delage DI S
Delage DI SS
Delage DMS (6 cyl, 3L)
Delage DML (6 cyl, 3L)
Delage 15 S 8 (8 cyl, 1,500 cc)
Delage GL (5,954 cc)
Delage DM (6 cyl, 3,174 cc)
Delage DR (6 cyl, 2,516 cc)
Delage D4
Delage D6-11 (6 cyl, 2,101 cc)
Delage D8-15 (2,768 cc)
Delage D6-65
Delage D8-85
Delage D8
Delage D8 S (8 cyl, 4,061 cc)
Delage D8-105
Delage DI 12 (4 cyl)
Delage D8 120
Delage D6 70 (6 cyl)
Gallery
External links
Ad blocker interference detected!
Wikia is a free-to-use site that makes money from advertising. We have a modified experience for viewers using ad blockers

Wikia is not accessible if you've made further modifications. Remove the custom ad blocker rule(s) and the page will load as expected.