The Vemaguet is a Brazilian automobile produced by Vemag under license from the German DKW factory between 1958 and 1967, we had two popular derivatives , the Caiçara Pracinha and produced respectively between 1963 and 1965 and between 1965 and 1966. A total of 55692 units 1 ( 47769 Vemaguet units, 1173 units and 6750 units of Caicara Pracinha ) were produced.
Initially it was known simply as " Coach DKW - Vemag " or as a " Perua DKW - Vemag ", receiving the name Vemaguet only in 1961. The models dating from 1956 to 1957, prior to the production of Vemaguet therefore, were assembled by Vemag under DKW license of Germany and were derived from van DKW F91 Universal, while the models were derived from Vemaguet F94 family.
Until 1963 they opened the front door instead of the front, back towards the comfort, earning the nickname "suicide" doors (as Americans refer to this type of opening ) doors or " let's see " or " DêChaVê " (as was common in Brazil). The latter name obviously refers to the use of these ports by women wearing skirts. In 1964 the doors were changed to the traditional way of opening backwards, in favor of safety.
Its three-cylinder in line and two-stroke engine (need to mix oil with gasoline), with a volume of 1 liter, front, as well as traction. One coil per cylinder, liquid cooled, electric start. Engine instead of using bushings, bushings or bearings on moving parts, uses bearings, thus providing durability above common for cars of the time.
On November 19 of 1956 and Vemag puts the truck on the market DKW F -91 Universal, derived from the German sedan F -91 and its woodwagon, produced by Auto Union . This bus, however, was assembled with components imported from Germany.  In 1957 this bus suffered minor changes, such as the design of the rear doors that opened vertically sideways and began to open horizontally into two pieces, one of them by opening up and the other down.
The truck (the " turkey DKW ") , derived from the F -94 German, with extensive nationalization index, equipped with 900 cc engine is presented in the second half of 1958. In the third quarter of 1959 the model now has engine with 1000 cc. In 1960 the wheels now have eight holes, since the brakes are rather required in part by the use of free-wheeling.
In 1961 to a " Turkey DKW-Vemag " gets named as Vemaguet and occur several aesthetic changes, like the shape of the bumpers and wheel caps. This year, the sedan lost friezes from the trunk lid, the Vemaguet lose only the following year.
In 1963 is released Caicara coach , a popular version of Vemaguet , with one-piece rear door opening to the left. The lack of interest Auto Union to participate more actively in the market Brazil eiro made ​​the emblem placed on the hood of the Vemag products were changed to a simpler emblem, one "DKW - Vemag" manuscript.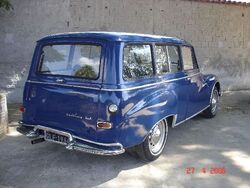 In 1964 is released into the market DKW-Vemag  and Lubrimat. The Vemag had 4,013 employees and an area of just over 87,000 m². Their vehicles already had almost 100% nationalization.
This year, the Vemaguet have changed their doors , they begin to open in the conventional way and not otherwise. The opening mode instead earned them the nickname "suicide doors". This way of opening also gave the models the nickname "dechavê" .
In 1965 is thrown Rio series in honor of the four hundred years of foundation of the city of Rio de Janeiro. In Europe, the Volkswagen acquires the controlling interest in Auto Union, turning it into Audi. In Brazil, settle rumors about the end of production of vehicles DKW and the closure of the factory.
In 1966 is closed production of Caiçara replaced by GI Blues, another popular truck-based Vemaguet. The main difference of Caiçara and Pracinha are the doors that now open in the usual sense. This year , the steering wheel, which was "plan", became "tapered", and levers signaling direction and drive the headlights accompanied this change.
In September 1967, the Volkswagen Brazil acquires Vemag promising not to shut down production of its vehicles. Starting this month, out of the production lines to Vemaguet S, equipped with the same engine as the Fissore. In December, however, following a global trend of withdrawing engine two stroke in the market, the production line is closed. The following years would witness a sharp devaluation of the Vemag products.
Technical Characteristics
Edit
The technical characteristics are approximately the same for all models of Vemaguet (including Caiçara and Pracinha), with differences mainly on the engine and on installation and electrical equipment. The features are identical, except for dimensions and weights and performance characteristics of the Belcar.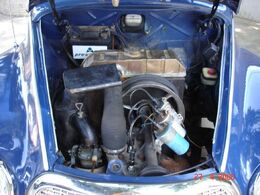 Engine and transmission
Edit
The models with 1000cc engine had DKW-Vemag with two-stroke cycle, water cooled by thermo-siphon (no water pump), threecylinder with 74mm diameter and 76mm stroke, volume of 981cm³, compression ratio of 7,1:1 to 7,3:1, power 50CV SAE to 4500rpm, 2250rpm torque 8.5 kg.ma with Lubrimat automatic greasing system <ref.name="manual67"> <ref'Manual of Belcar and Vemaguet ' Vemag Vehicles and Agricultural Machinery: .São Paulo, 1967</ref>.
One of the characteristics of this engine, it has only 7 moving parts, they are 3 pistons, connecting rods and 3 1 crankshaft and does not use water pump (uses siphon).
Descending carburetor Brosol 40 CIB with main gicleur 132.5, gicleur of idle fuel g-50, broker idle air 1.7, page 110 air corrector, gicleur fuel choke 160, realtor air 3.5 choke, venturi 32, 46 emulsifier, and 1.5 float needle adjusting screw mix of open march 3-4 half turns.
Gearbox with 4 forward gears, all synchronized, one aft with freewheel releasable cable under the dash. Dry single disc clutch type, with optional semi automatic clutch Saxomat. Off the clutch at butterfly adjustment of approximately 4 mm, not applicable to the semi auto clutch Saxomat.
Chassis built in a closed box profiles.
Front suspension with transverse spring with polyethylene tape above and triangular suspension arms below; floating axle rear suspension of Auto Union. Transverse springs with polyethylene tape together with two telescopic double action, one in front and one in rear bumpers.
Steering rack and pinion, with the union of two parts bar ; 19,2:1 steering ratio; turning circle 11.5 m.
Wheels 4½ J x 15, 560 x 15 tires with four plies with shoulder safety; pressures of front tires 19-21 psi Rear tire pressures 19-24 psi.
Wheelbase 2.45 m, 1.29 m front track, rear gauge, 1.35 m.
Convergence (loaded) 0 to 2mm.
Hydraulic foot brake, effective on all four wheels , with the front wheels Duplex and Simplex rear wheel. Mechanical hand brake, effective on rear wheels. Diameters of brake drums front and rear 230mm, width of brake pads front and rear 50mm , active surface of the foot brake 715cm²; surface active hand brake 339cm².
Lubricants
Edit
Motor Oil SAE 20, API Service MS-DG, for the engine, engine oil SAE 40 or 30, for the air purifier; pure mineral SAE 90 for the gearbox, fluid grease for gears for direction; grease multi use for the chassis, the joint traction and bearings, grease FT Bosch 1 V-4 or other heat -resistant grease to the crankshaft of platinum.
Installation and electrical equipment
Edit
Battery 12V , 35AH , Alternator 12V, 30/35A; 12V starting motor, 0.4 hp, Ignition Auto Union battery, firing order 1-2-3, advance auto ignition centrifugal balance, dependent rotations engine; clearance of platinum, 0.4 mm; candles (1) Bosch M- 145 or M -175 T1 T1, (2) Beru 175, (3) Champion K11 or KI13, or (4) NGK A7, power headlights, low 80W, 180W high. <refname="manual67"/>
Dimensions and weights
Edit
Length, 4.248 m, width , 1,645 m;
height, 1,495 m, ground clearance , 20.7 cm.
Weight empty 975kg, payload 480 kg.
Gross vehicle weight on the front axle, 605kg;
total allowable weight on the rear axle, 850kg;
permissible grand total weight 1455 kg.
The fuel tank has a capacity of about 45 liters, including about 8 liters to reserve. The Lubrimat reservoir holds approx 3.5 liters. The gearbox has the capacity to 2.5 liters, 2.25 liters in refueling. The cooling system has a capacity of about 8 liters of water.
Performance
Edit
Estimated maximum speed 120-125km/h.
Estimated average fuel consumption of 8.6km/l.
A very great curiosity, is that simply lowering the head, the engine can go more than 130km/h.
References
Edit
 Sandler, Paulo César. DKW, a grande história da pequena maravilha. São Paulo: Alaúde Editorial, 2006. 384p. ISBN 85-98497-44-4.
↑ a b Manual de instruções do Belcar e da Vemaguet. Vemag Veículos e Máquinas Agrícolas: São Paulo, 1967.
​External links
Edit
Ad blocker interference detected!
Wikia is a free-to-use site that makes money from advertising. We have a modified experience for viewers using ad blockers

Wikia is not accessible if you've made further modifications. Remove the custom ad blocker rule(s) and the page will load as expected.