Template:Infobox NASCAR team Chip Ganassi Racing (CGR) is an automotive racing organization with teams competing in the Verizon IndyCar Series, NASCAR, and the TUDOR United SportsCar Championship. It is owned by businessman Chip Ganassi. Felix Sabates co-owns the NASCAR and Rolex Sports Car Series divisions. Mike Hull and Teresa Earnhardt formerly had ownership stakes in the team. They have won 10 Open Wheel titles (4 in CART, 6 in IndyCar) and 5 Grand-Am championships.
The team, as it is currently constituted, was formed in 2001 when Ganassi bought a majority stake in Sabates' Team SABCO racing team. In 2008, Ganassi partnered with Dale Earnhardt, Inc. to merge their NASCAR operations into one team which was co-owned by Ganassi, Sabates, and Teresa Earnhardt and operated independently from the other operations until 2013 as Earnhardt Ganassi Racing. The NASCAR team reassumed the Chip Ganassi Racing name in 2014 and the Earnhardt family no longer is connected with the team. Sabates is not connected with the IndyCar team.
Current IndyCar Drivers
Edit
IndyCar History
Edit
In 1989, Chip Ganassi, who had driven in the IndyCar World Series, joined Pat Patrick as co-owner for Emerson Fittipaldi's Marlboro IndyCar team. Patrick had announced he was going to retire at the end of the year, and the team would go completely to Ganassi. The team won the Indy 500 and the IndyCar Championship.
By season's end, Patrick had second thoughts. Instead of retracting the sale of the team to Ganassi, he went ahead with the deal as planned, and instead restarted his team by taking over the upstart Alfa Romeo IndyCar effort for 1990. Fittipaldi took the Marlboro sponsorship to Team Penske, an arrangement that was also pre-planned. (Penske had supplied Patrick with a fleet of Penske chassis for 1989 as part of the deal).
Ganassi officially took over the remaining assets of the team (including the 1989 Penske chassis), and renamed it Chip Ganassi Racing. He signed former Formula One driver Eddie Cheever and raced full-time in the IndyCar World series with Target as primary sponsor.
In 1992 Ganassi expanded to a two-car effort for the Indy 500, adding Arie Luyendyk for the Indy-only entry. Later Ganassi debuted rookie Robby Gordon in selected events. For 1993, Luyendyk replaced Cheever full-time. Luyendyk and won the pole position for the Indy 500 and finished second to Emerson Fittipaldi, Ganassi's former driver in his partnership with Patrick. For 1994, Michael Andretti joined the team, immediately after returning from his failed transition to Formula One the previous year. He scored Ganassi's first IndyCar victory at Surfers Paradise.
Target continued to sponsor Ganassi's operation through the decade, and by the mid part of the decade, the team had risen to the top of the series. Perhaps the most impressive was Juan Pablo Montoya winning the championship in his rookie season in 1999. They won four consecutive series championships, with Jimmy Vasser (1996),[1] Alex Zanardi (1997–1998),[1] and Montoya in 1999, becoming the first car owner to win four consecutive CART championships.[1] In 2000, Ganassi became the first CART team to break ranks and return to race in the Indianapolis 500, part of the rival Indy Racing League. The team saw instant success as Juan Pablo Montoya dominated the race.[1] Montoya also became the first driver to win the Indianapolis 500 and the Michigan 500 in the same year since Rick Mears in 1991. However, he was unable to duplicate his championship success of 1999. 1996 champion Jimmy Vasser's performance steadily dwindled, as his lone victory at Houston was his first in nearly two years.
The team ran from 1992 to 2002 before moving into the rival Indy Racing League full-time. They had run one IRL entry for former motocross racer Jeff Ward in 2002, in which Ward won one race at Texas in one of the closest finishes in IRL history. In their prime in CART, driving for Target Chip Ganassi Racing was viewed as the final proving ground for much of the top talent before moving onto Formula One.
Drivers (chronological)
Edit
IndyCar Series
Edit
Chip Ganassi Racing initially raced in the IRL with Juan Pablo Montoya and Jimmy Vasser in the 2000 Indy 500 won by rookie Montoya. In 2001 they returned to Indy with Vasser, Bruno Junqueira, Nicolas Minassian, and NASCAR's Tony Stewart, who would also compete in that evening's Coca-Cola 600. But in neither year did they run the entire IndyCar Series season.
For 2002, Ganassi made the jump to the IndyCar Series full-time with Jeff Ward driving one car, with the addition of Ganassi's two CART Championship drivers Kenny Bräck and Bruno Junqueira at Indianapolis. None of those three would drive for Ganassi in 2003; the replacements were Scott Dixon (a midseason addition to Ganassi's Champ Car team in 2002) and Tomas Scheckter.[2] Dixon won three races and the series championship while Scheckter struggled and was released from his contract. Tony Renna was to replace him, but had a tragic testing crash at Indianapolis that claimed his life.[3] Englishman Darren Manning wound up in the seat for 2004. The team's performance suffered the next two seasons and when Manning was fired, a bevy of drivers ran in Ganassi's cars, among them former Formula One test drivers Ryan Briscoe and Giorgio Pantano, and Jaques Lazier. For 2006, Target Ganassi Racing scaled back to two cars, with Dixon returning along with 2005 Indianapolis 500 Champion Dan Wheldon, whom Ganassi signed away from Andretti Green Racing in the offseason.[2][4] The team also changed to Honda engines (along with all other IndyCar teams) and Dallara chassis for 2006.
The 2007 IndyCar Series season showed promise for the Chip Ganassi Racing team, as Scott Dixon took 4 wins at Watkins Glen, Nashville, Mid Ohio, and Infineon Raceway[2] and Dan Wheldon took 2 additional wins at Homestead and Kansas.[4] The 2008 IndyCar season was even stronger for the Chip Ganassi Racing team with eventual champion Scott Dixon taking wins at Homestead, Indianapolis, Texas, Nashville, Edmonton, and Kentucky,[2] and teammate Dan Wheldon finishing 4th overall after winning again at Kansas and Iowa.[4] Shortly before the conclusion of the season it was announced that Wheldon would not return as Dixon's teammate in 2009, a role taken by 2007 IndyCar Champion and Indy 500 winner Dario Franchitti of Scotland. Franchitti teamed with Dixon for the non-championship race at Surfer's Paradise at the end of 2008.[5]
The Target Chip Ganassi[6] car driven by Dario Franchitti won the 94th running of the Indianapolis 500 on Sunday May 30, 2010.[7]
Ganassi will add an additional 2-car team for Graham Rahal and Charlie Kimball in 2011.[8]
Ganassi has announced that in 2012, all 4 cars will be powered by Honda engines after the series decided to have multiple engine manufacturers (Honda, Chevrolet and Lotus) for the first time since 2005.[9]
The Target Chip Ganassi cars driven by Dario Franchitti and Scott Dixon came in first and second in the 2012 Indianapolis 500 on Sunday May 27, 2012. It was Franchitti's third Indianapolis 500 win and his second win with Chip Ganassi. Chip Ganassi Racing is now tied with A.J. Foyt Enterprises with four wins each of the Indianapolis 500. Only Penske Racing (15 wins) and Lou Moore (5 wins) have more total wins of the 500.
In 2014, Ganassi switched to Chevrolet engines.[10]
Chronologically
Sprint Cup Series
Edit
The NASCAR operation was formed in 1989 by Felix Sabates, a Cuban immigrant who was a self-made millionaire in products such as Teddy Ruxpin. The team was known as Team SABCO or SABCO Racing. In 2001, Ganassi bought 80% of the ownership interest in the team, the same year the team switched from Chevy to Dodge. However, Sabates plans to give his 20% interest back to Ganassi during the 2012 season.
On November 12, 2008 Chip Ganassi along with Teresa Earnhardt, widow of Dale Earnhardt, the seven-time NASCAR champion and namesake of their own NASCAR team, announced that the two teams would merge in time for the 2009 season and run under the name of Earnhardt Ganassi Racing.[11] The team fielded Chevrolets in all series for three drivers – the #1 Bass Pro Shops car driven by Jamie McMurray and the #8 car of Aric Almirola from the DEI stable and the #42 car Juan Pablo Montoya from Target Ganassi's stable. The #41 was transferred by NASCAR to Jeremy Mayfield.
Teresa Earnhardt had little influence in day-to-day operations of EGR since the merger. In 2014, the team reverted to the Chip Ganassi Racing with Felix Sabates name.[12]
Former Team SABCO teams
Edit
Car #39 History
Edit
The #39 car was often a R&D car for CGN. It debuted in 2003 at Watkins Glen with Scott Pruett driving, starting 28th and finishing 2nd. Pruett and the car reappeared in 2004 and 2005 at Infineon, where Pruett finished 3rd and 31st, respectively. He also attempted The Glen, but he failed to qualify both years. In 2005, former champion Bill Elliott drove the car with Coors sponsorship at the Bud Shootout when his regular ride was unavailable. David Stremme then drove seven races in preparation for his bid in 2006 for NASCAR Rookie of the Year. Casey Mears was originally going to drive this car full-time in 2006 with sponsorship from Home123, but it was later announced he would drive the #42 car instead. Home123 then terminated its contract with CGN. In late 2006, Juan Pablo Montoya made his Cup debut at the Ford 400 in the #30, but failing to finish after being wrecked late in the race.
Car #40 History
Edit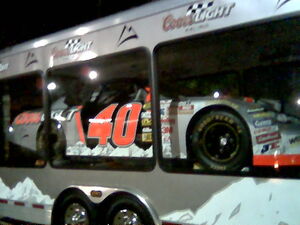 The #40 car debuted in 1993 as the 2nd car in the SABCO stable. It had sponsorship from Dirt Devil and was piloted by rookie driver Kenny Wallace. After Wallace finished 3rd behind Bobby Labonte and Jeff Gordon in the NASCAR Rookie of the Year standings, he left for other opportunities. Bobby Hamilton drove the car the next season with sponsorship from Kendall Motor Oil, during which the #40 car was bought by Dick Brooks. Hamilton finished 23rd in points that year. The 1995 season saw multiple drivers such as Rich Bickle, Greg Sacks, and Shane Hall pilot the car. But at the end of the year, Brooks closed up shop and sold the team back to Sabates. The team came back in 1996 with First Union sponsoring the car and Greg Sacks driving. Returning full-time the next year with rookie driver Robby Gordon driving and Coors Light paying the bills, while the team switched from Pontiac to Chevy, things looked promising when Gordon won the pole at the spring Atlanta race. Unfortunately, open-wheel ace Gordon suffered burns during the Indianapolis 500. By the time he came back, the damage was done, and despite picking up a top-5 at Watkins Glen, Gordon was released. Sacks returned to finish out the year.
For 1998, Sabates chose a more experienced driver in 2-time Daytona 500 winner Sterling Marlin. Marlin did not qualify at the spring Atlanta race, one year after the team won the pole position there, marking the first time since 1986 Marlin missed a Winston Cup race. At the end of the year, Marlin had 6 top-10's and was 18th in points. Marlin showed a brief insurgence in 1999 when he won the pole at Pocono, but the mediocrity continued, and it looked like Marlin's best days were behind him.
In 2001, the car got a new silver-red paint scheme, a manufacturer switch to Dodge, a new crew chief in Lee McCall, and a new owner in Ganassi. Marlin made an impression by winning his qualifying race for the Daytona 500, but the euphoria soon vaporized. On the last lap of the 500, Marlin was involved in the crash that killed Dale Earnhardt. Out of anger and grief, fans sent hate mail and death threats to Marlin and his wife, blaming him for Earnhardt's death. Earnhardt's drivers Dale Jr. and Michael Waltrip rose in Marlin's defense, and Marlin himself was cleared of any responsibility by NASCAR's investigation into the crash.
Marlin was able to rise above the controversy, and gave Dodge its first win since its return to NASCAR at Michigan, won again at the UAW-GM Quality 500, and finished 3rd in points. Marlin led the points standings for most of 2002 and won twice, but broke his neck at Kansas Speedway, ending his season. Some say that Sterling's injury signified the beginning of the struggles for CGRFS. Jamie McMurray, scheduled to drive the #42 car the following season, filled in for Marlin. At Lowe's Motor Speedway, McMurray beat out Bobby Labonte to win his first race in just his second Winston Cup start. The emotional victory was capped off with a phone call from Marlin through the television network congratulating McMurray on his victory. Since then, Marlin has not won a race, and rookie David Stremme replaced Marlin in 2006. This move outraged some fans, since Coors and Ganassi both stated that the decision was partly due to Coors attempting to target the younger demographic. Stremme did not finish higher than 11th and had a 33rd-place finish in the points.
Before the 2007 season started, Lone Star left the 40 team as primary sponsor, leaving only Coors Light. After the beginning of the season, Tums also came on as a sponsor of the 40 team. Stremme had a much better start to the season, earning his first top ten in the Samsung 500 at Texas Motor Speedway, posting his best career finish, 8th, two weeks later in the Aaron's 499 at Talladega Superspeedway, and ended the season with three top-tens. Stremme was released due to Coors Light's departure to become the official beer of NASCAR. On October 3, 2007 Indianapolis 500 winner and IndyCar Series Champion Dario Franchitti was announced as the new driver of the #40 car for 2008. Due to the lack of sponsorship, the team had to procure one-race partnerships on a rotational basis, with The Hartford, Kennametal, Dodge Journey, Target, Dodge Avenger, and the Wii Fit appearing on the car. Franchitti also suffered ankle injuries in a Nationwide Series race at Talladega, causing him to miss several races. Marlin, Stremme, and Jeremy Mayfield filled in during his absence.
Ganassi shut down the team due to its lack of funding midseason and moved Franchitti to its IndyCar operation. The team was revived for several fall races with Bryan Clauson driving, but race qualifying was rained out twice and the team did not make the field due to being too low in the owner points. When qualifying was finally staged at Texas, Clauson subsequently failed to qualify, and the team was shut down again.
Car #41 History
Edit
The #41 car in 1989 at Atlanta Motor Speedway, as the #42 Peak Antifreeze Pontiac for Team SABCO, Felix Sabates' race team. The car was driven by Kyle Petty, who finished 4th. The car ran on and off for the rest of the year before moving to full-time status in 1990. Petty won one race and finished 11th in points that year. Petty was running strong in 1991 with new sponsorship from Mello Yello, before he broke his leg in an accident at Talladega Superspeedway. Over the next 11 races, he was replaced by Bobby Hillin, Jr., Tommy Kendall, and Kenny Wallace while he recovered. After returning, he won five races finished 5th in points in both 1992 and 1993.
After that, his career began to run out of steam, as he began to be less consistent in finishing races.. He won his final race in 1995 at Dover, the first year the car had Coors Light as a sponsor. In 1996, Petty was temporarily replaced by Jim Sauter to recover from more injuries. After that year, Petty and Sabates split and Coors moved to the #40 car. The team switched from Pontiac to Chevy. Joe Nemechek and BellSouth came on board. The year got off to a rocky start when Nemechek did not qualify for the Daytona 500, but was able to get in on a car bought from Phil Barkdoll. After losing his brother John in an accident at Homestead-Miami Speedway (and missing Darlington to attend his funeral, during which he was replaced by Phil Parsons), Nemechek won two pole positions and finished 28th in points, followed up by a then-career best 26th in 1998. Weeks after announcing that they would not race together after the 1999 season had ended, Nemechek won his first Winston Cup race at New Hampshire International Speedway, and won two more pole positions.
In 2000, Kenny Irwin Jr. took over. He was just adjusting to his new team when he was killed in a practice accident at New Hampshire, the first race since the team won there the previous year. The team took one week off and returned as #01 driven by Ted Musgrave. For 2001, Chip Ganassi purchased a majority stake in SABCO, the BellSouth brand Cingular became the sponsor and rookie driver Jason Leffler was hired to drive the car, which was now a Dodge. Leffler struggled despite winning a pole at the inaugural race at Kansas Speedway, and he was released at the end of the season. When Cingular moved to Richard Childress Racing to sponsor the #31 car, Target became the sponsor, the number was changed to #41, and Jimmy Spencer was tabbed to replace Leffler. Spencer did not qualify for the Daytona 500, and was replaced by Scott Pruett at Watkins Glen, then was released. Casey Mears, a Busch Series driver was hired to drive the car. After three seasons, Reed Sorenson was hired to drive the #41 car full-time, and Mears switched to the #42 car. Sorenson had five top-tens and ended the 2006 season 24th in the standings.
After finishing 22nd in the standings with three top 5s and 6 top 10s in 2007, the #41 team dropped to 32nd in the final standings in 2008. Sorenson failed to qualify for a race for the first time in his career, and the team only managed one top five and two top tens. Sorenson left the team to drive for Richard Petty Motorsports. However, EGR decided to move the Target sponsorship to the #42 for Juan Pablo Montoya, leaving the #41 without a driver or a sponsor. The number was then assigned to Jeremy Mayfield's new NASCAR Sprint Cup team and taken out of the EGR stable. As part of the aforementioned cooperative agreement with Front Row Motorsports the points from the #15 team were transferred to the #34.
Car #42 History
Edit
What is now the #42 car began as the #87 NEMCO Motorsports car owned and driven by Joe Nemechek. After he signed with SABCO in 1996, Sabates bought the majority ownership of the team, which debuted at the 1997 Daytona 500 as the #46 First Union Chevy driven by Wally Dallenbach Jr.. After skipping several races, the team moved to full-time racing. Dallenbach competed in 22 races and finished 41st in points. He only raced in four races in the 1998 NASCAR Winston Cup Series before he was replaced by a rotation of drivers including Jeff Green, Morgan Shepherd, and Tommy Kendall. After First Union stopped their backing at the end of the season, the team was scheduled to close down, but instead it changed its number to #01 and served as the team's research and development car. Green, Steve Grissom, and Ron Hornaday drove the car on a limited schedule in 1999. The team reappeared at Sears Point in 2001 as car #04 when Jason Leffler drove the car while Dorsey Schroeder piloted his regular ride; Leffler did not qualify for the race. The car came back as #42 in 2002 at Watkins Glen when Jimmy Spencer did not qualify while Scott Pruett drove his normal car. The car was scheduled to run seven races with Jamie McMurray driving, but when McMurray filled in for Sterling Marlin, the team didn't run until 2003. When it raced full-time for the first time in 2003, McMurray drove the car with Texaco/Havoline as the sponsor. Despite winning Rookie of the Year honors, McMurray left after the 2005 season to replace Kurt Busch at Roush Racing. Casey Mears moved up to take his place during the 2006 season, but Mears also decided to leave Ganassi, replacing Brian Vickers at Hendrick Motorsports. In July 2006, it was announced that former Indianapolis 500, CART Champion, and at that time current F1 driver Juan Pablo Montoya would replace Mears in the #42. Montoya won his first career Nextel Cup race at Infineon Raceway in the Toyota/Save Mart 350, ending a near five year victory drought the Chip Ganassi Racing organization had in the NEXTEL Cup Series (since the 2002 UAW-GM Quality 500, which was won by Jamie McMurray). He ended the year 20th in points and won Rookie of the Year. After he failed to return to victory lane and dropped to 25th in points despite some good results and a second place in the Aaron's 499 in 2008, Texaco/Havoline left the team, and the Target Corporation was named the new sponsor for 2009. In 2009, Montoya had a break out season, with seven top 5, eighteen top 10 and 2 poles. He qualified for the Chase for the Cup and finished eighth in the overall standings, the best season ending points position for Ganassi since Sterling Marlin's third place finish in the final standings in 2001. Midway through 2010, Montoya had sported great runs, but didn't have the finishes to show for it. Specifically at the Indianapolis Motor Speedway where Montoya dominated, but his crew chief Brian Pattie called for four tires late in the race, causing Montoya to fall to 8th and never recover. A similar situation happened the following week at Pocono when Montoya was running second at a late stage in the race, and Pattie again called for four tires, placing Montoya back in traffic again. Montoya and Pattie were heard arguing over the radio. The next weekend however, Montoya won his second career race, dominating at Watkins Glen. Montoya ended up placing 17th in the overall standings for 2010. The 2011 season started off fast for the 42 bunch. Montoya posted a 6th in the season opener at Daytona, and then finished 3rd at the Las Vegas. After 3 of 36 races, Montoya was tied for 3rd in the Sprint Cup points. After 12 of 36 races in 2011 Juan Montoya was in 15th place in points after a 30th place finish in Talladega after a late crash which the #39 car of Ryan Newman, and two weeks later in Richmond Newman and Juan Montoya get into two crashes where Montoya finish in 29 place and Newman in 20, then in Darlington Montoya finish 23 after a bad run, in Dover Montoya was running for the lead but after some vibration and a crash which #27 car of Paul Menard (Montoya finish 32), and two weeks later Montoya finish 12 place in Charlotte. Later at the Toyota/Save Mart 350 Montoya had a great run and looked like he was going to fight Kurt Busch for the lead but crashed in an incident with Brad Keselowski near the end of the race and finished in 22nd. Montoya was inconsistent for the rest of the year with the exception of a 7th place finish at Watkins Glen on 08/14 and a 9th place finish 08/25 at the Sylvania 300 at New Hampshire Motor Speedway.
The original #42 car was run by Nemechek with BellSouth sponsorship from his first year with the team until 2000. That year, Kenny Irwin, Jr. took over the car as Nemechek moved to Andy Petree Racing. After Irwin was killed in an accident at New Hampshire in July, the team was renumbered to #01 and Ted Musgrave took over. BellSouth's Cingular Wireless brand took over for 2001, as Chip Ganassi bought the team and switched everything over to Dodge. Jason Leffler was hired to drive the car, but he did not last beyond the 2001 season and neither did the sponsor, who moved over to Richard Childress Racing. Target, a long time Ganassi sponsor from the team's IndyCar days and an associate sponsor on Ganassi's #40 car, came aboard to sponsor the renumbered #41 for Jimmy Spencer for 2002. Spencer was released following the season and Casey Mears then took over the car. When Jamie McMurray left the Ganassi organization, Mears then moved to the #42 as Reed Sorenson took over the #41 and was later replaced by Juan Pablo Montoya.
Montoya won once during his rookie season, at Infineon, but struggled in 2008. The #42 was unaffected by the merger and Montoya rebounded to make the Chase in 2009, finishing 8th in points. Montoya's struggles returned the next year and continued through 2012, winning once at Watkins Glen in 2010, but struggling on ovals. These struggles could also be attributed to the Ganassi program at the time, which was looking for answers. In 2013, after Ganassi switched to Hendrick engines, Montoya nearly won at Dover, but was passed in the final laps by Tony Stewart, and finished second. Later, on August 13, 2013, it was announced that Montoya's contract with Earnhardt Ganassi Racing would not be renewed for the 2014 season.[13]
On August 27, The Charlotte Observer reported that CGR driver development program driver Kyle Larson will replace Montoya in the #42.[14] Larson would nearly win at Auto Club, and had a steady amount of top 10 finishes in the first half of 2014, and finished 4th at his 2nd road course race at Watkins Glen.
Former DEI teams
Edit
Car No. 1 History
Edit
Dale Earnhardt, Inc. debuted in Winston Cup in 1996 as the #14 Racing for Kids Chevrolet, driven by Robby Gordon at Charlotte Motor Speedway. Jeff Green drove the car in two more races that year. The next year, Busch Series standout Steve Park drove the car in five races with the Burger King sponsorship. In 1998, the team switched numbers with car owner Richard Jackson with the car changing from #14 to #1, and receiving sponsorship from Pennzoil and Park making a bid for NASCAR Rookie of the Year honors. The team got off to a bumpy start after Park failed to qualify at Las Vegas Motor Speedway in just the third race of the year. The next week, Park broke his leg in a practice accident at Atlanta Motor Speedway. Two weeks later, the team hired three-time champion Darrell Waltrip to pilot the car while Park recovered from his injuries. Waltrip posted two top ten finishes in the car until Park made his return at the Brickyard 400, where he finished 35th following a crash. He posted two eleventh-place finishes and finished 42nd in points that year.
Park fared better the next year, posting 5 top 10 finishes and finishing 14th in points. In 2000, Park won his first two Bud Pole awards, and won his first race at his home track at Watkins Glen International Raceway. He finished 11th year in points. The race after Earnhardt's death in 2001, Park beat Bobby Labonte in a photo finish at North Carolina Speedway. But his career stalled when competing in a Busch Series race at Darlington Speedway, his steering wheel became disconnected from the steering column during a caution flag period and his car veered immediately left and was slammed into by the quicker-moving vehicle of Larry Foyt. Kenny Wallace, who had lost his ride earlier in the season, took over the #1 for the rest of the season and tied his career best finish with a second place run at North Carolina before the season was out.
Wallace started the 2002 Winston Cup season in the #1 but was replaced by Park at Darlington after he recovered enough to return to competition. However, the accident was still affecting Park and he struggled to regain his form. Midway through 2003, in an effective trade with Richard Childress Racing, Park and the driver of RCR's #30 AOL Chevrolet, Jeff Green, switched rides. However, Green struggled just as much as Park did and left for Petty Enterprises to drive the #43 after twelve races, with John Andretti finishing the season in the #1. Pennzoil left the team after the 2003 season, and the #1 scaled back to part-time status with Andretti driving.
The team ran a part-time schedule in 2005 with Martin Truex Jr. driving a Bass Pro Shops-sponsored car, and moved back to full-time status in 2006. On June 4, 2007, Truex scored his first career NEXTEL Cup victory in the #1 car at Dover International Speedway, in a COT race. Truex also made the Chase For the Nextel Cup that year, DEI's only representative and the last DEI car to qualify for the Chase. He did not return to Victory Lane in 2008 and failed to make the Chase.
At this point the #1 car was folded into the Ganassi stable. At the end of 2009, Truex left the team for Michael Waltrip Racing to drive the #56 NAPA Auto Parts Toyota Camry. Truex was replaced by Jamie McMurray, who was let go after Roush Fenway Racing downsized to four cars and who had previously driven for the Ganassi organization from 2002 until 2005, winning his first Cup race with the team as a substitute driver.
McMurray won the 2010 Daytona 500 for EGR in his first race in the #1 car. It was the second time that the #1 had visited victory lane after Truex's win, and the first win for an Earnhardt or Ganassi team car since Juan Pablo Montoya won the Toyota/Save Mart 350 three weeks after Truex took the win at Dover. McMurray returned to the winner's circle by winning the Brickyard 400 at Indianapolis, the first time that he had won multiple races in a season since joining the Cup Series full-time in 2003. Inconsistency in other races, however, kept McMurray out of the Chase. He added a third win at the Bank of America 500 at Charlotte during the Chase, the second time he has won that race (the first was his first career victory in the then-UAW GM Quality 500 in 2002). McMurray finished 14th in the final standings.
McMurray and the Ganassi team struggled in 2011 and 2012, and later switched to Hendrick engines looking to improve performance. The team also gained sponsorship from Textron, with brands Cessna, Bell Helicopter, Bad Boy Buggies, and E-Z-Go adorning the car. After more struggles in the first half of 2013, McMurray finally broke back into victory lane at the fall Talladega race, his first victory in three seasons.
McMurray won the Sprint All-Star Race in 2014.
Although it was the original car in the DEI stable, the 1 car no longer carries the organization's signature E stripes on the side as of 2010, nor DEI-style number 1 logos as of 2014.
Car No. 8 History
Edit
Main article: Dale Earnhardt, Jr.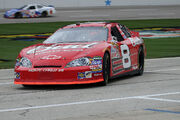 The #8 car started out in the NASCAR Busch Series as the #3 ACDelco Chevrolet driven by Dale Earnhardt Jr. in 1998. Junior won championships in both 1998 and 1999 in the Busch Series in this car. In 1999, Earnhardt drove in five Winston Cup races in the #8 Budweiser Chevrolet, finishing in the top 10 once, leading one lap, and one DNF. (The number 8 had been previously used by Stavola Brothers Racing, who had ceased operation two years prior.)
In 2000, Junior made a full-time jump to Winston Cup. Despite winning two poles and three races (including The Winston), Junior finished runner-up to Matt Kenseth for NASCAR Rookie of the Year. On July 7 2001, he won his third race in the cup series, and his first restrictor plate race at the famed Daytona International Speedway following his father's death. On February 15, 2004, Dale won the Daytona 500, 6 years after his father won the 500. He went on to collect five more wins for the season. Though he failed to qualify for the Chase for the Cup in 2005, he rebounded in 2006 and qualified for the 2006 Chase for the Cup, where he finished 5th. Earnhardt, Jr announced on May 10, 2007, that he would not be returning to DEI for the 2008 season. On June 13, 2007, it was officially announced that Dale Earnhardt, Jr. would be moving to Hendrick Motorsports for the 2008 season. On August 16, 2007 it was announced that during the transition to HMS, Dale Earnhardt, Jr. would not retain the #8 car number.[15] On September 12 it was announced that the 8 car would be shared by Mark Martin and Aric Almirola for the 2008 season, with the U.S. Army sponsoring. Martin left DEI following the season to drive the #5 car for Hendrick Motorsports, and the U.S. Army left following the season as well to sponsor Ryan Newman's #39 car for Stewart Haas Racing.
Almirola was signed to drive the #8 Chevrolet for the full 2009 season, pending sponsorship. However, after running five races with Guitar Hero World Tour, Champion Sportswear, Cub Cadet, and Tom Tom GPS on the car, EGR announced following the Samsung/Radio Shack 500 that the operations of the #8 team were being suspended indefinitely due to lack of sponsorship. Almirola went to the #09 Phoenix Racing Chevrolet in 2010, then left later into the season to drive full-time in the Camping World Truck Series.
Nationwide Series
Edit
CGRWFS began running the Nationwide Series in 2000, fielding two full-time and one part-time. The part-time team was the #42 BellSouth Chevrolet driven by Irwin and had raced nine times with Irwin finishing in the top-ten twice before Irwin was killed at New Hampshire. Like Irwin's Cup team, the number was switched to 01, and Marlin became the new driver. He raced three races in the 01, finishing in the top-ten twice. Blaise Alexander drove the #81 Tracfone/WCW Chevy full-time in 2000, and had two top-tens and finished 25th in points, despite failing to qualify for the season-opening race. Dave Steele was hired by SABCO to drive the #82 Channellock Chevy full-time, but after failing to qualify for three out of the first five races, he was released. Sterling Marlin won in the next race in the 82, while Jeff Fuller failed to qualify in his attempt in the car the following week at Texas. After Derek Gilcrest drove for a pair of races, Glenn Allen, Jr. drove for the next five races, not finishing better than 29th. Jason White drove for two short track races, followed by Anthony Lazzaro at Watkins Glen, Andy Houston at Milwaukee, and Austin Cameron at Nazareth and Pikes Peak. Ted Musgrave then signed on for the next eight races, finishing eighth at Lowe's. Marty Houston finished the season in the 82, with a best finish of 14th. At the end of the 2000 season, SABCO's Busch equipment was sold to HighLine Performance Group.
Car #40 History
Edit
The 40 car debuted in 2006 as the #42 Texaco/Havoline Dodge. Casey Mears drove nine races and won his first career race at Chicagoland Speedway. Juan Pablo Montoya drove the last four races of the year, posting an eleventh place finish in his series debut at Memphis. He drove seventeen races the next season, and won his first race at Autódromo Hermanos Rodríguez and had three top-tens. Kevin Hamlin also made seven starts, including two consecutive top-tens. After Michael Valiante drove at Circuit Gilles Villeneuve and David Stremme at Bristol, it was announced the 42 team would shut down effective immediately, but that decision and was rescinded and A. J. Allmendinger was named driver for the next five races, but he failed to finish higher than 14th. Dario Franchitti finished out the year with Target sponsorship, qualifying in the top-ten twice.
For 2008, rookies Franchitti and Bryan Clauson were hired to split the driving duties of the newly renumbered #40 car, with sponsorship coming from Fastenal. Late in the season, Clauson took over the car permanently.
In December 2008, Earnhardt Ganassi Racing announced that they had closed the #40 team down, due to a lack of sponsorship. The remnants of this team were purchased by businessman Eddie Smith and professional boxer Evander Holyfield in February 2009 and was run under the name Smith-Ganassi Racing with Kenny Hendrick.
Car #41 History
Edit
The 41 car began racing at the 2004 Kroger 200, when Reed Sorenson made his NASCAR debut with sponsorship coming Discount Tire Company. He qualified third and finished thirteenth. For the rest of the season, Sorenson, Casey Mears, and Jamie McMurray ran limited schedules in the 41, with McMurray picking up a win at Phoenix. In 2005, Sorenson drove full-time, picking up two wins and finishing fourth in points. He drove most of the 2006 season, except the AT&T 250, where David Stremme finished eleventh in his place. After Sorenson's tenth-place points finish, Discount Tire left for Roush Fenway Racing and Wrigley's became the new sponsor. Sorenson and Stremme shared the 41 for most of the season, with Sorenson winning at Gateway. Bryan Clauson came on board with Memorex sponsorship then drove for five races with a best finish of eighteenth, before A.J. Allmendinger finished out the season in the 41. Bryan Clauson began the season in the 41 with Polaroid sponsorship, before Kyle Krisiloff drove for a few races.
From 2006-2007 the #41 team was put in the Busch series, with Juicy Fruit gum as a sponsor. Chip Ganassi hired drivers Scott Pruett and Reed Sorenson to race in the car. Brian Pattie was the team crew chief. In 2007, Scott Pruett led the waning laps of a Busch series race in Mexico City, nearly winning. With 8 laps left, teammate Juan Pablo Montoya went over Pruett who went to block; Pruett spun out and was forced to restart in 17th place. After 2 more cautions, Pruett drove to 5th place for the final results. While Juan Montoya led the rest of the event and won the race, Pruett and the #41 team were very disappointed in their teammates for the wreck. When Pruett watched Montoya in victory lane, he held a double thumbs down calling Montoya's move "Lowdown nasty dirty driving."
Reed Sorenson won the race at Gateway later that year in the Juicy Fruit chevy. Sorenson would go winless until 2011 and was released in late 2008 from the team. At Montreal in 2007, Scott Pruett returned hoping for redemption of his Mexico City heartbreak. With 3 laps left, Pruett was running in third place when he got contact with Kevin Harvick. Harvick responded by waving his hand in anger, and spinning Pruett around in turn 1. Pruett's accident collected Ron Fellows, Jeff Burton, Ron Hornaday, and several others. Pruett restarted in 10th place but his amazing speed never returned; finishing him in 14th place. Harvick was surprisingly not penalized and later won the Montreal race because of Robby Gordon being black-flagged for intentionally causing an accident. Harvick wrecking Pruett, led fans to greet him with boos, and other drivers to ridicule Harvick for this incident. Even though 89% of the drivers and supporters asked Harvick to be penalized for wrecking Scott Pruett, NASCAR instead gave Harvick a warning and temporary probation; when Harvick later got into an altercation with Pruett's teammate Juan Montoya at Watkins Glen the next week, NASCAR put Harvick on probation for the rest of the year, and it took Harvick some time to reconcile with Pruett, and regain respect from the fellow drivers.
In 2008, the Juicy Fruit sponsorship ended when the team stopped running after the spring Talladega race.
Partnerships
Edit
Richard Childress Racing
Edit
Earnhardt-Childress Racing Technologies[16] was formed in May 2007 as a cooperation between Dale Earnhardt Incorporated and Richard Childress Racing to develop and build common engines for the Chevrolet NASCAR Sprint Cup Series and NASCAR Nationwide Series teams campaigned by the two companies.
Hendrick Motorsports
Edit
Main article: Hendrick Motorsports
On November 2, 2012, Earnhardt Ganassi Racing announced that it will get its engine supply from Hendrick Motorsports.[17]
Racing results
Edit
Indycar results
Edit
(key)
Firestone Indy Lights Series
Edit
On December 20, 2006, Chip Ganassi Racing announced that it would field an Indy Lights team for the first time in 2007, with drivers Chris Festa and Pablo Pérez. Perez was severely injured in a crash in the opening race of the Indy Lights season and was not replaced. Festa finished 10th in points without winning a race in a season dominated by Alex Lloyd who was signed by Chip Ganassi Racing at the end of the season. The team partnered with Integra Motorsports in 2007 and 2008 fielding a variety of development drivers, notably New Zealanders Marc Williams and Jonny Reid.
Grand-Am Series
Edit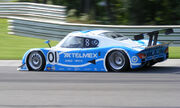 Target Chip Ganassi Racing also runs a Daytona Prototype team in the Rolex Grand-Am series fielding a BMW-Riley car driven by Scott Pruett and Memo Rojas. Their second team car won the 2006 24 Hours of Daytona driven by Ganassi IRL drivers Dan Wheldon and Scott Dixon along with NASCAR driver Casey Mears. In 2007, Ganassi won the race again, this time with Pruett, former Formula 1 driver Juan Pablo Montoya, and Salvador Duran,[18] making him the first owner to win it in back to back years since Al Holbert in 1986–87. In 2008 Chip Ganassi Racing won a third Daytona 24 in a row. Also in 2008, Chip Ganassi Racing won their 3rd Grand-Am Championship, with drivers Scott Pruett, and Memo Rojas. Scott Pruett's 8th Road Racing Championship. Also participating was Memo Rojas, the first Mexican to win a major Road Racing title in North America. For the 2010 Grand Am season the team switched from Lexus-Riley to BMW- Riley. On 2010 the Memo Rojas and Scott Pruett won 9 out of 12 races and eventrally they won the 4 Grand-am championship for Telmex Ganassi Racing.
2011 Rolex 24 victory
Edit
Ganassi's Grand-Am Series team started 2011 in the best possible fashion, earning a one-two finish in the Rolex 24 Hours of Daytona endurance race.[19] Ganassi's two cars ran towards the front of the field for the majority of the race,[20] and driver Scott Pruett, having started third,[21] defeated Scott Dixon by a margin of victory of over two seconds in a one-lap sprint to the finish after a late caution period.[19][20]
The victory made Ganassi the first racing team owner to win the four of the most important races in North American auto racing, the Daytona 500, Indianapolis 500, Brickyard 400, and 24 Hours of Daytona, within the same 12-month span.[19] It was Pruett's fourth win in the event; for co-driver Memo Rojas, his second victory, while co-drivers Joey Hand and Graham Rahal won for the first time, the latter thirty years after his father, Bobby Rahal, won the event.[20]
References
Edit
↑ 1.0 1.1 1.2 1.3 "Target Chip Ganassi Racing". IZOD IndyCar Series. http://www.indycar.com/teams/show/55-izod-indycar-series/1930-target-chip-ganassi-racing/

. Retrieved 2011-01-30

.

 

↑ 2.0 2.1 2.2 2.3 "Scott Dixon Driver History". IZOD IndyCar Series. http://www.indycar.com/drivers/show/55-izod-indycar-series/3628-scott-dixon/

. Retrieved 2011-01-30

.

 

↑ Indy Racing Public Relations (December 13, 2003). "Renna Accident Review Complete". RacingWest. http://www.racingwest.com/news/articles/8137-renna-accident-review-complete.html

. Retrieved 2011-01-30

.

 

↑ 4.0 4.1 4.2 "Dan Wheldon Driver History". IZOD IndyCar Series. http://www.indycar.com/drivers/show/55-izod-indycar-series/3681-dan-wheldon/

. Retrieved 2011-01-30

.

 

↑ "Dario Franchitti Driver History". IZOD IndyCar Series. http://www.indycar.com/drivers/show/55-izod-indycar-series/3636-dario-franchitti/

. Retrieved 2011-01-30

.

 

↑ "Franchitti Savors Sweet Second Indianapolis 500 Victory". Indianapolis Motor Speedway. May 30, 2010. http://www.indianapolismotorspeedway.com/images/news/show/37788-franchitti-savors-sweet-second-indianapolis-500-victory/

. Retrieved June 27, 2013

.

 

↑ Lewandowski, Dave (December 16, 2010). "Ganassi expands with Rahal, Kimball". IZOD IndyCar Series. http://www.indycar.com/news/show/55-izod-indycar-series/40745-ganassi-expands-with-rahal-kimball/

. Retrieved 2011-01-30

.

 

↑ http://www.indystar.com/article/20110829/SPORTS01/108290326/KV-goes-Chevy-re-signs-Tony-Kanaan?odyssey=mod%7Cnewswell%7Ctext%7CIndyStar.com%7Cs
↑ Associated Press (October 4, 2013). "IndyCar: Ganassi Signs Kanaan, Announces Switch To Chevy". Fox Sports. http://msn.foxsports.com/speed/indycar/ganassi-signs-kanaan-announces-switch-to-chevy/

. Retrieved October 4, 2013

.

 

↑ Newton, David (November 13, 2008). "DEI, Ganassi to merge teams, go by Earnhardt Ganassi Racing". ESPN. http://sports.espn.go.com/rpm/nascar/cup/news/story?id=3698603

. Retrieved 2011-01-30

.

 

↑ Estrada, Chris (January 8, 2014). "Ganassi changes name for Cup team, drops Earnhardt". NBC Sports. http://motorsportstalk.nbcsports.com/2014/01/08/ganassi-changes-name-for-cup-team-drops-earnhardt

. Retrieved 2014-01-09

.

 

↑ Pockrass, Bob (August 13, 2013). "Juan Pablo Montoya won't race No. 42 next season". Sporting News. http://www.sportingnews.com/nascar/story/2013-08-13/juan-pablo-montoya-not-returning-number-42-team-earnhardt-ganassi-racing

. Retrieved 2013-08-13

.

 

↑ Spencer, Lee (August 27, 2013). "Report: Earnhardt Ganassi taps Larson". Fox Sports. http://msn.foxsports.com/nascar/story/report-kyle-larson-joining-earnhardt-ganassi-racing-2014-sprint-cup-series-jeff-gordon-kasey-kahne-082713#!hVwZ3

. Retrieved August 27, 2013

.

 

↑ "ESPN – Deal can't be reached to bring No. 8 to Junior's new team – Nascar". Sports.espn.go.com. 2007-08-16. http://sports.espn.go.com/rpm/news/story?seriesId=2&id=2976267

. Retrieved 2010-11-26

.

 

↑ "RCR & DEI to Build Engine Program Together". Richard Childress Racing. RCR PR. 2007-05-18. http://www.rcrracing.com/messageboards/trans/displayShortMsgRpt.asp?type=1&id=2069

. Retrieved 2007-07-28

.

 

↑ "EGR switching from Earnhardt to Hendrick engines". Sports Illustrated. 2012-11-01. http://sportsillustrated.cnn.com/2012/racing/wires/11/02/3010.ap.car.nascar.egr.engine.switch.0171/index.html

. Retrieved 2012-11-01

.

 

↑ "Rolex 24 at Daytona final results". Associated Press. 2007-01-28. http://sports.espn.go.com/espn/print?id=2746664&type=story

. Retrieved 2007-05-06

.

 

↑ 19.0 19.1 19.2 Long, Mark (January 30, 2011). "Ganassi sweeps top 2 spots in Rolex 24 at Daytona". Associated Press. http://www.washingtonpost.com/wp-dyn/content/article/2011/01/30/AR2011013003016.html

. Retrieved 2011-01-30

.

 

↑ 20.0 20.1 20.2 Dagys, John (January 30, 2011). "ROLEX 24: Ganassi Goes Big With Rolex 1–2". Speed Channel. http://auto-racing.speedtv.com/article/rolex-24-ganassi-goes-big-with-rolex-1-2/

. Retrieved 2011-01-30

.

 

↑ "2011 Rolex 24 At Daytona qualifying results". Daytona International Speedway. January 27, 2011. http://www.daytonainternationalspeedway.com/Articles/2011/01/2011-Rolex-24-qualifying-results.aspx

. Retrieved 2011-01-30

.

 
External links
Edit
Ad blocker interference detected!
Wikia is a free-to-use site that makes money from advertising. We have a modified experience for viewers using ad blockers

Wikia is not accessible if you've made further modifications. Remove the custom ad blocker rule(s) and the page will load as expected.