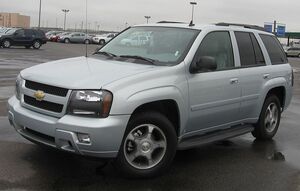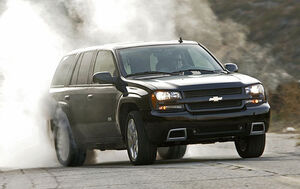 The Chevrolet TrailBlazer is a mid-size SUV from the Chevrolet division of General Motors. Introduced in 2002, the TrailBlazer won the North American Truck of the Year award. The TrailBlazer replaced the Blazer as the company's mid-size SUV, though production of the 2-door Blazer overlapped with the new 4-door TrailBlazer for some years (the 4-door Blazer was only produced for fleet orders).
See Autopedia's comprehensive Chevrolet TrailBlazer Review.
Recent Changes
Edit
The 2007 TrailBlazer remains cosmetically unchanged from the previous year, with the exception of three new exterior color options. On the inside, some options have been made standard, including GM's OnStar system.
GM has recently decided to extend the current Trailblazer until at least the '09MY. The next generation 361 platform has been officially cancelled. It is felt that the next mid-sized GM SUV will be based off of the new Lamda platform being build at the new GM Delta Township Assy plant.
Styles and Major Options
Edit
The 2007 TrailBlazer comes available in three trims: the LS, LT, and SS. In addition, the LS and LT trims are available in either the standard size or an extended EXT body style with a longer wheelbase and 7-passenger third row seating. The LS and LT trims come equipped with a 4.2L 291hp I-6 engine, and the SS is powered by a 6.0L 395hp V8. All models work with a 4-speed automatic transmission w/OD. Some of the standout features include:
LS
Premium cloth seating and leatherette door trim
Dual zone manual front air conditioning
6-speaker AM/FM/CD audio system
Cruise control
OnStar

LT
Adds to or replaces LS features with:
EXT version available
8-way power driver's seat
Roof rack
Dual zone front automatic climate control
Separate rear air controls
HomeLink Wireless Control System
Exterior temperature, systems monitor, trip computer
Rear defroster
Security system
SS
Adds to or replaces LT features with:
Limited slip differential
Sport suspension
20" polished alloy wheels
8-way power heated front bucket seats
Leather seating and leatherette door trim
Power adjustable pedals
Today's actual prices for the Chevrolet TrailBlazer can be found at CarsDirect.
TrailBlazer Trims

LS
2WD

LT
2WD

LTZ Package SS w/1SS
2WD

SS w/3SS
2WD

LS
4WD

LT
4WD

SS w/1SS
4WD

SS w/3SS
4WD

MSRP

$24,845

$27,770

$31,120

$34,685

$27,140

$30,010

$33,420

$36,925

Invoice

$23,230

$25,964

$29,097

$32,430

$25,375

$28,059

$31,247

$34,524
Gas Mileage
Edit
As seen on the FuelEconomy.gov website, the City/Highway MPG averages are as follows:
Trim

MPG

16/22

16/22

15/19

15/21

15/21

14/17

16/20
Reliability
Edit
In terms of long-term reliability, the 2004 TrailBlazer, which shares the same platform as the current model, received an overall Green rating from Automotive Information Systems. This rating is somewhat marred, however, by the fact that the Engine category in particular for this vehicle received a Yellow rating, indicating moderate problems in that area. In addition, Consumer Reports states that "Reliability has improved to average" for the 2007 model.
The TrailBlazer did fairly well in safety assessments made by the NHTSA. For driver front-impact and 2WD rollover tests, it received 3-Star ratings, and for passenger front-impact and 4WD rollover, it received 4-Star ratings. It achieved the best results in side-impact safety, for which it received the highest 5-Star rating. Some of the standard equipment found on all models of the TrailBlazer include:
Availability of colors will depend on trim, and a full list is viewable at CarsDirect.com. Some of the possible combinations include:
Exterior
Black
Doeskin Tan
Graystone Metallic
Red Jewel Tintcoat
Silverstone Metallic
Summit White
Tangier Orange
Woodland Green
Interior
Ebony
Light Cashmere/Ebony
Light Gray
Main Competitors
Edit
Hybrid Models
Edit
There are currently no hybrid models of the TrailBlazer in production.
Unique Attributes
Edit
Resale Values
Edit
According to Kelley Blue Book, "when it comes to resale, the TrailBlazer does not hold its value as well as rivals from Toyota and Nissan but holds up better in projected 24-, 36-, 48 and 60- month residual than the Ford Explorer."
Criticisms
Edit
"The rear end of the TrailBlazer still skips around on choppy pavement, and brake dive is pronounced." - Car and Driver
"You may not like the TrailBlazer if you're looking for advanced airbag protection for the third-row passengers or if you tow heavy boats or trailers." - Kelley Blue Book
"...two rubber-tipped tailgate stops... stick several inches into the tailgate opening." - USA Today
Current Generation: (2002–2009)
Edit
This SUV is built on a truck platform, with all models having four-wheel drive as an option with both automatic engagement and the more traditional "4 High" and "4 Low" gearings. Four-wheel drive models have a unique front axle arrangement, as the front axle passes through a hole in the oil pan of the engine. This design allowed Chevrolet to build the Trailblazer and related vehicles with a lower ground clearance for improved on-road handling, although this contributes to limited off-road ability. The vehicle does, however, have enough ground clearance to allow certain off-road usage. Its main disadvantage is its increased width (as compared to a Suzuki Samurai or a Jeep Wrangler) and lack of suspension travel, causing it to high side when it encounters high-camber-variance terrain or large rocks. Additionally, it lacks either locking hubs or a limited slip differential, though the latter is available as an option. The TrailBlazer was later discontinued in 2009.
One unique element of the TrailBlazer line was the availability of a 3-row 7-passenger EXT version. This vehicle is 16 in (406 mm) longer and has a higher roofline to allow easier access to the third row of seats. This roof is disguised by standard roof racks.
Production of the EXT model was handled by the Oklahoma City Assembly plant in Oklahoma City, Oklahoma. The last TrailBlazer EXT rolled off the assembly line on February 20, 2006, because GM had reportedly closed that plant, making 2006 the final year for the TrailBlazer EXT.
An SS model was introduced for 2006 with the Chevrolet Corvette's LS2 V8. This new Trailblazer is equipped with a 6.0 L LS2 V8 with 395 hp and 400 ft·lb of torque. It can accelerate from 0 to 60 mph in 5.8 sec (est), and can do the quarter mile in about 13.9 sec. at 100.0 mph (est).
The next-generation TrailBlazer was to be built on an upgraded version of the current GMT360 platform called the GMT361. It was scheduled to be launched in Spring 2007, but in January 2006 GM decided to just refresh the current platform and call the vehicle a GMT360ng. In June 2006 GM announced that the GMT360ng program was also cancelled due to the large investment. The current Trailblazer/Envoy is slated to continue with only minor changes until at least the 2010MY.
Responding to criticism of rebadging, GM will only build the TrailBlazer and GMC Envoy SUVs off of this upgraded platform. Buick will instead get a GM Lambda platform-based crossover SUV, while Saab will replace the 9-7X with the Theta-based 9-4X.
However, the TrailBlazer, only with the Envoy, discontinued following the 2009 model year.
Worldwide
Edit
The Trailblazer is available in Russia and The Middle East.
Design quirks and oddities
Edit
External links
Edit
Ad blocker interference detected!
Wikia is a free-to-use site that makes money from advertising. We have a modified experience for viewers using ad blockers

Wikia is not accessible if you've made further modifications. Remove the custom ad blocker rule(s) and the page will load as expected.