Chevrolet Caprice
Chevrolet
aka
Type aka here, not up there
Production
1965-1996
1999-Present (Middle East)
Class
Full-Size
Body Style
4 dr Sedan
Length
length - type here
Width
Width - type here
Height
Height - type here
Wheelbase
118.5 in (3010 mm)
Weight
Weight - you get the point
Transmission
6-speed 6L80E Automatic w/ Active Select, RWD
Engine
3.6 litre V6
6.0 litre V8
Power
240 hp @ 6000 rpm
245 lb-ft (330 Nm) of torque @ 2600 rpm

355 hp @ 5700 rpm
390 lb-ft (530 Nm) of torque @ 4400 rpm
Similar
Ford Crown Victoria
Lincoln Town Car
Dodge Monaco
Designer
Designer (lead designer if it was a team effort)
The Chevrolet Caprice and Caprice Classic are full-sized automobiles produced by General Motors in the United States and Canada from 1965 through 1996 model years and in Mexico from 1977 through 1983. This vehicle was the second model of the Chevrolet Impala.
Recent Changes
Edit
On Oct 2009, Chevrolet announced the return of the Caprice to the North American market, albeit only as a police interceptor. The Caprice PPV, is based on the LWB Middle East-market, Australian-built Zeta platform and is set to arrive in 2011 with an E85-capable and Active Fuel Management equipped 6.0 litre V8 producing 355 horsepower and 385 lb/ft of torque. For the 2012 model year, a smaller displacement V6 engine will also be offered. Power is managed via a 6-speed slushbox sending power to the rear wheels. That powertrain has been heavily modified to police spec with a high-output alternator, engine oil, transmission and power steering coolers. Other changes include 18-inch steel wheels with bolt-on center caps, larger four-wheel disc brakes with heavy-duty brake pads, heavy-duty suspension components, police-calibrated stability control system and driver information center in the instrument cluster with selectable speed tracking feature. As an added bonus, the seats are designed to accommodate their gun belts. Optional equipment will include spotlights; lockouts for the power windows and locks; and an "undercover" street-appearance package (9C3).[1]
Styles and Major Options
Edit
Certain vehicles come in different trim levels or body styles. Features and major options should be mentioned here.
Add more fields as necessary.
MODEL Trims
Caprice
Caprice Classic
Caprice Classic Brougham
PPV
MSRP
$Price1
$Price2
$Price3
$Price4
Invoice
$Price1
$Price2
$Price3
$Price4
Gas Mileage
Edit
Add more fields as necessary.
As seen on the FuelEconomy.gov website, the City/Highway MPG averages are as follows:
Trim
Trim1
Trim2
Trim3
Trim4
MPG
c/h
c/h
c/h
c/h
Engine and Transmission
Edit
Specifications, details, graphs, pictures and other information regarding the powertrain is placed in this section.
Performance
Edit
Please make sure to write information of the vehicle's performance in a third-person point of view. This section should include information about the car's acceleration figures, handling, braking, etc.
If using information gathered from Road Test articles from a reputable automotive source, then please make sure to cite the quote.
Reliability
Edit
Warranty options and scheduled maintainence information should be mentioned here.
This section should reference points on safety ratings and features of the vehicle.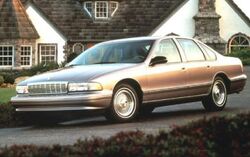 Caprice PPV
Add Photos of the vehicle here.
Please make sure not to use copyrighted photos.
List the colors that the particular <MODEL> is offered in.
Main Competitors
Edit
Create links to other <MAKE> <MODEL> pages in this section.
Hybrid Models
Edit
If there are hybrid versions of this vehicle manufactured, then please elaborate a little bit on it here.
Unique Attributes
Edit
If there are any features of this vehicle that sets it apart from other vehicles in its class, then mention those unique attributes here.
This section should include information on the interior's design, build quality, ergonomics, space (head and legroom, front and rear), features, stowage compartments and overall comfortability and livability. Add pictures wherever applicable and keep information in a third-person point of view.
Resale Values
Edit
Add more fields as necessary.
<MODEL> Year
Year X
Year X-2
Year X-3
Year X-4
Resale Value
$
$
$
$
Criticisms
Edit
Please make sure to keep critiques in a third-person point of view. If using criticisms from a reputable automotive source, then please make sure to cite the quote.
Generations
Edit
Fill in as many as appropriate. Add more if necessary and pictures wherever applicable.
Please make sure NOT to use copyrighted pictures.
Current Generation: (1999–present)
Edit
Main Article: Holden Statesman/Caprice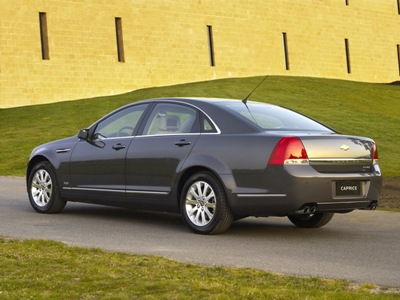 The Chevrolet Caprice had been completely phased out in North America as production ended in 1996. But the new Chevrolet Caprice was introduced in 1999 but not in the USA. The new Caprice was revived by the new Holden Statesman bult in left hand drive for the Middle Eastern market only. The Statesman based Caprice features a monocoque construction for better structural integrity the new car is 201 mm shorter, 109 mm narrower, 44 mm higher and has a shorter wheelbase of just 5 mm.
The Caprice came with four models starting from the base-model LS, the mid-range LTZ, the sporty SS and the top-of-the-range Royale. The LS and LTZ both come with a 5.7L Gen II V8 producing 295 hp and the SS and the Royale get the same engine but with more power up to 325 hp.

Fifth generation (1991–1996)
Edit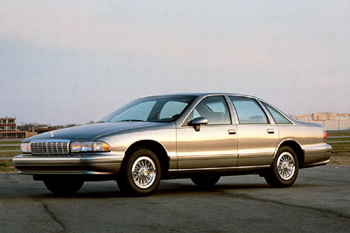 Fourth generation (1977–1990)
Edit
Third generation (1971–1976)
Edit
Second generation (1969–1970)
Edit
First Generation/Origins (1965–1968)
Edit
Worldwide
Edit
There are no known plans for the Chevrolet Caprice to establish in the American market. In 2009, they have released a Caprice PPV version for police officers in North America but no plans exist in selling the car to the general public.
Caprice PPV
Design quirks and oddities
Edit
Refer to any pop-culture tidbits about the vehicle in this section.
2007 Middle East Autocar Best Luxury Car Award
External Links
Edit
Please include any external sites that were used in collaborating this data, including manufacturer sites, in this section.
News and References
Enthusiast Sites and Discussion Forums
Ad blocker interference detected!
Wikia is a free-to-use site that makes money from advertising. We have a modified experience for viewers using ad blockers

Wikia is not accessible if you've made further modifications. Remove the custom ad blocker rule(s) and the page will load as expected.