Search By Model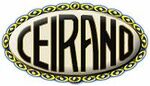 Defunct
The Ceirano GB & C was a historic automobile company, founded in October 1898 by Giovanni Battista Ceirano, Emanuele di Bricherasio, Attilio Calligaris, Pietro Fenoglio and Cesare Goria Gatti.
The headquarters of the new company was set at Turin, where in 1899 it began to build a small car with two seats, the Welleyes designed by Aristide Faccioli. Welleyes was a great commercial success for Ceirano, but managers found themselves unable to cope with the orders of the vehicle. Then in July 1898 Ceirano decided to sell the plants and patents to Giovanni Agnelli.
The car
The Welleyes was presented on 30 April 1899, and was designed by Aristide Faccioli, one of the most brilliant car engineers at the time. The car was equipped with two horizontal cylinders, transmission with leather belt and with two gears.[1] The first Fiat made car FIAT 3 ½ HP was direct derivative of this model.
References
↑ "1899 Ceirano Welleyes". motorspeed.wordpress.com. http://motorspeed.wordpress.com/category/history-of-cars/

. Retrieved 2008-02-26

.

 
Ad blocker interference detected!
Wikia is a free-to-use site that makes money from advertising. We have a modified experience for viewers using ad blockers

Wikia is not accessible if you've made further modifications. Remove the custom ad blocker rule(s) and the page will load as expected.