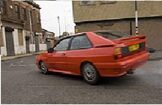 Cars have appeared many times in books, on TV and in films. Here are a selection.
Film Cars
Edit
Cars in Books
Edit
James Bond Cars
Edit
Many cars have been used in the James Bond films. In the original Casino Royale book Ian Flemming had Bond driving a Bentley 4.5 Litre in Battleship Grey, it was also said to be one of the last made.
From Russia With Love
Edit
Goldfinger
Edit
Thunderball
Edit
You Only Live Twice
Edit
On Her Majesty's Secret Service
Edit
Diamonds are Forever
Edit
Live and Let Die
Edit
Man With The Golden Gun
Edit
The Spy Who Loved Me
Edit
Moonraker
Edit
For Your Eyes Only
Edit
Octopussy
Edit
A View To A Kill
Edit
The Living Daylights
Edit
Licence To Kill
Edit
Goldeneye
Edit
Tommorow Never Dies
Edit
The World Is Not Enough
Edit
Die Another Day
Edit
Casino Royale
Edit
Quantumn Of Solace
Edit
Ad blocker interference detected!
Wikia is a free-to-use site that makes money from advertising. We have a modified experience for viewers using ad blockers

Wikia is not accessible if you've made further modifications. Remove the custom ad blocker rule(s) and the page will load as expected.