Carlos Reutemann
Talk

0
10,659pages on
this wiki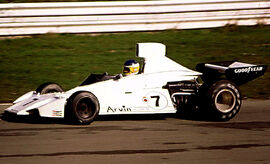 Carlos Alberto Reutemann (born April 12, 1942), nicknamed "Lole", is an Argentine former racing driver (who raced in Formula One from 1972 through 1982), and later a politician in his native province of Santa Fe, for the Justicialist Party and governor in Argentina.
As a racing driver, Reutemann was among Formula One's leading protagonists between 1972 and 1982. He scored 12 Grand Prix wins and six pole positions. In 1981 he finished second in the World Drivers' Championship by one point, having been overtaken in the last race of the season. He became the second Formula One driver after Leo Kinnunen to be at the podium of a World Rally Championship event, when he finished third in the 1980 and 1985 editions of Rally Argentina. He was also for three decades the only Formula One driver to score drivers' championship points in both F1 and WRC, until Kimi Räikkönen's eighth place at the 2010 Jordan Rally.[1]
As a popular governor and a senator, he has been considered by some, on several occasions, to be a worthy candidate for President, but while he considered running for president in the 2011 Argentine general election he declined to do so.[2]
Racing career
Edit
Early racing career
Edit
Descended from a Swiss-German grandfather, an Argentine father and an Italian mother, Reutemann was the first successful Argentine Formula One driver since the retirement of five-time World Champion Juan Manuel Fangio in 1958. He first raced in 1965 in a Fiat saloon car.[3] After racing touring cars and Formula 2 in Argentina, he moved to Europe in 1970 to drive a Brabham for the Automobile Club of Argentina Team in the European Formula 2 series. He immediately received attention when he took out Austrian Formula One driver Jochen Rindt (that year's eventual posthumous World Champion) on the first lap of his first race at Hockenheim, but carried on to finish fourth. The next season, he finished a close second in the series to Sweden's Ronnie Peterson.
Formula One career
Edit
Brabham F1 team boss Bernie Ecclestone signed Reutemann to drive alongside veteran and two-time World Champion Graham Hill for the 1972 season. At the first race, in front of his home crowd at Buenos Aires for his first Grand Prix, Reutemann qualified his Brabham BT34 on pole position. This was a feat previously performed only by Mario Andretti, and since matched only by Jacques Villeneuve; his teammate Hill qualified 16th. He finished the race in seventh after having to pit to replace his soft tyres, and the main highlight for the rest of the year was his win in the non-Championship Interlagos Grand Prix.
Teamed with Brazilian Wilson Fittipaldi Júnior for the 1973 season, Reutemann scored two podium finishes and seventh in the Driver's Championship. For 1974, the Gordon Murray-designed Brabham BT44 was a vast improvement and the team finished a close fifth in the Constructor's Championship. Reutemann took the first three victories of his F1 career at South Africa, Austria and the United States. He might have won the first race of the year in Argentina, too, but the Brabham team apparently failed to properly fuel his car and he ran out of fuel with less than two laps to go while safely in the lead. Though he matched Driver's Champion Emerson Fittipaldi's win total, inconsistent performances in the other races left Reutemann sixth in the season standings.
Five podium finishes in 1975, including a win in Germany at the old Nürburgring, allowed Reutemann to place third in that year's Championship. The Brabham team switched to the Alfa Romeo flat-12 engine for 1976 and suffered from serious reliability problems. After seven retirements and only one finish in the points (fourth place in Spain) in the first twelve races, Reutemann negotiated a release from his Brabham contract to sign with Ferrari. He raced only once for the new team, in a third car at Monza, then sat out the final three races.
When Clay Regazzoni left Ferrari for the Ensign team in 1977, Reutemann was paired with Niki Lauda, who had nearly died in a fiery crash the previous season. In the first two races, Reutemann finished third (frustratingly behind ex-Brabham teammate Carlos Pace) in Argentina and won in Brazil, outdriving Lauda in both events, but then Lauda reaffirmed his position as team leader. Lauda won his second Championship, while Reutemann finished fourth.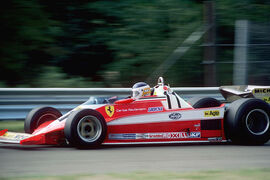 When Lauda moved to Brabham in 1978, Reutemann became the senior member of the Ferrari team, joined by the young Canadian Gilles Villeneuve. Reutemann used the Ferrari 312T2 to win in Brazil, and a 312T3 to win in Britain and twice in the United States (Long Beach and Watkins Glen), outclassing his new Ferrari teammate Gilles Villeneuve in so doing. However, the Lotus team was dominant once their new model 79 was introduced at Monaco, and Reutemann finished a close third in the points standings behind Andretti and Peterson.
With an opening at Lotus in 1979 after the death of Ronnie Peterson, Reutemann decided to move from Ferrari to Lotus. The first few races went well for him - highlights being forceful second places in Argentina and Spain, plus third places at Brazil and Monaco - but, as the season wore on, he struggled while Jody Scheckter won the title for Ferrari. After four podiums and six points finishes in the first seven races, Reutemann ended up finishing in only seventh place for the season.
Career at Williams
Edit
Joining the Williams team for 1980 put him back in a competitive car once again. Reutemann used the FW07 car it to win at Monaco and score eight podiums to finish third in the Championship. His partnership with number one driver and World Champion Alan Jones was productive for Williams, who won their first Constructor's Championship with a then-record 120 points. But again, Reutemann's relationship with his teammate soured when, the following season, Reutemann disobeyed the team's orders and thereby refused to allow Jones to win the 1981 Brazilian Grand Prix. Jones never forgave this act of disobedience on the part of his teammate, especially as Reutemann continued to score more points than Jones throughout the remainder of the season. That Brazilian victory (and another in Belgium) - plus victory in that year's South African Grand Prix, which ended up retrospectively being given non-Championship status - helped put Reutemann in a position to win a three-way battle with Nelson Piquet and Jacques Laffite for the title at the season-ending race in Las Vegas.
Reutemann arrived in Las Vegas with a one point lead in the Championship over Brazilian Nelson Piquet. He began the race from pole position, ahead of Jones, who had vowed not to provide any "help" in Reutemann's quest, while Piquet was fourth. At the start, Jones jumped into the lead and Reutemann was quickly passed by Villeneuve, Alain Prost and Bruno Giacomelli.
On lap 17, battling over seventh place as they approached the last left-hander before the pits, Piquet's Brabham was nearly touching the back of Reutemann's Williams. Piquet got around Reutemann on the inside when Reutemann, fighting for the Championship, braked early.
On the next lap, Andretti also went by Reutemann. Piquet put himself in a position to score points when he took over sixth place from John Watson on lap 22. Reutemann continued to slip backwards with gearbox trouble, having lost fourth gear as early as lap two.
Reutemann finished the race in eighth, a lap down, and the title went to Piquet. However, if the 1981 South African Grand Prix would have been a race with World Championship Points awarded, Reutemann would have been World Champion with 58 Points against Piquet's 56. He returned with Williams for 1982, finishing second in the season opener in South Africa, the only Cosworth-engined runner able to take the fight to the much more powerful turbo-engined Renaults. A dispute with Frank Williams regarding politics, however, caused him to leave Formula One after the Brazilian race and his racing career was over.
Rallying career
Edit
Reutemann was approached by Fiat during the 1980 F1 season with an offer to drive a Fiat 131 in the inaugural 1980 Codasur Rally (now Rally Argentina), where he finished in third place. In 1985 he accepted another offer to drive the Argentinian Rally, this time by Peugeot. Driving a 205 T16 Reutemann again finished in third place.[4]
Complete Formula One World Championship results
Edit
(key) (Races in bold indicate pole position, races in italics indicate fastest lap)
Political career
Edit
After retiring from racing, Reutemann's popularity led the Justicialist Party of the province of Santa Fe to invite him to run for governor. He won the election and ran the province for one four-year term (1991–1995). The provincial constitution does not allow for re-election, but after four years Reutemann presented again and won the governorship for the period 1999–2003. During those years, his profile grew and he became one of the leading politicians in Santa Fe and in Argentina.
Reutemann's second term was marked by the nationwide economic problems brought by the recession that had started in 1999 and ultimately led to the socioeconomic crash of 2001. Under Reutemann, Santa Fe kept a conservative fiscal policy, whereby it applied discounts and froze public workers' salaries and pensions through an Economic Emergency Law. The province was among the few not to resort to the issue of government bonds as a form of quasi-currency, and thus did not become highly indebted.
After the 2001 crash and the resignation of Fernando de la Rúa, Reutemann surprised and disappointed many by declining, on several occasions, to run for president. He finally presented himself for the 2003 general election and won a seat in the National Senate, which he occupies at present.
During the 2005 legislative elections Reutemann chose not to be a major participant in the campaign. After the PJ lost to the Socialist Party candidates for the first time in Santa Fe, members of the party were rumored to be unhappy about Reutemann's low profile. Reutemann also declined to run for governor of Santa Fe again in the 2007 elections. [1]
On January 1, 2006 Reutemann was named Commendatore della Repubblica by President of the Italian Republic Carlo Azeglio Ciampi.
External links
Edit