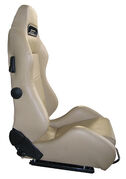 Car seats are used to sit on when driving a vehicle. They differ in different kinds of automobiles.
Heated Seats
Edit
Heated seats are availble in most luxury cars.
Leather Seats
Edit
Leather is a common material to make car seats from. It is most common in Luxury or Sports cars
Racing Seats
Edit
Racing Seats are often an optional extra and can be bought seperatley on most cars.
Ad blocker interference detected!
Wikia is a free-to-use site that makes money from advertising. We have a modified experience for viewers using ad blockers

Wikia is not accessible if you've made further modifications. Remove the custom ad blocker rule(s) and the page will load as expected.