300px
Cadillac DTS
Cadillac
aka
Type aka here, not up there
Production
2006–2011
Class
Full-Size Luxury Sedan
Body Style
4-Door, 5/6-Seat Sedan
Length
207.6 in
Width
74.8 in
Height
57.6 in
Wheelbase
115.6 in
Weight
4009 lb
Transmission
4-Speed Automatic, FWD
Engine
4.6L NorthStar V8
4.6L L37 NorthStar V8
Power
275 hp @ N/A rpm
292 lb-ft of torque @ N/A rpm

292 hp @ N/A rpm
288 lb-ft of torque @ N/A rpm
Similar
Lincoln Town Car
Designer
Designer (lead designer if it was a team effort)
The Cadillac DTS (DeVille Touring Sedan) replaces the Cadillac DeVille as that carmaker's largest luxury car for the 2006 model year. The DTS follows the naming and styling direction set by the earlier CTS and STS.
The design of the DTS was introduced in a unique way. A specially-designed and outfitted presidential DTS limousine was utilized during the second inauguration of George W. Bush in the January 20, 2005 parade. While details of the vehicle, codenamed Stagecoach, are highly classified, it is presumed to be heavily armored and feature advanced communication equipment. The production DTS was shown at the 2005 Chicago Auto Show on February 9.
The DTS is manufactured at GM's Detroit/Hamtramck Assembly factory in Hamtramck, Michigan. The Luxury models are priced a US$41,990, while the Performance version is priced at US$50,490. While the base MSRP for the STS is slightly higher than that for the DTS, the top-of-the-line model is slightly more affordable.
One major feature change from the Deville to the DTS was the deletion of the 6-passenger seating option for non-limousine models.
Recent Changes
Edit
Mention any minor facelifts or major changes made to the vehicle here.
Styles and Major Options
Edit
| Model | Year | Engine | Power | Torque |
| --- | --- | --- | --- | --- |
| Luxury | 2006– | 4.6 L Northstar V8 | 275 hp (205 kW) | 292 ft·lbf (396 N·m) |
| Performance | 2006– | 4.6 L L37 Northstar V8 | 291 hp (217 kW) | 288 ft·lbf (390 N·m) |
Add more fields as necessary.
MODEL Trims
Trim1
Trim2
Trim3
Trim4
MSRP
$Price1
$Price2
$Price3
$Price4
Invoice
$Price1
$Price2
$Price3
$Price4
Gas Mileage
Edit
Add more fields as necessary.
As seen on the FuelEconomy.gov website, the City/Highway MPG averages are as follows:
Trim
Trim1
Trim2
Trim3
Trim4
MPG
c/h
c/h
c/h
c/h
Engine and Transmission
Edit
Specifications, details, graphs, pictures and other information regarding the powertrain is placed in this section.
Performance
Edit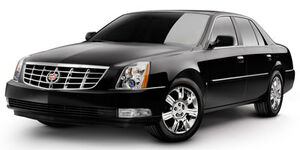 Please make sure to write information of the vehicle's performance in a third-person point of view. This section should include information about the car's acceleration figures, handling, braking, etc.
If using information gathered from Road Test articles from a reputable automotive source, then please make sure to cite the quote.
Reliability
Edit
RECALL ALERT: On August 29, 2008, GM issued a GM-wide recall affecting 857,735 vehicles built between 2006-2008 and equipped with heated windshield washer fluid option including the Cadillac DTS. The system was liable to short out causing cessation of function, smoke, possible fire and malfunctioning of other electronic systems in the car. GM urges owners of affected vehicles to go to their nearest local dealer so the problem can be remedied.[1]
RECALL ALERT: On November 12, 2010, GM issued a recall affecting 2010 and 2011 model year Buick Lucerne and Cadillac DTS models (13,780 vehicles total), all equipped with V8 engines, due to defective starter or alternator cable that can wear through the power steering lines causing a power steering fluid leak. This can not only result in the loss of power steering, but the liquid could drip onto hot engine parts, resulting in a fire. GM urges owners to bring their cars their local General Motors dealers to have the problem fixed free of charge. Technicians will either secure or reroute the power steering return lines in order to prevent contact with these cables. [2]
This section should reference points on safety ratings and features of the vehicle.
List the colors that the particular <MODEL> is offered in.
Main Competitors
Edit
Create links to other <MAKE> <MODEL> pages in this section.
Hybrid Models
Edit
If there are hybrid versions of this vehicle manufactured, then please elaborate a little bit on it here.
Unique Attributes
Edit
If there are any features of this vehicle that sets it apart from other vehicles in its class, then mention those unique attributes here.
This section should include information on the interior's design, build quality, ergonomics, space (head and legroom, front and rear), features, stowage compartments and overall comfortability and livability. Add pictures wherever applicable and keep information in a third-person point of view.
Resale Values
Edit
Add more fields as necessary.
<MODEL> Year
Year X
Year X-2
Year X-3
Year X-4
Resale Value
$
$
$
$
Criticisms
Edit
Please make sure to keep critiques in a third-person point of view. If using criticisms from a reputable automotive source, then please make sure to cite the quote.
Generations
Edit
Fill in as many as appropriate. Add more if necessary and pictures wherever applicable.
Please make sure NOT to use copyrighted pictures.
Current Generation: (YYYY–present)
Edit
Fifth generation (YYYY–YYYY)
Edit
Fourth generation (YYYY–YYYY)
Edit
Third generation (YYYY–YYYY)
Edit
Second generation (YYYY–YYYY)
Edit
First Generation/Origins (YYYY–YYYY)
Edit
Worldwide
Edit
If the vehicle is sold in other markets worldwide, then this is the section to mention that information. Also, mention if the <MODEL> goes by another name in these other markets.
Design quirks and oddities
Edit
Refer to any pop-culture tidbits about the vehicle in this section.
List out notable awards that the model has recieved while in production. Boldface the company or organization that gives out the award, and Italicize the name of the award.
External links
Edit
Ad blocker interference detected!
Wikia is a free-to-use site that makes money from advertising. We have a modified experience for viewers using ad blockers

Wikia is not accessible if you've made further modifications. Remove the custom ad blocker rule(s) and the page will load as expected.