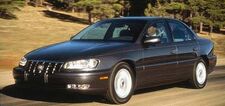 The Cadillac Catera was a mid-size car that was a rebadged Opel Omega MV6, built in Russelsheim, Germany. The Catera was marketed by Cadillac as an entry-level model in North America with approximately 95,000 units made from 1997 to 2001.
In 1999 a Sport model was available with heated front seats, 17-inch wheels, a rear spoiler, and many more options. In 2000 the Catera got a facelift with a revised nose, wheels, mirrors and other adjustments.
While the Catera received good reviews, its sales did not meet GM's expectations, claiming that it was too small to appeal to the marque's traditional luxury car buyers. With very poor sales, the Catera was discontinued after the 2001 model year, and was replaced by the Cadillac CTS, which proved more successful than the Catera.
Marketing
Edit
The Catera was marketed as the "Cadillac that zigs". The launch advertisements featured supermodel Cindy Crawford - who spoke to "Ziggy" an animated duck-like character.
Ad blocker interference detected!
Wikia is a free-to-use site that makes money from advertising. We have a modified experience for viewers using ad blockers

Wikia is not accessible if you've made further modifications. Remove the custom ad blocker rule(s) and the page will load as expected.