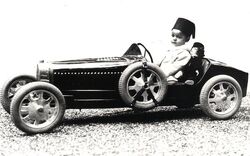 The Bugatti Type 52 was a half-scale Bugatti Type 35 electric racing car for children. Over 250 examples were produced at the Molsheim factory between 1927 and 1930, and the cars were frequently used both as playthings and for more serious racing among the children of the European elite.
The first example of a Type 52 was built for Ettore's son, five year old Roland, and was first shown at an exhibition in Milan.
The Type 52 was powered by a single 12 volt electric motor with an integral 4-speed gearbox. Braking was done by way of expanding wooden shoes in rear drums.
The car was originally just 1200 mm (47.2 in) between the wheels, but this was expanded to 1350 mm (53.1 in) when it was found that even children had difficulty with leg room. The car was 130 in (3300 mm) long overall with a 625 mm (24.6 in) track width.
Ad blocker interference detected!
Wikia is a free-to-use site that makes money from advertising. We have a modified experience for viewers using ad blockers

Wikia is not accessible if you've made further modifications. Remove the custom ad blocker rule(s) and the page will load as expected.