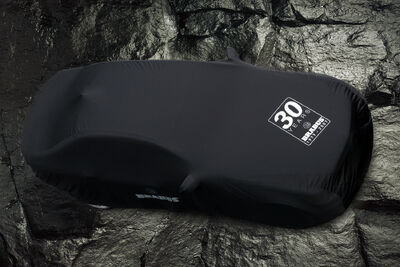 BRABUS
, founded 1977 in Bottrop near Düsseldorf, Germany by Klaus
Bra
ckmann and Bodo
Bus
chmann, is a high-performance aftermarket
tuning
company which specializes in
Mercedes-Benz
,
Smart
and
Maybach
vehicles.
Owned by Bodo Buschmann, Brabus has since become the largest Mercedes tuner, other than Mercedes-AMG who became a DaimlerChrysler affiliate in the 1990s. Its competitors include Lorinser, Carlsson, Kleemann, and RENNtech.
Brabus's primary focus is to achieve maximum engine performance through the increase of both horsepower and torque. Customers can either buy cars straight from Brabus or send in their Mercedes to be customized and/or overhauled. If a customer orders a car from Brabus, Brabus buys the particular car from Mercedes and then modifies it in-house according to the customer's requests.
Brabus offers simple upgrades such as low profile spoilers, bodykits, carbon fiber splitters, and multi-piece alloy wheels. More serious upgrades include racing LSD's, open racing exhaust systems, twelve-piston disc brakes, and engine remapping. However, most customers pay for complete engine overhauls that Brabus has become famous for. The company typically orders crate engines from AMG and completely redesigns them to the level where Brabus is now officially considered its own auto manufacturer as opposed to a tuning company.
Brabus engines range from small 200 horsepower K4 blocks for SLK roadsters and CLK-Class to 730 horsepower twin-turbo blocks for the CL-Class, CLS-Class, and S-Class. The company also provides improvements to the interior from custom upholstery, gauges, shiftknobs, pedals, and trim to various electronics such as wider LCD screens for the Maybach.
Brabus had held several world records.
In 1996 Brabus E V12 achieved world speed record for street-legal sedan at 330 km/h (205.1 mph).
In 2003 Brabus E V12 Biturbo made a new record for street-legal sedan at 350.2 km/h (217.6 mph).
In 2006 Brabus Rocket clocked in new record for street-legal sedan at 362.4 km/h (225.2 mph). The Rocket was based on a modified Mercedes-Benz CLS-Class W219 model.
In October 2006 Brabus made another record (for a sedan) with this car at 365.7 km/h (227.2 mph). The price of the car is 348,000 euros.[1]
Competing Mercedes-Benz performance specialists
Edit
References
Edit
0-62 in 4.0 Seconds for a cost of $436,879 USD
External links
Edit
Ad blocker interference detected!
Wikia is a free-to-use site that makes money from advertising. We have a modified experience for viewers using ad blockers

Wikia is not accessible if you've made further modifications. Remove the custom ad blocker rule(s) and the page will load as expected.