Bob Wollek (November 4, 1943 – March 16, 2001), nicknamed "Brilliant Bob", was a race car driver from Strasbourg, France. He was killed on March 16, 2001 at age 57 in a road accident in Florida while riding a bicycle back to his accommodation after the day's practice sessions for the following day's race, the 12 Hours of Sebring.
Skiing career
Edit
Prior to his racing days as a university student, Wollek was also a member of the French National Skiing Team between 1966-1968 competing in the Winter Universiade, he won three gold and two silver medals altogether (see table on the right)
His skiing career came to an end when he was injured during preparations for the Winter Olympics.
Early racing career
Edit
Prior to a skiing accident which ended his skiing career, Wollek began racing cars when he entered the Mont-Blanc Rally in 1967 driving a Renault 8 Gordini and won. The following year, when his skiing career ended, he started his racing career when he entered a Volant Shell scholarship race taking place at the Le Mans' Bugatti Circuit, finishing runner-up to François Migault. Wollek later entered the Alpine Trophy Le Mans which he won, earning himself a place for the 1968 24 Hours of Le Mans where he finished 11th overall and 2nd in class on his debut driving an Alpine A210.
In 1969, Wollek made his debut in single seater racing competing in Formula France before graduating to the French Formula Three Championship.
During a round at Rouen-Les-Essarts, Wollek was involved in a fatal accident which killed Jean-Luc Salomon, when the pair plus Jean-Pierre Jaussaud, Richard Scott and Mike Beuttler were all fighting for the lead at Scierie, where the track is a two-lane road.
In 1971, Wollek switched to Formula Two driving for Ron Dennis's Rondel Racing. Despite a shaky start with only one point that year, he improved his performance for the following year with a single win at Imola and 21 points, placing him seventh. Despite this success, he abandoned his Formula One ambition to concentrate on sportscar racing where he would become one of the most recognizable names in the sport.
Sportscar racing
Edit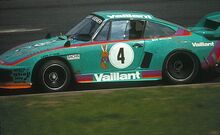 During his three decades of sports car racing, almost exclusively in Porsches, he won the 24 Hours of Daytona four times (1983, 1985, 1989, 1991) and the DRM in 1982 and 1983, with the Porsche 936 and Porsche 956 entered by the Joest Racing team. In the mid-1970s, he raced a Porsche 935K2 improved and entered by the Kremer Racing team from Cologne.
For many years, Monsieur Porsche challenged the factory team with privately entered cars, as he was only hired to become part of the official Porsche Le Mans team four times (1978, 1979, 1997, and 1998). In 1981, he even raced a Group C-spec Kremer-built Porsche 917, about a decade after these cars were retired initially.
Wollek never managed to win the 24 Hours of Le Mans overall, despite coming close in a few of his thirty attempts. In 1997, his leading factory-entered Porsche 911 GT1 suffered damage in a minor incident, so the car had to be retired. In 1998, Porsche scored a 1-2 win, but Bob was once again on the less-lucky runner-up car.
After the 1998 season, Porsche retired its GT1 cars from the Mercedes-dominated FIA GT Championship, providing only Porsche 911 based cars for the lower GT classes. In 2000, Wollek scored many class wins in the American Le Mans Series(ALMS) in a Porsche 996 GT3. The last race Wollek entered was the 2001 12 Hours of Sebring in a Porsche 996 GT3-RS. Wollek had already won there in 1985 with A. J. Foyt, driving a Porsche 962. Despite being over 50 years of age and still racing competitively, Wollek had developed a fitness regime of riding bicycles to stay in good physical condition, especially for the longer races such as the 24 Hours of Le Mans, to which he rode from home across France.
Typical of many other racing drivers, Bob ran a car dealership for Jaguar.
On Friday, March 16, 2001, while leaving Sebring International Raceway following practice for the 12 Hours of Sebring, Wollek continued a tradition of cycling between the circuit and his accommodation, which took him west on Highway 98. While he had been riding close to the edge of the pavement, he was struck from behind by a van driven by an elderly driver from Okeechobee, Florida at approximately 4:30 p.m. He was transported to Highlands Regional Medical Center in Sebring and was pronounced dead on arrival. Wollek was due to start in the Petersen Motorsports Porsche 996 GT3-RS with Johnny Mowlem and Michael Petersen, however out of respect the car was withdrawn from the race. On race day, the organizers held a one-minute silence in memory of Wollek. Prior to his death, he announced he would retire from racing to serve as an ambassador for Porsche, and was due to sign this agreement upon returning home after Sebring.
Racing record
Edit
Complete 24 Hours of Le Mans results
Edit
Year
Team
Co-Drivers
Car
Class
Laps
Pos.
Class


Pos.

1968
Trophée Le Mans
Christian Ethuin
Alpine A210
P


1.3

282
11th
2nd
1969
Société des Automobiles Alpine
Jean-Claude Killy
Alpine A210
P


1.6

242
DNF
DNF
1973
Equipe Matra-Simca Shell
Patrick Depailler
Matra-Simca MS670B
S


3.0

84
DNF
DNF
1974
Équipe Gitanes
Jean-Pierre Jaussaud


 José Dolhem

Matra-Simca MS670B
S


3.0

120
DNF
DNF
1975
Écurie Buchet - Cyril Grandet
Cyril Grandet
Porsche 911
GT


Ser.

293
DSQ
DSQ
1976
Porsche Kremer Racing
Didier Pironi


 Marie-Claude Charmasson

Porsche 934
GT
270
19th
4th
1977
Porsche Kremer Racing
Jean-Pierre Wielemans


 Philippe Gurdjian

Porsche 934
GT
298
7th
1st
1978
Martini Racing Porsche System
Jacky Ickx


 Jürgen Barth

Porsche 936/78
S


+2.0

364
2nd
2nd
1979
Essex Motorsport Porsche
Hurley Haywood
Porsche 936
S


+2.0

236
DNF
DNF
1980
Gelo Racing Team
Helmut Kelleners
Porsche 935
Gr.5
191
DNF
DNF
1981
Porsche Kremer Racing
Xavier Lapeyre


 Guy Chasseuil

Porsche 917K/81
S


+2.0

82
DNF
DNF
1982
Belga Team Joest Racing
Jean-Michel Martin


 Philippe Martin

Porsche 936C
C
320
DNF
DNF
1983
Sorga S.A. Joest Racing
Klaus Ludwig


 Stefan Johansson

Porsche 956
C
354
6th
6th
1984
Martini Racing
Alessandro Nannini
Lancia LC2-Ferrari
C1
326
8th
8th
1985
Martini Racing
Alessandro Nannini


 Lucio Cesario

Lancia LC2-Ferrari
C1
360
6th
6th
1986
Rothmans Porsche
Jochen Mass


 Vern Schuppan

Porsche 962C
C1
180
DNF
DNF
1987
Rothmans Porsche AG
Jochen Mass


 Vern Schuppan

Porsche 962C
C1
16
DNF
DNF
1988
Porsche AG
Sarel van der Merwe


 Vern Schuppan

Porsche 962C
C1
192
DNF
DNF
1989
Joest Racing
Hans-Joachim Stuck
Porsche 962C
C1
382
3rd
3rd
1990
Joest Porsche Racing
Louis Krages


 Stanley Dickens

Porsche 962C
C1
346
8th
8th
Joest Porsche Racing
Jonathan Palmer


 Philippe Alliot

Porsche 962C
C1
-
DNS
DNS
1991
Silk Cut Jaguar


 Tom Walkinshaw Racing

Teo Fabi


 Kenny Acheson

Jaguar XJR-12
C2
358
3rd
3rd
1992
Courage Compétition
Henri Pescarolo


 Jean-Louis Ricci

Cougar C28LM-Porsche
C3
335
6th
1st
1993
Joest Porsche Racing
Henri Pescarolo


 Ronny Meixner

Porsche 962C
C2
351
9th
4th
1994
Nisso Trust Racing Team
Steven Andskär


 George Fouché

Toyota 94C-V
LMP1


/C90

328
4th
2nd
1995
Courage Compétition
Éric Hélary


 Mario Andretti

Courage C34-Porsche
WSC
297
2nd
1st
1996
Porsche AG
Hans Joachim Stuck


 Thierry Boutsen

Porsche 911 GT1
GT1
353
2nd
1st
1997
Porsche AG
Hans Joachim Stuck


 Thierry Boutsen

Porsche 911 GT1
GT1
238
DNF
DNF
1998
Porsche AG
Jörg Müller


 Uwe Alzen

Porsche 911 GT1-98
GT1
350
2nd
2nd
1999
Champion Racing
Dirk Müller


 Bernd Mayländer

Porsche 911 GT3-R
GT
292
19th
2nd
2000
Dick Barbour Racing
Dirk Müller


 Lucas Luhr
Ad blocker interference detected!
Wikia is a free-to-use site that makes money from advertising. We have a modified experience for viewers using ad blockers

Wikia is not accessible if you've made further modifications. Remove the custom ad blocker rule(s) and the page will load as expected.