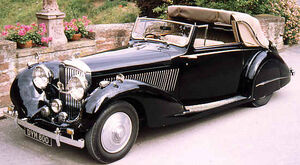 The 4 Litre was an attempt at restoring the Bentley company to a good financial state. Introduced in 1931, it used a Ricardo F-head engine (modified by Walter Owen Bentley) in an attempt to attract more buyers. Instead, the company went into receivership shortly after, with archrival Rolls-Royce successfully purchasing the company.
The conventional straight-6 engine used an 85 mm (3.3 in) bore and 115 mm (4.5 in) stroke for a total of 3.9 L (3915 cc/238 in³) of displacement. It lacked the high power output and technology of the previous Bentley-designed engines.

External Links
Edit
Ad blocker interference detected!
Wikia is a free-to-use site that makes money from advertising. We have a modified experience for viewers using ad blockers

Wikia is not accessible if you've made further modifications. Remove the custom ad blocker rule(s) and the page will load as expected.