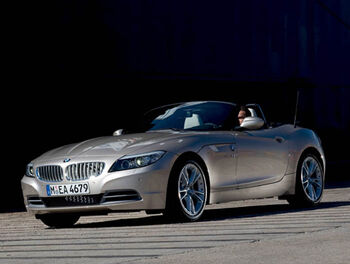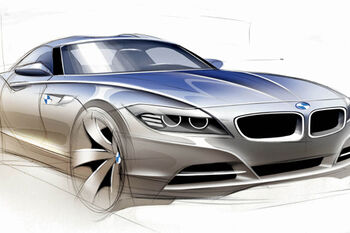 The BMW Z4 is a rear-wheel drive sports car by the German automaker BMW, known as the E85 in roadster form and E86 in coupe form. Production started in 2002, and thus replaced the BMW Z3. The design addresses many criticisms of the Z3; the Z4 is larger, and has a significantly stiffer chassis. It was built in Spartanburg, South Carolina. Initially, the Z4 was available only as a roadster, but in 2006 a coupé version was officially launched.
The last of the Z4 line to be assembled in North America rolled off the assembly line of BMW's Spartanburg, South Carolina plant on the night of August 27, 2008. Production of the second-generation model was at the automaker's plant in Regensburg, Germany.
The first-generation Z4 was designed by the Danish BMW-designer Anders Warming.[1] He later made the Mille Miglia Concept car with some of the same shapes as from the Z4.
The Z4 features a strut type front suspension like its predecessor, the Z3. The rear suspension, however is considerably different from that of the Z3, which was based on that of the E30 BMW 3 Series. Instead of a semi-trailing arm suspension, the Z4 uses a more advanced multi-link suspension. Production of the Z4 ended in August 2016.
See Autopedia's comprehensive BMW Z4 Review.
Recent Changes
Edit
Japan gets a very limited edition Z4 for 2011. The 15 unit only Z4 Silver Top edition costs 5,590,000 Yen (about US$68,900) and features a Titanium Silver finish of the two-piece electric folding hardtop and exterior mirror caps, which create a contrast with the Black Sapphire paintjob of the body. Inside, the special edition model gets Kansas Coral Red Kansas leather seats and aluminum decorative trim. The Z4 Silver Top is offered exclusively in sDrive23i guise, which translates to a 2.5-liter straight-six with 204-horsepower and 250Nm of torque, linked to a 6-speed automatic transmission.
To celebrate the 70th Anniversary of the legendary BMW 328 victory at the famous 1000 miles of Mille Miglia race, BMW has created a special edition called Z4 sDrive35is Mille Miglia Limited Edition. Limited to just 99 units and only for the Italian market, the Mille Miglia is distinguished via a matte Polaris Metallic with a blacked-out front grill, an M aero kit and 19-inch wheels finished in Dark Chrome. Inside, the seats and steering wheel will get a dash of red stitching. And of course, the limited edition model will also get unique badging inside and out. [1]
The 2010 Detroit Auto Show will play host to the unveiling of the higher-performance Z4 sDrive35is as well as the Z4 M Sport package, though BMW remains firm that it will not be producing a Z4 M. Starting with the twin-turbocharged 3.0-liter inline six in the 35i, the sDrive35is gains a higher-flow intake and turbos allowed to spin up to higher boost pressures, resulting in an 11 percent bump in both power and torque output. The '35is now makes 335 hp and 332 pound-feet. In fact, for brief bursts, the 35is can crank up the boost even higher resulting in short periods of up to 369 pound-feet of torque. BMW claims the Z4 sDrive35is will get to 60 mph in just 4.7 seconds. Other performance-oriented modifications include sharper electric power steering, a standard dual-clutch gearbox, and energy regenerating brakes. It also drops in height by 0.4 inches. [2]
Z4 sDrive35is
Z4 M Sport package
As early as December 14, 2008, BMW released images of the second generation 2010 BMW Z4. The new car is expected to debut at the 2009 Detroit Motor Show and retains the long-hood, short deck roadster proportions of the previous Z4. The exterior styling is the second to issue from the leadership and design philosophy of Adrian van Hooydonk after the release of the 7 Series a few months back and has been compared to the Z8 and 507 by several blogs who broke the embargo. It also features the second application of a folding metal hardtop roof by BMW on a production car which raises or stows in 20 seconds. Inside, the dashboard heavily resembles the styling of the BMW CS Concept in which it is now driver-oriented. Under the hood, the Z4 sports a selection of three engines (for the EU market): a 2.5 litre Inline-6 (Z4 sDrive23i) producing 204 hp mated to a six-speed manual or automatic, a 3.0 litre Inline-6 Z4 (sDrive30i) making 258 hp and 228 lb-ft of torque attached to either a 6-speed manual or automatic and finally a twin-turbocharged variant of the 3.0 litre straight-6 churning out 306 hp controlled via the 6-speed Manual or BMW's 7-speed dual-clutch gearbox. [3][4]
For 2008, the Z4 receives two new trim packages: the "Sport" package and the "Exclusive" package. The model also receives BMW's trademark EfficientDynamics fuel-saving technology.
Styles and Major Options
Edit
The 2007 Z4 comes in two trims, the 3.0i and 3.0si. Both are rear wheel drive vehicles operated by a 6-speed manual transmission w/OD, but while the 3.0i is powered by a 3.0L 215hp I-6 engine, the 3.0si utilizes a 3.0L 255hp I-6 engine. In addition, both coupe and roadster versions are available. A list of the standard safety features can be found below in the Safety section. Other standout features on the Z4 include:
3.0i
Stainless steel exhaust
17" silver alloy wheels
6-way front sports seats
Leatherette seating and door trim
Metal-look dashboard insert
Leather/metal-look steering wheel and shift knob
Manual convertible roof (roadster model)
Manual front air conditioning
10-speaker AM/FM/MP3/CD audio system
Cruise Control
Heated front wiper jets
3.0si
Adds to or replaces 3.0i features with:
Leather seating and door trim
Aluminum dashboard insert
Front reading lights
Automatic air conditioning
10-speaker THX certified Carver AM/FM/MP3/CD audio system
Systems monitor and trip computer
Add more fields as necessary.
MODEL Trims
Z4
Z4 sDrive35i
Trim3
Trim4
MSRP
$46,575
$52,475
$Price3
$Price4
Invoice
$Price1
$Price2
$Price3
$Price4
Gas Mileage
Edit
Add more fields as necessary.
As seen on the FuelEconomy.gov website, the City/Highway MPG averages are as follows:
Trim
Trim1
Trim2
Trim3
Trim4
MPG
c/h
c/h
c/h
c/h
Engine and Transmission
Edit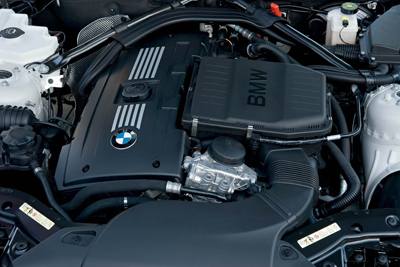 Specifications, details, graphs, pictures and other information regarding the powertrain is placed in this section.
Performance
Edit
Please make sure to write information of the vehicle's performance in a third-person point of view. This section should include information about the car's acceleration figures, handling, braking, etc.
If using information gathered from Road Test articles from a reputable automotive source, then please make sure to cite the quote.
Reliability
Edit
Automotive Information Systems awarded an overall Green rating to the 2004 model of the Z4, indicating minimal problems in all categories surveyed. Accurate reliability information on models newer than 2004 is not yet available.
In safety tests carried out by the NHTSA, the 2007 Z4 performed relatively well. Its side-impact crash test received a 3-Star rating, but it scored 4-Star ratings for both driver and passenger side front-impact crash tests, and tests for rollover earned it a 5-Star rating. Standard safety features on the Z4 include:
Z4 M Sport package
Folding Roof
Design and Development
Available colors will vary by trim, and a full list is viewable at CarsDirect.com. Some of the possible combinations include:
Exterior
Alpine White
Black Top
Bright Red
Deep Green Metallic
Jet Black
Monaco Blue Metallic
Montego Blue Metallic
Silver Gray Metallic
Titanium Silver Metallic
Interior
Beige
Black
Dream Red
Saddle Brown
Champagne
Main Competitors
Edit
Hybrid Models
Edit
There are no hybrid models of the Z4.
Unique Attributes
Edit
If there are any features of this vehicle that sets it apart from other vehicles in its class, then mention those unique attributes here.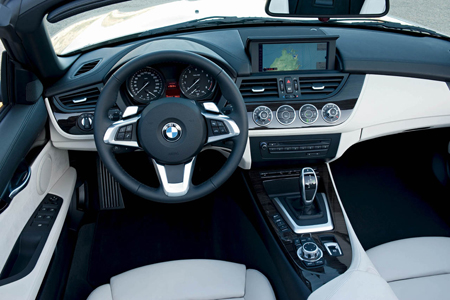 This section should include information on the interior's design, build quality, ergonomics, space (head and legroom, front and rear), features, stowage compartment
Design and Development
Resale Values
Edit
According to Kelley Blue Book, "the Z4 may be pricey, but it possesses an excellent resale value—higher than the Porsche Boxster, Audi TT and Mercedes-Benz SLK."
<MODEL> Year
Year X
Year X-2
Year X-3
Year X-4
Resale Value
$
$
$
$
Criticisms
Edit
"If you're looking for the latest in retractable hardtop technology, the soft-top Z4 won't make the cut. Although the Z4 is more expensive than some convertibles, keep in mind it is a premium brand, much faster and more sophisticated than a Mazda MX-5 or Pontiac Solstice." - Kelley Blue Book
Second Generation: (2010–2016)
Edit
see BMW E89 for more details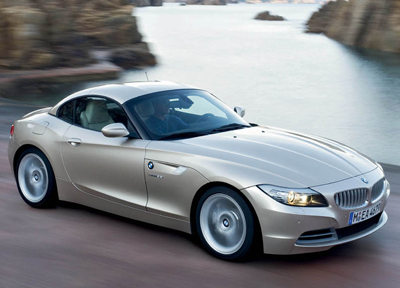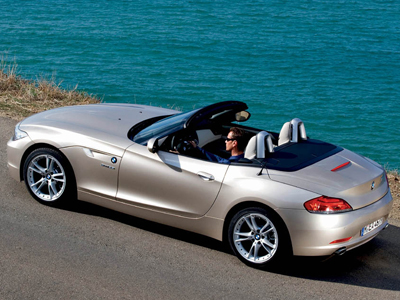 BMW announced the second-generation Z4 on December 13, 2008 for the 2009 model year.[2][3][4] Using a retractable hardtop, the new Z4 replaces the previous roadster and coupe versions. The top is made of a two-piece lightweight aluminum shell, and takes 20 seconds to fold up or down.[5] Manufacturing has been moved from the US to Regensburg, Germany. Three trim levels will be made available in the form of the sDrive23i, sDrive30i, and sDrive35i. The US will not receive the sDrive23i. The new Z4 will make its official debut January 11, 2009, at the 2009 North American International Auto Show. The new roadster features a completely revamped interior and exterior, a retractable hardtop, and an optional 7 speed double clutch transmission. Compared to the previous generation Z4, the new vehicle has grown 148 mm (5.8 in) longer, 9 mm (0.4 in) wider,[6] and 2.5 mm (0.098 in) in wheelbase.[2] The exterior was designed by BMW designer Juliane Blasi, while the interior was designed by Nadya Arnaout. Both designers worked under the direction of BMW CoD Adrian van Hooydonk.
First Generation/Origins (2003-2009)
Edit
see BMW E85/E86 for more details
While the Z4's front suspension is essentially the same as the Z3's, the rear suspension is considerably different from its predecessors, which was based on that of the E30 BMW 3 Series. Instead of a semi-trailing arm suspension, the Z4 uses a more advanced Multi-link suspension.
The Z4 offers a choice of four straight-six motors: A 2.2 L, a 2.5 L, a 3.0 L, and a 3.2 L. The 2.2 L, 120 kW (170 bhp) version can reach 100 km/h in 7.7 s, but is not sold in the United States. All except the 3.2L M motor are variants of the BMW M54 engine. In the European market, a 2.0 L straight-4 is also offered.
The 2.5 L engine produces 141 kW (184 bhp) at 6000 rpm. BMW claims a 7.0 s time to 100 km/h (62 mph) with a manual transmission. It weighs 1,335 kg (2,932 lb) with a manual transmission—30 kg (66 lb) lighter than the 3.0 L version, but still heavier than the 2.5 L Z3's weight of 1315 kg (2899 lb).
The 3.0 L, 170 kW (231 bhp) (at 5900 rpm) straight six has a claimed time to 100 km/h (62 mph) of 5.9 s.
The 3.2 L M motor, 246 kW (330 bhp) at 7900 rpm and (262 lb-ft) of torque at (4900 rpm)
Five-speed manual gearboxes are standard on all models except the 3.0 L and the M Roadster and coupe, which has a 6-speed. 5-speed automatic or 6-speed SMG transmissions are available on all cars. The M Roadster/Coupe shares its 6-speed manual gearbox with the M3.
A Sport package is also available, which adds stiffer and lower suspension, larger wheels with run-flat tires, and Dynamic Driving control, BMW's Vehicle Stability Control system.
M versions
Edit
The Z4 M Roadster and the Z4 M Coupé were introduced in 2006. They feature the 330 horsepower 3.2 L I6 from the E46 M3, coupled with a 6-speed manual transmission also borrowed from the M3. Some of the reported features available are 18-inch wheels, stability control, cross-drilled rotors, a limited-slip differential, and hydraulic rack and pinion steering. 0-60 time is reported to be 4.9 seconds, with a limited top speed of 250 km/h.
BMW unveiled a Christopher Bangle-designed concept coupe version of the Z4 at the Frankfurt Motor Show in 2005. The company announced on November 22, 2005 that the coupe would be available for delivery in the US starting in June 2006, including the return of the M Coupe. The base Z4 Coupe will use an updated version of the 3.0 L straight-6 R6 engine developing 195 kW (265 PS) and 315 N·m (232 ft·lbf), while the high-end M variant will use the award-winning 3.2 L S54.
Production of the BMW Z4 Coupé (both regular and M) began at the Spartanburg, South Carolina BMW plant on April 4, 2006. The cars were introduced at the New York Auto Show in April 2006.
Worldwide
Edit
If the vehicle is sold in other markets worldwide, then this is the section to mention that information. Also, mention if the <MODEL> goes by another name in these other markets.
Design quirks and oddities
Edit
The first Z4 was designed by Chris Bangle and began the controversy over his "flame surfacing" design and aggressive styling choices, which can also be seen on modern BMW 7 Series and BMW 5 Series cars. It's successor, however, was the work of Bangle's own successor Adrian van Hooydonk.
The BMW Z4 advertisement The Art of Driving had attracted a lot of criticism by viewers in Australia. As a result, the ad was removed. The ad was relevant to the hooning culture but the ad had nothing to do with hooning. The engine didn't race, the tyres didn't smoke and the driver of the car in the ad wasn't wild or wicked as a hoon. Although the car was driven round onto a giantised canvas, viewers were worried that this sets a bad example. [5]
2003 J.D. Power Initial Quality Study 2nd winner (Prenium sports car)
References
Edit
External links
Edit
Ad blocker interference detected!
Wikia is a free-to-use site that makes money from advertising. We have a modified experience for viewers using ad blockers

Wikia is not accessible if you've made further modifications. Remove the custom ad blocker rule(s) and the page will load as expected.