The BMW 7 Series is a luxury sedan made by BMW. It replaced the "New Six" models in 1977. It is BMW's flagship car.
See Autopedia's comprehensive BMW 7 Series Review.
Recent Changes
Edit
For 2011, BMW collaborated with high-end piano maker Steinway & Sons to create the Individual 7-Series Composition. Available in white or black, the Composition features a hand polished paint job with three-stage (layers) clear coat, high-gloss Shadow Line trim, a gold coachline and 20-inch alloy wheels. To mimic piano keys, the interior has a color scheme that contrasts with the exterior (i.e., black models have a white interior and white models have a black interior). Furthermore, the cabin is elegantly appointed with Merino leather, piano black trim, lambswool floor mats, an Alcantara headliner, and headrests embroidered with the Steinway & Sons logo.
For 2009, the 7-series is all-new. Set to officially debut at the 2008 Paris Motor Show in October, the new 7 will come bristling to the bone with new technologies such as Active Blind Spot Detection, Night Vision with new Pedestrian Detection, Side View and Back-up Cameras, Active Cruise Control (Stop-Start) and a new Integral Active Steering to supplement the 7's Active Steering system. Under the hood, the big news is that the new car will be motivated by the BMW X6's 4.4-liter, twin-turbo V8, churning 400 hp and 450 lbs-ft of torque and attached to a revised 6-speed automatic transmission - all of which allows this luxobarge to hurtle from 0 to 100 km/h (62 mph) in just 5.2 seconds.Other engine options, however, will include a 240 hp (180 kW) 3.0L diesel and a 335 hp (250 kW) 4.0L V8. The biggest news for the car, however, are the toning down or complete repeal of the controversial concepts that was introduced by the outgoing model; namely: Chris Bangle's "flame surface" design treatment and the iDrive system. For instance, the infamous "Bangle butt" has been laid to rest (or at least omitted from the new car), the gear lever makes a return to the center console, as well as the driver-oriented dashboard layout and 4-ringed instrument cluster. Overall, the new car is sleek, taut and handsome - a very welcome departure from the confused, dumpy and incoherent design of the last one. The iDrive, to the ire of some, has not been killed off. However, the system has been heavily revised and BMW promise it will be much more intuitive and user-friendly than the first one. [1][2]
In 2005, a mid-cycle facelift was shown with different headlights and also different taillights. The car also featured new rims, new bumpers, colors, interior colors and a simplified iDrive. The 4.4 V8 N62B44 engine was replaced with a 4.8 V8 N62B48. Another facelift is also due in 2008 with different rims and new features, such as RealTime Traffic with a simplified iDrive and a standard electric folding mirror.
Styles and Major Options
Edit
750i and 750Li
760i and 760Li
750Li and 760Li High Security
STANDARD:
BRV 2009 VR7 and VR9 Bulletproofing
reinforced suspension
reinforced dampers
reinforced suspension strut top mountings
armor plated doors
armor plated roof
armor plated pillars
armor plated front footwell
armor plated separation wall between passenger and luggage compartment
bomb-proof undercarriage
2.4 inch thick safety glazing
OPTION:
intercom system with concealed microphones and speakers
assault alarm
fire extinguishing system with temperature sensor (incl. engine compartment and undercarriage)
irritant gas sensors
OPTION (Special options for Governments and Embassies):
flag holders
arrangements for radio installations
center console located gun case for two machine guns
roof-installed external beacon and grille-mounted integrated LED flashing lights
Add more fields as necessary.
MODEL Trims
740i
740Li
750i
750Li
760i
760Li
ActiveHybrid 7 SWB
ActiveHybrid 7 LWB
MSRP
$71,025
$75,425
$83,875
$87,775
$Price54
$Price5
$103,125
$107,025
Invoice
$Price1
$Price2
$Price3
$Price4
$Price5
$Price6
$Price7
$Price8
Gas Mileage
Edit
Add more fields as necessary.
As seen on the FuelEconomy.gov website, the City/Highway MPG averages are as follows:
Trim
Trim1
Trim2
Trim3
Trim4
MPG
c/h
c/h
c/h
c/h
Engine and Transmission
Edit
Specifications, details, graphs, pictures and other information regarding the powertrain is placed in this section.
Performance
Edit
Please make sure to write information of the vehicle's performance in a third-person point of view. This section should include information about the car's acceleration figures, handling, braking, etc.
If using information gathered from Road Test articles from a reputable automotive source, then please make sure to cite the quote.
Reliability
Edit
Warranty options and scheduled maintenance information should be mentioned here.
This section should reference points on safety ratings and features of the vehicle.
740i
750i/750Li
760i/760Li
7 Series M Sport
750Li/760Li High Security
Add Photos of the vehicle here.
Please make sure not to use copyrighted photos.
List the colors that the particular <MODEL> is offered in.
Main Competitors
Edit
The 7 Series' competitors include the Lexus LS, the Mercedes-Benz S-Class, the Jaguar XJ, the Volkswagen Phaeton, the Audi A8, and the Maserati Quattroporte. Cadillac has showed interest in introducing a 7 Series competitor, dubbed the "ULS" (Ultra-Luxury Sedan) in the near future.
Main article: BMW ActiveHybrid 7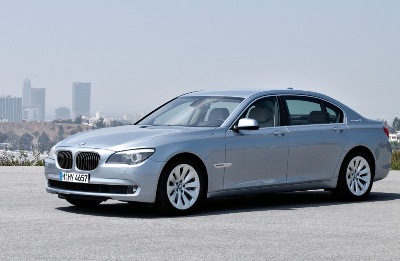 At the 2009 Frankfurt Motor Show, BMW revealed the 2010 BMW ActiveHybrid 7 sedan. Based on both the standard and long-wheelbase variants of the 7, the hybrid luxury car utilizes a mild hybrid co-developed with Mercedes-Benz that combines an electric motor (powered by a 120V lithium ion battery pack) and a twin-turbo 4.4-liter V8, producing 455 hp and 516 lb-ft of torque, all mated to a ZF eight-speed automatic transmission. Fuel economy yields 19-20 mpg figures while still accelerating from 0-60 mph in about 4.8 seconds.
In the US, buyer of the ActiveHybrid7 are entitled to a $900 (€735) federal tax credit under the Alternative Motor Vehicle provision. [3]
Unique Attributes
Edit
If there are any features of this vehicle that sets it apart from other vehicles in its class, then mention those unique attributes here.
This section should include information on the interior's design, build quality, ergonomics, space (head and legroom, front and rear), features, stowage compartments and overall comfortability and livability. Add pictures wherever applicable and keep information in a third-person point of view.
Resale Values
Edit
Add more fields as necessary.
<MODEL> Year
Year X
Year X-2
Year X-3
Year X-4
Resale Value
$
$
$
$
Criticisms
Edit
Criticisms have been directed towards the most recent generation of the 7 series the E65/E66. These criticisms have centred around the styling of the car and in particular the rear quarter panel and bootline. This styling was developed by current BMW design chief, the American Chris Bangle. Some users also find the iDrive complicated to use and distracting.
Generations
Edit
There have been four generations of the 7 Series:
BMW E23 (1977–1986)
BMW E32 (1987–1994)
BMW E38 (1995–2001)
BMW E65/E66 (2002–2008)
BMW F01/F02 (2009+)
Current Generation (2009-present)
Edit
Codenamed F01/F02, the current generation 7-Series was unveiled at the 2008 Paris Motor Show.

Fourth Generation: (2002–2008)
Edit
The current 7 Series is available on two different platforms: the standard-wheelbase E65 (2990 mm, 118 in) and the extended-wheelbase E66 (3130 mm, 123 in).
This car was also the first production BMW to be styled by Chris Bangle. The styling is controversial and has received mixed reviews.
The E65/E66 7 Series features BMW's iDrive system, consisting of a video screen in the dashboard and a controller mounted on the center console that is used in a similar way to a computer mouse. Using a system of eight menus, most of the car's climate, audio, navigation, suspension and communication settings are controlled via iDrive. However, the system has been criticized by some for being too complex and for distracting the driver from the road.
"Active" Seat continuous passive motion technology is made standard equipment on the 750/760 models and included in the Luxury Seating Package with heated and ventilated seats for driver and front passenger on the 745 models.
The car is available in eleven variants:
| | Engine | Power | Torque | 0–100 km/h* | Top speed |
| --- | --- | --- | --- | --- | --- |
| 730i | 3.0 L petrol (gasoline) I6 | 170 kW (231 bhp DIN) | 300 N·m (221 lbf·ft) | 8.1 s | 237 km/h (147 mph) |
| 730Li | 3.0 L petrol (gasoline) I6 | 170 kW (231 bhp DIN) | 300 N·m (221 lbf·ft) | 8.3 s | 237 km/h (147 mph) |
| 730d | 3.0 L diesel I6 | 160 kW (218 bhp DIN) | 500 N·m (369 lbf·ft) | 8.0 s | 235 km/h (146 mph) |
| 735i/735Li** | 3.6 L petrol (gasoline) V8 | 200 kW (272 bhp DIN) | 360 N·m (266 lbf·ft) | 7.5 s | 250 km/h (155 mph)*** |
| 740d | 3.9 L diesel V8 | 190 kW (258 bhp DIN) | 600 N·m (442 lbf·ft) | 7.5 s | 250 km/h (155 mph)*** |
| 745i/745Li** | 4.4 L petrol (gasoline) V8 | 245 kW (333 bhp DIN) | 450 N·m (332 lbf·ft) | 6.3 s | 250 km/h (155 mph)*** |
| 745h | 4.4 L hydrogen & gasoline V8 | 137 kW (184 bhp DIN) | | 9.6 s | 214 km/h (133 mph) |
| 760i | 6.0 L petrol (gasoline) V12 | 327 kW (445 bhp DIN) | 600 N·m (442 lbf·ft) | 5.5 s | 250 km/h (155 mph)*** |
| 760Li | 6.0 L petrol (gasoline) V12 | 327 kW (445 bhp DIN) | 600 N·m (442 lbf·ft) | 5.6 s | 250 km/h (155 mph)*** |
*0–62 mph
**Performance numbers for the 735i and 735Li are identical, and those for the 745i and 745Li are identical.
***All roadgoing BMWs have an electronically limited top speed of 250 km/h.
Also, note that in the Americas, only the 745i, 745Li, 750i, 750Li, 760i and 760Li are sold and that the 740d is only available in mainland Europe.
The 7 Series was refreshed for 2005 with tweaked front and rear styling and a larger, more powerful V8 engine.
Considerable work went into the rear quarter of the car to reduce the "Bangle Butt" design. The refreshed 7 Series sport a new taillight and reduced height for the trunk lid. The front headlight and the kidney grille was also raised a tad, as well as a new front air dam.
| | Engine | Power | Torque | 0–100 km/h* | Top speed |
| --- | --- | --- | --- | --- | --- |
| 750i | 4.8 L petrol (gasoline) V8 | 269 kW (360 bhp DIN) | 488 N·m (360 lbf·ft) | 5.9 s | 250 km/h (155 mph)** |
| 750Li | 4.8 L petrol (gasoline) V8 | 269 kW (360 bhp DIN) | 488 N·m (360 lbf·ft) | 5.9 s | 250 km/h (155 mph)** |
*0–62 mph
**All roadgoing BMWs have an electronically limited top speed of 250 km/h.
The 4.4 L V8 was replaced by a 4.8 L unit producing 360 hp (269 kW) and 360 ft·lbf (488 N·m). The new model with the enlarged engine is now known as 750i and 750Li (for the long wheel-base model). The 750i and 750Li replace the 745i and 745Li in all world markets. The 745d, powered by a 4.4 L diesel producing 295 hp (220 kW), replaces the 740d. As before, a six-speed automatic transmission with Steptronic is standard on all models.
Pricing (MSRP) for the 750i begins at around $71,800 USD and for the 750Li at $75,800 USD.
Third generation (1995–2001)
Edit
The E38 generation (1995-2001) had a five-speed automatic or manual transmission. The engine variants in Europe were 725tds, 728i, 730i, 730d, 735i, 740i (4.0 and 4.4 L), 740d and 750i (with a 5.4 L 322 bhp [240 kW] engine, as was used in the Rolls-Royce Silver Seraph).
In the Americas, the models were sold as the 740i, 740iL and 750iL. The 740i and 740iL share the same 4.4 L V8 engine. The 740iL is essentially a longer wheelbase 740i (hence the "L" in the model name). The considerably rarer 5.4 L V12-powered 750iL was only available as a long-body; there was no E38 750i in the US lineup. The 750iL was BMW's flagship sedan.
A performance-enhancing sport package was available in the 740i as well; cars with this package are called the 740i Sport. A separate sport package was finally offered in the 740iL and 750iL in 2001, the final year of E38 production.
Features of the E38 7 Series included high-pressure headlight washers, auto-leveling Xenon low-beam headlamps, power moonroof, a six-CD changer with 14 speakers and four subwoofers, onboard navigation and rain-sensing wipers. Other features included an automatic climate control system with full left/right controls and a 3-position memory system for the driver's seat, safety-belt height, steering wheel and outside mirrors. Front side airbags and a Head Protection System (HPS) were also standard. The car featured an all-leather interior with burl walnut trim. The continuous passive motion "Active" seat technology was introduced in 1998 to improve comfort for the driver and front passenger.
The 5-speed automatic transmission came with Adaptive Transmission Control, Sport and Manual modes for responsive handling.
The base prices in 2001 were US$62,900 for the 740i, US$66,900 for the 740iL and US$92,100 for the 750iL.
740iL and 750iL Protection Line light-armored vehicles were built from 2000-2001, and cost US$99,100 and US$124,400, respectively. These models included body armor, bullet-resistant glass and run-flat tires.
A rare executive V12-powered stretch limousine was also produced, called the BMW L7.
Second generation (1987–1994)
Edit
The E32 was introduced in 1987, with the 730i and 735i featuring 3.0l and 3.5l straight-6 engines respectively, and a new, 5-liter, 300 horsepower V12 engine for the 750i. In 1992, 3.0l and 4.0l V8 engines were added to the lineup (730i and 740i). All models were also available in a stretched 'L' version, which had 10 cm of extra legroom for the rear passengers. See BMW E32 article for more information.
First Generation/Origins (1977–1986)
Edit
Models offered were the 725i, 728, 728i/iS, 730, 730i, 732i, 733i, 735i, 745i Turbo, 745i South Africa, and L7. (More information about the BMW E23)
Worldwide
Edit
If the vehicle is sold in other markets worldwide, then this is the section to mention that information. Also, mention if the <MODEL> goes by another name in these other markets.
Design quirks and oddities
Edit
The BMW 7 Series topped the luxury car category at the most secure according to the 2003 RACV Vehicle Security Rating with the score of 106 points out of 120.
List out notable awards that the model has received while in production. Boldface the company or organization that gives out the award, and Italicize the name of the award.
External links
Edit
This page uses content from Wikipedia; see BMW 7 Series, which includes these contributors.
Ad blocker interference detected!
Wikia is a free-to-use site that makes money from advertising. We have a modified experience for viewers using ad blockers

Wikia is not accessible if you've made further modifications. Remove the custom ad blocker rule(s) and the page will load as expected.