See Autocar Company for the Brass Era automobile of the same name.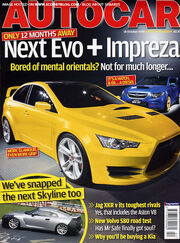 Autocar is a weekly British automobile magazine published by Haymarket Motoring Publications Ltd.
It is the oldest surviving car magazine in the world. It was launched as The Autocar  "in the interests of the mechanically propelled road carriage" on November 2 1895 when, it is believed, there were only six or seven cars in the United Kingdom. L. J. K. Setright suggests in his book,[1] on the social history of the motor car, that the magazine was set up as an organ of propaganda for Harry J. Lawson, who was an early journalist on the magazine, and the founder of the Daimler Motor Company. It claims to have invented the road test in 1928 when it analysed the Austin 7 Gordon England Sunshine Saloon. It continues publishing weekly. Only strikes in the 1970s have interrupted its frequency. In 1988, it absorbed its long-time rival The Motor magazine, founded on January 28 1903, briefly calling itself Autocar & Motor afterwards, before reverting to Autocar. In its famous Christmas numbers, it has tested exotic, fictional vehicles such as Santa's Sleigh as well as real 'vehicles' such as the aircraft carrier [Ark Royal and Concorde supersonic aircraft.
In the 2000s, it has further licensed its name to other countries' publishers and now has 19 editions worldwide, including Japan, India, Indonesia and China. The Indian edition has proved vey popular and has established a good reputation. It also has a new updated website [1] It is edited by Hormazd Sorabjee who is the only Indian who serves on the jury of the International Engine Of The year award.
Current Top Gear presenter, James May was sacked from the magazine in 1992 for putting a subliminal message in a supplement, hinting at the tedium he had felt during his work on its compilation.
References
Edit
↑ Setright, L. J. K. (2004). Drive On!: A Social History of the Motor Car. Granta Books. ISBN 1-86207-698-7.

 
External links
Edit
Ad blocker interference detected!
Wikia is a free-to-use site that makes money from advertising. We have a modified experience for viewers using ad blockers

Wikia is not accessible if you've made further modifications. Remove the custom ad blocker rule(s) and the page will load as expected.