AUDI AG
Audi A7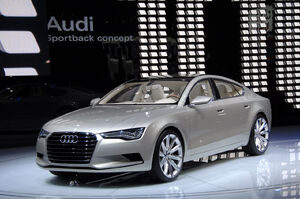 Production date
2010-
Class
{{{class}}}
Country
{{{country}}}
Body Style(s)
5-door fastback
Layout
{{{layout}}}
Engine(s)
2.8 L V6

3.0 L TFSI 3.0 L TDI V6 diesel engine

Transmission(s)
{{{transmission(s)}}}
Wheelbase
{{{wheelbase}}}
Dimensions
{{{dimensions}}}
Curb weight
{{{curb weight}}}
The Audi A7 Sportback is an executive-class five-door coupe automobile produced by Audi that was announced at the Pinakothek der Moderne art museum in Munich on 27 July 2010.
Ad blocker interference detected!
Wikia is a free-to-use site that makes money from advertising. We have a modified experience for viewers using ad blockers

Wikia is not accessible if you've made further modifications. Remove the custom ad blocker rule(s) and the page will load as expected.