The Aston Martin Vulcan is a model launched in 2015 by Aston Martin at the 2015 Geneva Motor
Aston Martin Vulcan
Aston Martin
aka
{{{aka}}}
Production
2015-present (24 cars expected)
Class
Hypercar
Body Style
2-door coupé
Length
{{{Length}}}
Width
{{{Width}}}
Height
{{{Height}}}
Wheelbase
{{{Wheelbase}}}
Weight
1,350 kg (2,976 lb)
Transmission
6-speed sequential
Engine
7.0 L V12

800 brake horsepower (600 kW)

Power
{{{Power}}}
Similar
Aston Martin DB9
Designer
Marek Reichman
Show. The Vulcan is a rear-wheel drive track only sports car that runs on a new 7 L V12 engine mounted on an aluminium alloy chassis and carbon fibre body delivering 800 brake horsepower (600 kW). The Vulcan is fitted with carbon ceramic brakes, magnesium torque tube with a carbon fibre propeller shaft, limited-slip differential, Xtrac 6-speed sequential gearbox and has a curb weight of 1350 kg.
The Vulcan is designed by Aston Martin's creative officer Marek Reichmantaking inspirations from Aston Martin current models Vantage and DB9.The Vulcan is to be a limited edition vehicle, only 24 cars will be made priced at $2.3 million.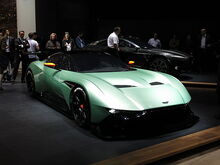 On 25 February 2015, the Aston Martin Vulcan was introduced. It is a track-only sports car. The car is limited to 24 examples worldwide.
Motorsport inspiration Edit
The Vulcan is styled entirely in-house by the Aston Martin creative officer Marek Reichman, the Vulcan features a new design language that should be found in the next generation of Aston Martin sports cars.
The Vulcan is powered by Aston's most potent iteration yet of the company's naturally-aspirated 7.0-litre V12 engine. With its 800-plus hp engine developed partly with Aston Martin Racing, this front mid-engined, rear-wheel drive supercar draws extensively on the brand's rich GT motorsport experience
It utilizes techniques of motorsport engineering with the Vulcan seeing its power-to-weight ratio exceed those of the FIA GTE cars which compete in the World Endurance Championship.
With engineering sourced from the brand's successful GT racing campaign, the car features a carbon fibre monocoque and body constructed by Aston Martin's long-term specialist body engineering and manufacturing partner Multimatic, integral limited-slip differential, magnesium torque tube with carbon fibre propeller shaft and Brembo racing calipers acting on carbon ceramic racing disc brakes which measure 380mm in diameter at the front and 360 mm at the rear.
Drive is channeled to the 345/30x19 rear wheels and Michelin race specification tyres through a race-bred rear mid-mounted Xtrac six-speed sequential shift gearbox. Front tires are 305/30x19.
The car has race-derived pushrod suspension with anti-dive geometry is complemented by Multimatic's Dynamic Suspension Spool Valve (DSSV) adjustable dampers and anti-roll bars front and rear, driver-adjustable anti-lock braking, and variable traction control.
The Vulcan will comply with all relevant FIA race safety requirements.
Ad blocker interference detected!
Wikia is a free-to-use site that makes money from advertising. We have a modified experience for viewers using ad blockers

Wikia is not accessible if you've made further modifications. Remove the custom ad blocker rule(s) and the page will load as expected.