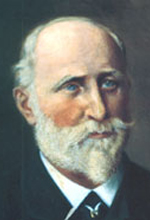 Adam Opel (May 9, 1837 - September 8, 1895) was the founder of the German car-maker Opel.
Born in 1838 in the town of Rüsselsheim, Germany near Frankfurt, he began his career in a locksmith apprenticeship. He traveled across Europe as a teenager, and became fascinated by sewing machines. In 1863 he opened a factory in Rüsselsheim to mass-produce these machines.
In 1868, Opel married Sophie Marie Scheller. They would have five sons: Carl, Wilhelm, Heinrich, Friedrich and Ludwig. All five would eventually become involved in the growing family business.
In 1885, Opel expanded into building pre-assembled bicycles.
He died in 1895, with his company the leader in European sewing machines sales and producing over 2,000 bicycles yearly.
Ad blocker interference detected!
Wikia is a free-to-use site that makes money from advertising. We have a modified experience for viewers using ad blockers

Wikia is not accessible if you've made further modifications. Remove the custom ad blocker rule(s) and the page will load as expected.