Acura TSX

Acura

aka
TSX
Production
First Gen: 2004-2008
Second Gen: 2009-
Class
Entry-level luxury car / Compact executive car
Body Style
Length
length - type here
Width
Width - type here
Height
Height - type here
Wheelbase
wheelbase - type here
Weight
Weight - you get the point
Transmission
transmission + drive
Engine
engine
Power
N/A hp @ N/A rpm
N/A lb-ft of torque @ N/A rpm
Similar
similar (competition)
Designer
Designer (lead designer if it was a team effort)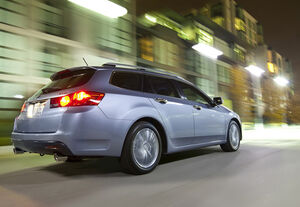 The Acura TSX is a mid-size near-luxury car manufactured by Honda, introduced in 2004 to compete with the Volvo S40 and Lexus IS. It is exclusively sold in North America under the Acura brand name. It fills the gap in the Acura lineup created by the cancellation of the Acura Integra sedan in 2001, and it replaces the Acura CL coupe, which had lackluster sales and was cancelled after 2003. The TSX is badge engineered from the CL-series Honda Accord sold in Europe and Japan. However, the TSX had a restyled interior and different suspension tuning when it was introduced. The interior is now standardized for all three markets. As of 2006, the TSX is the smallest sedan in the Acura model line, other than the Acura CSX sold only in Canada. Prices for the TSX range from roughly $27,000 to $30,000.
See Autopedia's comprehensive Acura TSX Review.
Recent Changes
Edit
The 2006 model year TSX's powertrain is comprised of a 2.4-L inline four-cylinder engine, a six-speed manual transmission (which features a magnesium casing, to reduce weight), and a Front wheel drive layout. A five-speed automatic transmission is optional and does not incur extra cost in the U.S. based on MSRP. Such is not the case in Canada.
On February 11, 2008, Acura unveiled teasers of the next-generation 2009 TSX on the internet despite its official debut at the '08 New York Auto Show. As of this writing, no other substantial information about the car has been released except the picture. The car was designed under Jon Ikeda. [3][4]
For model year 2011, Acura expands the TSX lineup with the TSX Sport Wagon. Officially debuted at the 2010 New York Auto Show, the TSX Sport Wagon is essentially a euro-market Accord Tourer. It will be powered exclusively by Acura's 201 hp 2.4-liter inline-four mated to a Sequential SportShift 5-speed automatic transmission with steering-wheel mounted paddle shifters. According to Acura, the powertrain returns 30 mpg in highway driving.
Styles and Major Options
Edit
The 2006 TSX has been updated with a sportier exterior styling featuring a new front look, standard, integral fog lights, restyled wheels and a bolder rear look with standard side skirts. State of the art interior features have been added, including more standard safety features, and luxury features such as Bluetooth compatible HandsFreeLink(TM) wireless interface, a digital media auxiliary jack for MP3 connectivity and front power seats, with dual memory settings.
Add more fields as necessary.
MODEL Trims
2.4 litre I-4 Sedan
3.5 litre V6 Sedan
2.4 litre I-4 Tourer
(+Tech Pack)
Trim4
MSRP
$29,610
$35,150
$30,960 ($34,610)
$Price4
Invoice
$Price1
$Price2
$Price3
$Price4
Gas Mileage
Edit
Add more fields as necessary.
As seen on the FuelEconomy.gov website, the City/Highway MPG averages are as follows:
Trim
2.4 6MT
2.4 5AT
3.5 5AT
Trim4
MPG
21/29
22/31
19/28
c/h
Engine and Transmission
Edit
Specifications, details, graphs, pictures and other information regarding the powertrain is placed in this section.
Performance
Edit
Please make sure to write information of the vehicle's performance in a third-person point of view. This section should include information about the car's acceleration figures, handling, braking, etc.
If using information gathered from Road Test articles from a reputable automotive source, then please make sure to cite the quote.
Reliability
Edit
According to Acura TSX Safety Ratings, the TSX received 5 out of 5 stars for Frontal Impact for both the driver and passenger, and 5 out of 5 stars for Front Seat Side Impact Ratings. The TSX also received 4 out of 5 stars for Rear Seat Side Impact Ratings.
TSX sedan

TSX Sport Wagon
Exterior
Alabaster Silver Metallic
Arctic Blue Pearl
Carbon Gray Pearl
Deep Green Pearl
Glacier Blue Metallic
Milano Red
Nighthawk Black Pearl
Premium White Pearl
Royal Blue Pearl
Interior
Main Competitors
Edit
Hybrid Models
Edit
Unique Attributes
Edit
If there are any features of this vehicle that sets it apart from other vehicles in its class, then mention those unique attributes here.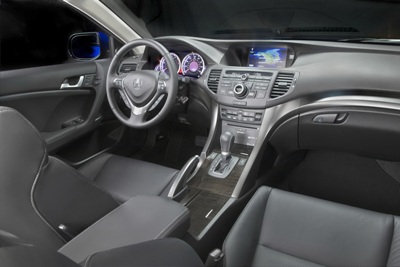 This section should include information on the interior's design, build quality, ergonomics, space (head and legroom, front and rear), features, stowage compartments and overall comfort and livability. Add pictures wherever applicable and keep information in a third-person point of view.
Sedan
Sport Wagon
Resale Values
Edit
Add more fields as necessary.
<MODEL> Year
Year X
Year X-2
Year X-3
Year X-4
Resale Value
$
$
$
$
Criticisms
Edit
"The TSX is a five-seater, but pity the fifth person." - New Car Test Drive
"Similar to other high-revving Honda four-bangers, the TSX mill doesn't deliver much grunt below 3000 rpm." - Car and Driver
Generations
Edit
Current Generation: (2009-present)
Edit
First Generation/Origins (2004–2008)
Edit
In addition, the 2004 Acura TSX features a new 2.4L engine making 205-hp (SAE J1349 net). The most significant changes to the motor are described as follows:
On the intake side of the TSX engine, the diameter of both the throttle body and the intake duct were enlarged to increase induction flow rate from 95 liters per second to 110 liters per second. In addition the diameter and shape of the intake valve were enhanced to help increase intake flow by 16 percent and the high RPM cam profile for the intake cam was modified to provide increased intake valve lift and duration. In addition, a ventilation passage was machined into the engine block to reduce pumping friction by increasing air flow between cylinders.
The engine, the K24A2, is related to the engine in the Honda Accord (7th generation), the Honda CR-V, the Honda Element, and a smaller version in the Acura RSX and RSX Type-S. The K24A2 features intelligent variable valve timing and produces 205-horsepower (150 kW) in this iteration.
The TSX's suspension setup of a double wishbone front and a multi-link in the rear was especially tuned by the Honda engineers to maximize handling and cornering speed.
Worldwide
Edit
In Europe, the TSX is also sold in station wagon (estate) body style and is called the Accord Tourer. It features an electric tailgate which means you can fully open and close the tailgate via a button on the remote key.
It is sold in Australia and New Zealand as the Honda Accord Euro.
Design quirks and oddities
Edit
There are a couple problems of note. First, the paint tends to chip. This will become especially apparent on TSXs that see many highway miles or TSXs driven on rough or gravel roads. Second, the leather on some of the "high traffic" interior surfaces (i.e. seat side bolsters) tends to discolor and become bluish. This problem will be especially apparent on examples with the parchment color interior.
The Acura TSX was on Car and Driver's 10 Best list in its first three years of production (2004 - 2006).
Top-Value Car of 2004 in the category: Sedan under $35,000 from SmartMoney.com.
It has received the "Frontal Five Star Rating" from the NHTSAs frontal crash tests.
"Best Pick" in a Frontal Impact from the Insurance Institute for Highway Safety.
External links
Edit
News & References
Find a Local Dealer
Ad blocker interference detected!
Wikia is a free-to-use site that makes money from advertising. We have a modified experience for viewers using ad blockers

Wikia is not accessible if you've made further modifications. Remove the custom ad blocker rule(s) and the page will load as expected.