Template:Infobox motor racing team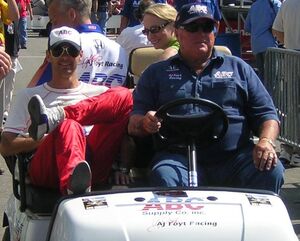 A.J. Foyt Enterprises is an American racing team in the IZOD Indycar Series and formerly NASCAR. It is owned by four-time Indianapolis 500 winner A. J. Foyt. Foyt Enterprises won IRL titles in 1996 with Scott Sharp and 1998 with Kenny Bräck, the latter driver also winning the Indianapolis 500 for the team in 1999. In 2006 the team hoped to resurrect itself with experienced driver Felipe Giaffone and a more level playing ground brought by a spec engine. However, after a strong start to the season, the team struggled after the Indianapolis 500 and parted ways with Giaffone after the eighth race. Jeff Bucknum was brought in to fill the seat for the rest of the year.
In 2007 Foyt announced that Larry Foyt would take over as team manager and Darren Manning was signed as the team's driver. Manning captured three top-five finishes in his two years with the team, including a second place in 2008 at Watkins Glen International. However, with high profile veteran Vitor Meira becoming available following the 2008 season, Foyt signed him to replace Manning.
Foyt Enterprises began the 2009 IndyCar Series season sponsored by ABC Supply Company and fielding Vitor Meira, who was injured in the Indianapolis 500. Ryan Hunter-Reay and Paul Tracy took over driving duties for the rest of the 2009 season. Meira returned in 2010 but split with the team after the season. Japanese driver Takuma Sato currently drives the #14.
Foyt began fielding NASCAR teams in 1973 part-time, starting with the #50 Purolator Chevrolet. He drove for the team on a very limited schedule throughout the seventies, picking up one pole and nine top-tens. Ron Hutcherson was the first driver besides Foyt to drive the car, and later Johnny Rutherford drove for the team in 1978. In the 1980s, Foyt was almost the sole driver of the team, and with Valvoline sponsorship, switched to the #14 beginning with the 1983, and posted his final career top-five at Talladega two years later in the Copenhagen car. In 1989, Tracy Leslie drove for the team in a pair of races, finishing twentieth at Michigan International Speedway. Foyt did not drive in the 1991 season, letting Mike Chase compete instead, who finished no better than 25th. After that, Foyt did not field a team until the inaugural Brickyard 400 in 1994, when he qualified fortieth and finished thirtieth in the #50. Foyt would attempt the Brickyard for the next two seasons, but did not qualify for either race, forcing his permanent retirement. During the 1999 season, rumors began spreading that Foyt would revive his defunct operation to compete in the Cup Series. After several months, it was announced that Foyt would hire rookie Mike Bliss as the driver of his #14 Conseco Pontiac Grand Prix. Bliss qualified for the Daytona 500, but after failing to qualify for the next three races, he was released and briefly replaced by Dick Trickle. After getting an offer from another team, Trickle would leave as well, and would be replaced by Rick Mast after he and several crew members left the bankrupt Larry Hedrick Motorsports team. Mast stayed with the team for the rest of the season, and had two top-tens. Foyt Racing also briefly expanded to a two-car team at the season finale, the NAPA 500, when they fielded the #41 for Foyt's son Larry, but did not make the race. In 2001, Ron Hornaday was selected as the team's driver, but he only posted one top-ten and was dismissed at the end of the season. That season, Foyt started a Busch team, the #14 Harrah's Chevrolet, driven by Larry Foyt. Despite failing to finish in the top-ten, Foyt finished 22nd in points overall. The team also ran a second car again at Atlanta Motor Speedway, with Mark Green driving, but did not qualify.
Following Hornaday's departure, Stacy Compton began driving for the team starting in 2002. After posting only three top-twenty finishes, Compton left the team, and P. J. Jones took over at the Sirius Satellite Radio at the Glen, and posted the team's best finish of fourth. Mike Wallace was then designated as driver, posting a tenth-place run at Bristol Motor Speedway. In the Busch Series, Foyt had two top-tens and improved one spot in the points. It had been originally announced Foyt would field two cars in 2003, with Wallace in the 14, and Larry Foyt in a second car with Harrah's sponsoring. Unfortunately, Conseco filed for bankruptcy, leaving only one car with Larry driving. The team also switched its Cup team to Dodge with engines provided by Evernham Motorsports. Foyt only qualified for twenty races with a best finish of sixteenth, and finished 41st in points. Harrah's left at the end of 2003, and Larry Foyt qualified for three races in 2004, but did not obtain major sponsorship, leaving the team inactive. Later in the season, Foyt would lease his owner's points to ppc Racing's new Cup team. A.J. Foyt Racing officially closed their Cup team in 2006, following an auction of the team's NASCAR equipment in August.
Racing results
Edit
Complete Indycar results
Edit
(key)
Drivers who have driven for A.J. Foyt Enterprises
Edit
Year
Primary driver(s)
Other driver(s)
1979
A.J. Foyt
 
1980
George Snider (500-mile races only)
1981
1982
1983
George Snider (Indy 500 only)
1984
George Snider (Indy 500 only)
Johnny Rutherford (Indy 500/Pocono 500)
1985
Chip Ganassi (Indy 500 only)
George Snider (Indy 500 only)
1986
George Snider (Indy 500/Michigan 500 only)
Sammy Swindell
1987
George Snider (Indy 500 only)
Stan Fox
Davy Jones
1988
Stan Fox
Rocky Moran
Johnny Rutherford (Michigan 500 only)
1989
Rocky Moran
1990
1991
A.J. Foyt
Mike Groff
Bernard Jourdain
Al Unser, Sr.
1992
A.J. Foyt
Jeff Andretti
Jon Beekhuis
Brian Bonner
Pancho Carter
Gregor Foitek
Ross Cheever


Mike Groff
George Snider (Phoenix 200 only)

1993
A.J. Foyt
Robby Gordon
John Andretti
1994
Davy Jones (first 3 races)
Bryan Herta (5 races)
Eddie Cheever (2nd half)
1995
Eddie Cheever
Fredrik Ekblom
Scott Sharp
Brian Till
Cup Series
Edit
Grand National Series
Edit
Truck Series
Edit
USAC Silver Crown
Edit
External links
Edit
Ad blocker interference detected!
Wikia is a free-to-use site that makes money from advertising. We have a modified experience for viewers using ad blockers

Wikia is not accessible if you've made further modifications. Remove the custom ad blocker rule(s) and the page will load as expected.