2011 Canadian Grand Prix

Race details
Race 7 of 19 in the 2011 Formula One season


Date
12 2011
Official name
Formula 1 Grand Prix du Canada 2011[1]
Location
Circuit Gilles Villeneuve, Montreal, Canada
Course
Street circuit
4.361 km (2.71 mi)</td></tr>
Distance
70 laps, 305.27 km (189.7 mi)</td></tr>
Weather
Standing water at start, rain showers throughout, drying towards end
Pole position
Driver
Sebastian Vettel
Red Bull-Renault
Time
1:13.014
Fastest lap
Driver
Jenson Button
McLaren-Mercedes
Time
1:16.956 on lap 69
Podium
First
Jenson Button
McLaren-Mercedes
Second
Sebastian Vettel
Red Bull-Renault
Third
Mark Webber
Red Bull-Renault
The 2011 Canadian Grand Prix, formally the Formula 1 Grand Prix du Canada 2011,[1] was the seventh round of the 2011 Formula One season and was held on 12 June 2011 at the Circuit Gilles Villeneuve.[2] It was the 48th Canadian Grand Prix, and the 32nd held at the circuit since its début on the calendar in 1978.
The race was won by McLaren driver Jenson Button who overtook Red Bull driver Sebastian Vettel on the last lap, making a total of 34 passes throughout the race.[3] The race made new records with it being the longest in Formula One history, lasting 4 hours 4 minutes and 39 seconds after the race was suspended for approximately two hours due to heavy rain. The safety car was also deployed six times, which broke the record for the most times a safety car has been deployed in a single race. Button also set a record for the most pit stops by the winner of a World Championship race, with six stops.[4]
Background
Edit
In the week leading up to the Template:F1 GP, FIA race director Charlie Whiting announced that the Canadian Grand Prix would see the introduction of a secondary Drag Reduction System (DRS) activation zone, with the first being used on the long back straight and the second along the front straight.[5] The plan for a secondary DRS zone would be continued at the Template:F1 GP, with future use depending on its success in Montreal and Valencia.
Tyre supplier Pirelli brought its yellow-banded soft compound tyre as the harder "prime" tyre and the red-banded super-soft compound as the softer "option" compound, as opposed to the previous year where Bridgestone brought the medium compound as the "prime" tyre.[6][7]
Sebastian Vettel entered the Grand Prix with the second highest possible points total after 5 wins and a second place from 6 races. Vettel had 143 points, 58 more than nearest challenger and only other race winner, Lewis Hamilton, and had won the last three Grands Prix. Hamilton, on 85 points, was followed by the second Red Bull of Mark Webber, on 79 points, the second McLaren of Jenson Button, 3 points behind on 76, and the Ferrari of Fernando Alonso, who was fifth with 69 points.
Red Bull were defending their Constructors crown strongly, with 222 points – 61 more than second placed McLaren on 161. Ferrari were third on 93 with Renault behind them on 50 and Mercedes GP on 40 points.
In the first free practice session, Sebastian Vettel and Jenson Button suffered mechanical issues, it was a bad session for both Red Bull and McLaren whilst Mercedes and Ferrari were consistently quicker. Vettel crashed into the "Wall of Champions", so-called because former world champions Damon Hill, Michael Schumacher, Jacques Villeneuve and Jenson Button have all crashed at the same spot in the past.[8]
Sergio Pérez was still experiencing after-effects of his accident in Template:F1 GP during first free practice and he withdrew from the event. Former Sauber driver and McLaren test driver Pedro de la Rosa replaced him from second free practice onwards.[9] He reportedly had just ten minutes' warning that he would be racing for Sauber[10] and completed the second practice session in his McLaren racing overalls. De la Rosa lost over an hour of the second session while Pérez's car was adapted to his specifications, but still managed to post the 18th fastest time. Fernando Alonso was fastest, though the session was suspended twice due to separate accidents involving Kamui Kobayashi and Jérôme d'Ambrosio at the same corner.[11]
In Practice 3, Mark Webber experienced a KERS issue meaning he was unable to take part in the session, whilst the session's quickest time was recorded by Vettel with 1:13.381, just ahead of Alonso and Nico Rosberg who at one point set identical fastest times. Felipe Massa also did well in the session with Jenson Button suffering braking problems towards the end. During the session, Vitantonio Liuzzi, Narain Karthikeyan, Timo Glock and d'Ambrosio failed to set times within the 107% rule on the same tyres as the front runners. After Friday's sunny weather, Saturday was more cloudy with some rain.
Qualifying
Edit
In the first part of qualifying there was a fight between the Saubers and the Toro Rossos to get through to the second part of the session. Eventually it was Jaime Alguersuari who was knocked out, missing on the top 17 drivers by just under a tenth of a second. In the second element of the session, Paul di Resta was knocked out, only a couple of tenths behind Nick Heidfeld, whilst de la Rosa and Rubens Barrichello were the slowest two drivers, both outqualified by their teammates Kobayashi and Pastor Maldonado by three tenths of a second.
In the final ten-minute session, all the teams other than Mercedes decided to do two flying laps. Vettel set the quickest time on his first timed lap, which ultimately gave him his sixth pole position in seven races in 2011. In the closing moments of the session, Massa and Alonso improved their times to complete the top three drivers, with Alonso just outqualifying his teammate. It was the first time in his career that Lewis Hamilton had not been on pole in Montreal, having taken pole at each of the previous three Canadian Grands Prix.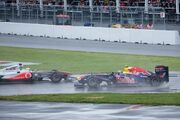 The race was declared wet due to rain before the race, and even though the track was slowly drying out, the race was started behind the safety car. The safety car stayed out for the first four laps before the field was released. Leader Vettel was able to repel Fernando Alonso's attack on him, and behind third-placed Felipe Massa, there was immediate action as Lewis Hamilton and Mark Webber collided between turns 1 and 2, with the latter tipped into a spin and rejoining 15th, whereas Hamilton lost two places and was seventh. Vettel immediately began to drive away from the Ferraris of Alonso and Massa, who themselves developed a gap to the two Mercedes cars of Nico Rosberg and Michael Schumacher, followed by the McLarens of Jenson Button and Hamilton. Hamilton passed Button but dropped behind him on the sixth lap as an overtaking move on fifth-placed Schumacher failed to come off at the hairpin. Going across the start-finish line at the end of lap seven, Hamilton tried to pass Button again (who later stated that in the spray he could not see his teammate) and the two collided, with the left side of Hamilton's car striking the pitwall, damaging his rear suspension beyond repair. Hamilton was out, and as he stopped his car on the track, caused the safety car to be called out. Button decided to pit to check for damage on his car, and no damage was found, but the team decided to change him to intermediates on a drying track. However, Button was soon back into the pits for a drive-through penalty for speeding behind the safety car, which dropped him back to 18th.
After Hamilton's car was cleared, the race restarted and Vettel immediately set about building his lead again, whereas teammate Webber was eighth after a steady recovery from his first-corner mishap. The field began to rapidly spread out, with Vettel running on his own in the lead from Alonso and Massa running together in second and third, followed by Rosberg and Schumacher who had a few seconds on the battle for sixth. Button, on the intermediate tyres, was lapping more quickly than the leaders, and as a result Alonso and the two Mercedes cars decided to pit for them. However, this backfired as a heavy rainstorm suddenly hit the track, and these drivers along with Button had to pit to change back to wet tyres again. All this had left Vettel with an eight second lead over Massa, with the rest of the field led by Kamui Kobayashi nearly 25 seconds back. The track soon became too wet to race, and as a result the safety car was called out again. Vettel and Massa elected to pit for new wet tyres taking advantage of the large gap they enjoyed over the rest of the field, and as a result the reigning world champion was still in the lead whereas Massa was third behind Kobayashi. With the rain showing no signs of relenting, the race was red-flagged on lap 25, for a period of around two hours until the rain had cleared.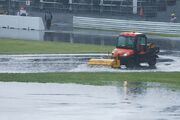 When the race was restarted, it was behind the safety car which stayed out for eight laps with the order at the front being Vettel, Kobayashi, Massa, Nick Heidfeld and Vitaly Petrov in the two Renaults, Paul di Resta, Webber, Alonso, Pedro de la Rosa, Button, Rosberg and Schumacher. Kovalainen retired under the safety car, with a driveshaft failure. Vettel immediately started to pull away from the rest of the field, whereas Kobayashi was busy defending from Massa. Almost immediately everyone was in the pits for intermediate tyres, following the cue of Schumacher who had pitted early and was setting quick sector times. Petrov and Alonso suffered having to queue behind their teammates, and dropped positions. However, things were to get a lot worse for the Spaniard when Button, who had changed tyres earlier, attempted to pass him just after he exited the pits. There was light contact between Button's front left and Alonso's right rear tyre, but Alonso spun off into a wall and his car was beached on the kerb, whereas Button's left front suffered a puncture, and he had to limp back to the pits to replace it.
The safety car was called while the marshals removed Alonso's car, and as soon as it departed, Vettel began to rapidly pull away from Kobayashi, who was clearly holding up Massa. Heidfeld and di Resta ran fourth and fifth until di Resta attempted to pass Heidfeld at the final chicane and clipped the rear of Heidfeld's car, damaging his front wing and having to pit for repairs, whereas Heidfeld got away without any damage. Di Resta later received a drive-through penalty for causing an avoidable collision. This moved Webber and Petrov up to fifth and sixth but then both were passed by a charging Schumacher, who had already gained places earlier with his early stop and the Button-Alonso collision. On lap 51, Sutil retired after contact with the wall at Turn 7. Schumacher then passed Heidfeld and closed the gap to Kobayashi and Massa before overtaking both of them on lap 51 after a mistake by Kobayashi. By then Webber, still unable to pass Heidfeld, had pitted for slicks and was lapping very quickly, beating Vettel's fastest lap by three seconds. Button, who had already charged back up the field from the back, also pitted early. The front trio of Vettel, Schumacher and Massa pitted later than most, but still maintained their places. Kobayashi however was jumped by Webber, and had Heidfeld close behind him before Button, on tyres that were up to temperature, quickly passed both of them.
Massa spun and hit a wall while trying to lap Narain Karthikeyan, damaging his front wing and thus handing third to Webber, who was quickly on Schumacher's rear wing and trying to find a way past. Button moved up to fourth from Kobayashi, Heidfeld and Petrov, whereas a frustrated Massa rejoined in 12th, out of the points. Just a lap later, Heidfeld ran into the back of Kobayashi at Turn 2, and broke his front wing which soon went under the car, sending Heidfeld's front wheels up in the air. Heidfeld avoided the wall and the barriers on the escape road but his race was over, and due to debris on the track caused by that, the safety car was called again, removing Vettel's ten-second lead.
The safety car departed with ten laps left, and Vettel was able to get a three second lead, but was unable to extend it any further, while a mistake by Kobayashi handed fifth to Petrov. On Lap 61, Maldonado spun off with a damaged front wing and his front suspension broke. Schumacher resisted strong pressure by Webber who tried repeatedly to pass him, with Button keeping a close eye on them. Webber did get ahead of Schumacher, but cut the final chicane and had to give the position back. He tried again, but only ended up cutting the chicane again, and this time he lost so much momentum that Button was able to pass him, and the Australian dropped two seconds back. Button quickly overtook Schumacher and set about closing down Vettel, reducing the gap to under a second with just one lap left. Webber meanwhile caught back up to Schumacher and had finally succeeded in passing him, with just three laps left, while, behind Petrov in fifth, Massa was staging a strong fightback, getting up to seventh. Di Resta crashed on the same lap, and retired. At the front, Vettel, even though Button was close behind, was looking comfortable until he made a mistake and hit some water off line at Turn 6, handing Button the lead. Button took the win, with Vettel second, and his Red Bull teammate Webber completing the podium. Schumacher had to settle for fourth, Petrov fifth, while Massa continued his recovery by overtaking Kobayashi on the line for sixth, with only four and a half hundredths of a second separating them. The Toro Rossos of Jaime Alguersuari, who started from the pit lane, and Sébastien Buemi were in the points in eighth and tenth, with Rubens Barrichello splitting them. Alguersuari's eighth-placed finish was the best of his career until he came in seventh at that year's Italian Grand Prix.
Classification
Edit
Qualifying
Edit
Template:Note – Jaime Alguersuari started from the pit lane.
Template:Note – Jérôme d'Ambrosio failed to set a lap time within the 107% standard in qualifying. The stewards ultimately allowed him to race, having considered that he was using a new chassis after an accident in Friday practice,[13] as well as the fact that he had set a time within 107% in Friday Practice 1.
Template:Note – Karthikeyan finished 14th but was given a post-race 20 second penalty for cutting the chicane and gaining an advantage.
Template:Note – Paul di Resta was classified for completing 90% of the race winner's distance.
Standings after the race
Edit
| | |
| --- | --- |
| Drivers' Championship standings | Constructors' Championship standings |
Note: Only the top five positions are included for both sets of standings.
References
Edit
Wikimedia Commons has media related to: [[Commons:Category: Category:2011 Canadian Grand Prix
2011 Canadian Grand Prix

]]
Ad blocker interference detected!
Wikia is a free-to-use site that makes money from advertising. We have a modified experience for viewers using ad blockers

Wikia is not accessible if you've made further modifications. Remove the custom ad blocker rule(s) and the page will load as expected.