2006 United States Grand Prix

Race details
Race 10 of 18 in the 2006 Formula One season

The Indianapolis circuit
Date

2 July 2006

Official name
XXXV Vodafone United States Grand Prix
Location
Indianapolis Motor Speedway
Indianapolis, Indiana
Course
Permanent racing facility
4.195 km (2.606 mi)</td></tr>
Distance
73 laps, 306.016 km (190.238 mi)</td></tr>
Weather
Sunny, hot
Pole position
Driver
Michael Schumacher
Ferrari
Time
1:10.832
Fastest lap
Driver
Michael Schumacher
Ferrari
Time
1:12.719 on lap 56
Podium
First
Michael Schumacher
Ferrari
Second
Felipe Massa
Ferrari
Third
Giancarlo Fisichella
Renault
The 2006 United States Grand Prix was a Formula One motor race held at the Indianapolis Motor Speedway in Indiana on 2 July 2006. The race, which was the tenth round of the 2006 Formula One season, was won by Ferrari driver Michael Schumacher.
As a consequence of the race, Michael Schumacher scored his third win of the season, ending championship rival Fernando Alonso's run of four consecutive wins and reducing the 2005 World Drivers' Champion's lead in the points standings to 19 over the German. Schumacher's Ferrari team-mate Felipe Massa made it a Ferrari one-two by finishing in second place as the Maranello-based team also reduced Renault's constructors points advantage to 26.
The race also marked the anniversary of the tyre controversy a year earlier, when 14 cars withdrew before the race began because of safety concerns about the supply of Michelin tyres provided to them – which had resulted in crashes during practice.
Qualifying
Edit
Michael Schumacher and Felipe Massa earned Ferrari a front row lockout, ahead of Giancarlo Fisichella and Rubens Barrichello. Jarno Trulli's car was still being repaired when cars were sent to parc fermé; because of that, Trulli had to start from the pit lane. Nico Rosberg was penalised for ignoring a signal during the qualification session, requiring him to get his car weighed at the FIA garage. The FIA cancelled all his qualifying times, and he started from 21st position. Toro Rosso's Vitantonio Liuzzi had the engine of his car changed, and had to start from 20th position on the grid.

The race started with two big accidents at the first corner, which eliminated 7 cars. At Turn 1, Mark Webber collided with Christian Klien, who then spun around and was taken out by Franck Montagny. In Turn 2, Juan Pablo Montoya nudged his team-mate Kimi Räikkönen into a spin. Montoya then clouted Jenson Button whose front right tyre got caught by BMW Sauber's Nick Heidfeld who was launched into a triple barrel roll; Montoya also clipped Scuderia Toro Rosso's Scott Speed in the incident. None of the drivers were injured. After that, the order stayed the same at the front, the only action being a battle at the back between David Coulthard, Nico Rosberg, and Vitantonio Liuzzi. Rosberg lost out and was the only finishing driver not to score in the race, with Liuzzi gaining Toro Rosso's first ever point. Montoya departed McLaren days after the race, announcing his move to NASCAR for the 2007 season for Earnhardt Ganassi Racing.[1]
Classification
Edit
Qualifying
Edit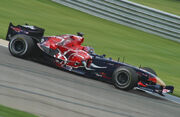 Standings after the race
Edit
Note, only the top five positions are included for both sets of standings.
| | |
| --- | --- |
| Drivers' Championship standings[3] | Constructors' Championship standings[3] |
References
Edit
External links
Edit
Wikimedia Commons has media related to: [[Commons:Category: Category:2006 United States Grand Prix
2006 United States Grand Prix

]]
Ad blocker interference detected!
Wikia is a free-to-use site that makes money from advertising. We have a modified experience for viewers using ad blockers

Wikia is not accessible if you've made further modifications. Remove the custom ad blocker rule(s) and the page will load as expected.