2006 Malaysian Grand Prix

Race details
Race 2 of 18 in the 2006 Formula One season

The Sepang Circuit
Date

March 19, 2006

Official name
VIII Petronas Malaysian Grand Prix
Location
Sepang International Circuit
Sepang, Selangor, Malaysia
Course
Permanent racing facility
5.54 km (3.44 mi)</td></tr>
Distance
56 laps, 310.408 km (192.878 mi)</td></tr>
Weather
Fine, Air Temp: 33°C, Wind Speed: 1.5 m/s, Humidity: 61%
Pole position
Driver
Giancarlo Fisichella
Renault
Time
1:33.840
Fastest lap
Driver
Fernando Alonso
Renault
Time
1:34.803 on lap 45
Podium
First
Giancarlo Fisichella
Renault
Second
Fernando Alonso
Renault
Third
Jenson Button
Honda
The 2006 Malaysian Grand Prix (formally the VIII Petronas Malaysian Grand Prix) was a Formula One motor race held at the Sepang International Circuit in Selangor, Malaysia on 19 March 2006. The race, contested over 56 laps, was the second round of the 2006 Formula One season and the eighth running of the Malaysian Grand Prix as a World Championship race. It was won by Renault driver Giancarlo Fisichella, who took the final of his three victories in Formula One, and scored his first points of the season. He had also started on pole position. His team-mate, Fernando Alonso, finished second to extend his lead in the drivers' championship standings to 7 points. Jenson Button took the first podium in Honda's three year return to the sport by finishing in third place.
Qualifying on Saturday saw the new rules being put to the test, as David Coulthard, Felipe Massa, Michael Schumacher, Rubens Barrichello and Ralf Schumacher were all forced to swap engines from the Bahrain GP and therefore lost 10 places on the starting grid after qualifying, despite many of them competing in later sessions (Massa actually changed his engine twice, causing him to lose 20 places). This meant some drivers, such as the Toro Rosso's of Scott Speed and Vitantonio Liuzzi were eliminated in the first session, but would have been spared elimination had those with engine penalties been eliminated at this point (although Ralf Schumacher's engine blew during the last session). Three cars with the Ferrari V8 suffered from engine problems during qualifying.
Qualifying
Edit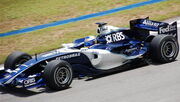 The first session gave no surprises, as the Super Aguri, Midland and Toro Rosso cars all went out, while the second session saw another set of poor performances from Rubens Barrichello and Jarno Trulli, while Massa and Coulthard also went out along with both the Sauber cars. In the final pole position session, Ralf Schumacher's engine blew, while Fernando Alonso could only manage 7th place after a problem with his fuel calculation meant he was carrying too much fuel during the session. Kimi Räikkönen was tipped as a favourite having qualified 6th, while Juan Pablo Montoya put himself on the third row alongside his teammate in 5th. The two big surprises of qualifying were Nico Rosberg and Mark Webber in their Williams. Rosberg posted the third fastest time, while Webber was moved up to 4th after Michael Schumacher's engine penalty dropped him to 14th. Jenson Button took provisional pole, but it was Giancarlo Fisichella who ended the session in 1st with his Renault, demoting Button to 2nd.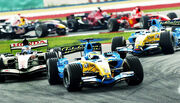 The race began with Rosberg and Webber being caught out by Alonso coming into the first corner, who managed to grab 3rd from his starting position. Fisichella and Button maintained their spots, but further back Räikkönen's day ended early having been hit by Christian Klien during the first lap. Klien's car was badly damaged, but the Red Bull mechanics repaired the car enough to send it back out, although he later retired due to a hydraulics problem. More problems followed for the better qualifiers, as Rosberg's engine blew on the 6th lap, while Webber also retired nine laps after his teammate. Further down the field, Massa and the Schumacher brothers made their way up the field throughout the day. The lead was only held by three people throughout the race, with Alonso's fuel problems actually giving him the advantage over Button, with Alonso managing to take second by staying out longer.
Several other cars retired during the race, with only 14 cars remaining at the end. Takuma Sato managed to finish another race in his Super Aguri. Ralf Schumacher managed to get his Toyota into 8th place, having started dead last. Schumacher threatened Jacques Villeneuve towards the end laps, but was not able to pass for 7th. The two Ferrari's were able to pull themselves into 5th and 6th place, but it was Massa who claimed the higher spot, beating Michael Schumacher despite pressure at the end. Juan Montoya was unspectacular once again, but another strong performance allowed him to reach 4th.
After the pit stops were completed, it was never doubted that Fisichella would win, and with Button slowing off the pace, content with third, it fell to Renault to pick up their first one-two finish as a constructor since the 1982 French Grand Prix, with the World Champion going clear at the top of the points table by seven points, despite only finishing second to Fisichella.
Even among the drivers who took engine penalties, a variety of strategies were attempted - Ralf Schumacher stopped 3 times during the Grand Prix while Felipe Massa stopped once.
Classification
Edit
Qualifying
Edit
From:[1]
Notes
From:[5]
Standings after the race
Edit
Wikimedia Commons has media related to: [[Commons:Category: Category:2006 Malaysian Grand Prix
2006 Malaysian Grand Prix

]]

Note, only the top five positions are included for both sets of standings.
| | |
| --- | --- |
| Drivers' Championship standings[5] | Constructors' Championship standings[5] |
References
Edit
External links
Edit
Ad blocker interference detected!
Wikia is a free-to-use site that makes money from advertising. We have a modified experience for viewers using ad blockers

Wikia is not accessible if you've made further modifications. Remove the custom ad blocker rule(s) and the page will load as expected.