2006 British Grand Prix

Race details
Race 8 of 18 in the 2006 Formula One season

The Silverstone Circuit modified in 2000
Date

11 June 2006

Official name
2006 Formula 1 Foster's British Grand Prix[1]
Location
Silverstone Circuit, Silverstone, Northamptonshire and Buckinghamshire, England
Course
Permanent Road Facility
5.141 km (3.194 mi)</td></tr>
Distance
60 laps, 308.355 km (191.603 mi)</td></tr>
Weather
Fine
Pole position
Driver
Fernando Alonso
Renault
Time
1:20.253
Fastest lap
Driver
Fernando Alonso
Renault
Time
1:21.599 on lap 21
Podium
First
Fernando Alonso
Renault
Second
Michael Schumacher
Ferrari
Third
Kimi Räikkönen
McLaren-Mercedes
The 2006 British Grand Prix was a Formula One motor race held on June 11, 2006 at the Silverstone Circuit in Northamptonshire, England. The race, contested over 60 laps, was the eighth round of the 2006 Formula One season.
Ticket sales were rather slow; the race was scheduled far earlier than normal, and local Jenson Button had a rather poor season the previous year. When the race sold out in 2005, Button had been coming off one of his best years. Also, the weekend clashed with England's first World Cup game.
Button had a very poor qualifying run and started the race 19th; after a blinding first few laps, Jenson's engine caught fire on lap 9, due to an oil leak that also caused the car to spin out of the race. Scotsman David Coulthard also had a poor race suffering from understeer.
Fernando Alonso became the first Spanish driver and the youngest driver (24 years, 10 months, 13 days) to get the Hat Trick (pole position, winning and fastest lap in same Grand Prix). He fell one lap short of clinching the Grand Chelem (he would finally achieve this at the 2010 Singapore Grand Prix).
This race also featured the first ever pit stop to have involved a woman, during a Midland F1 pit stop for Tiago Monteiro, ITV-F1's then pit-lane reporter Louise Goodman was the left rear tyre changer.
The only other noticeable incident of the race happened on the very first lap, when Scott Speed pushed Ralf Schumacher's Toyota right in the path of Mark Webber at the entrance on the Hangar Straight. Schumacher and Webber retired on the spot, while Speed crawled to the pits and drove straight into the garage at the end of lap 1.
Classification
Edit
Qualifying
Edit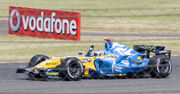 From:[2]
From:[3]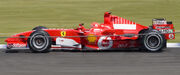 Standings after the race
Edit
Note, only the top five positions are included for both sets of standings.
| | |
| --- | --- |
| Drivers' Championship standings[3] | Constructors' Championship standings[3] |
References
Edit
External links
Edit
Wikimedia Commons has media related to: [[Commons:Category: Category:2006 British Grand Prix
2006 British Grand Prix

]]
Race Reports
Edit
Ad blocker interference detected!
Wikia is a free-to-use site that makes money from advertising. We have a modified experience for viewers using ad blockers

Wikia is not accessible if you've made further modifications. Remove the custom ad blocker rule(s) and the page will load as expected.