2004 United States Grand Prix

Race details
Race 9 of 18 in the 2004 Formula One season


Date

June 20, 2004

Official name
XXXIII Foster's United States Grand Prix
Location
Indianapolis Motor Speedway
Indianapolis, Indiana
Course
Permanent racing facility
4.195 km (2.606 mi)</td></tr>
Distance
73 laps, 306.016 km (190.238 mi)</td></tr>
Weather
Fine
Pole position
Driver
Rubens Barrichello
Ferrari
Time
1:10.223
Fastest lap
Driver
Rubens Barrichello
Ferrari
Time
1:10.399 on lap 7
Podium
First
Michael Schumacher
Ferrari
Second
Rubens Barrichello
Ferrari
Third
Takuma Sato
BAR-Honda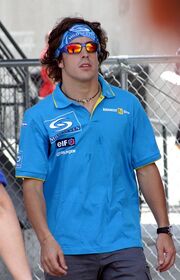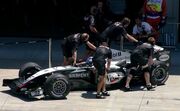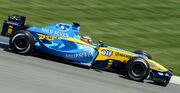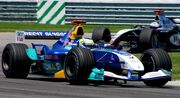 The 2004 United States Grand Prix was a Formula One race held on June 20, 2004 at the Indianapolis Motor Speedway in Indianapolis, Indiana.
Rubens Barrichello started from pole from team-mate Michael Schumacher after setting a time of 1:10:223.
As the formation lap started, Juan Pablo Montoya's BMW Williams failed to start. Running to the pit lane, he was able to start in a spare car. Montoya ran most of the race and was on track for a points finish but was eventually black flagged for changing his car too late. There was a pile-up at the start of the race in turn 1, which caused Christian Klien, Felipe Massa, Giorgio Pantano, and Gianmaria Bruni to retire from the race. The safety car was deployed and pulled in on lap six.[1]
On lap seven Fernando Alonso, in a Michelin-tyred Renault, crashed out from third place at the end of the main straight after his right rear tyre deflated.
On lap nine, the left rear tyre on Ralf Schumacher's Michelin-tyred Williams failed, pitching his car backward into the concrete wall at speeds of up to 180 mph (290 km/h). Schumacher remained in his car on the track for nearly two minutes before the medical car arrived, and was determined to have suffered a fractured spine. Michael Schumacher admitted after the race that he considered retiring from the race to see to his brother. The safety car was again deployed to clear up the wreckage left by the Williams car and so that the medical teams could get to Ralf. The lead Ferrari of Michael Schumacher pitted and rejoined in the lead.
The two Ferrari drivers led the entire race. Michael Schumacher finished first, Barrichello placed second and Takuma Sato collected the only podium finish of his Formula One career when he placed third. He became only the second Japanese driver to achieve a podium finish and the last until Kamui Kobayashi finished third at the 2012 Japanese Grand Prix. The race also saw the first ever point scored by a Hungarian driver in Formula One, with Zsolt Baumgartner finishing eighth.
Classification
Edit
Qualifying
Edit
Standings after the race
Edit
| | |
| --- | --- |
| Drivers' Championship standings | Constructors' Championship standings |
Note: Only the top five positions are included for both sets of standings.
References
Edit
Wikimedia Commons has media related to: [[Commons:Category: Category:2004 United States Grand Prix
2004 United States Grand Prix

]]