2002 Austrian Grand Prix

Race details
Race 6 of 17 in the 2002 Formula One season


Date

May 12, 2002

Official name
XXVI Grand A1 Prix of Austria
Location
A1-Ring, Spielberg, Austria
Course
Permanent racing facility
4.326 km (2.684 mi)</td></tr>
Distance
71 laps, 307.146 km (190.564 mi)</td></tr>
Weather
Clear, Air Temp: 20°C
Pole position
Driver
Rubens Barrichello
Ferrari
Time
1:08.082
Fastest lap
Driver
Michael Schumacher
Ferrari
Time
1:09.298 on lap 68
Podium
First
Michael Schumacher
Ferrari
Second
Rubens Barrichello
Ferrari
Third
Juan Pablo Montoya
Williams-BMW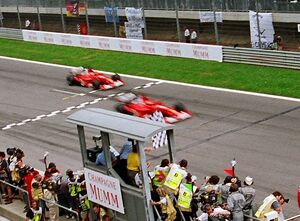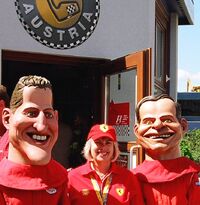 The 2002 Austrian Grand Prix was a Formula One race held on May 12, 2002 at the A1-Ring. It was the sixth round of the 2002 Formula One season. This race is known for its infamous "staged finish", where race leader Rubens Barrichello, who was running first, was ordered to allow Ferrari teammate Michael Schumacher to overtake him under "team orders" and win the Grand Prix. Ferrari wanted their number one driver Schumacher to win the race and collect the maximum points for the Drivers' Championship.[1] Barrichello let him pass on the last lap at the finish line which greatly upset the spectators. Barrichello had also yielded second place to Schumacher at the line in the previous year's event.
On the podium, in response to the jeers of the crowd, Schumacher insisted that Barrichello take the top spot on the podium. Schumacher took the trophy for first place from the Austrian chancellor and gave it to Barrichello, who then took the second place trophy. Barrichello, Schumacher and Ferrari were fined one million U.S. dollars for the failure to observe Article 170 of the Formula One Sporting Regulations concerning the podium ceremony.[2] As a result of this, and another incident at the United States Grand Prix, the FIA declared new rules against "team orders" artificially affecting race results.
The race also featured a huge accident between Takuma Sato and Nick Heidfeld. Heidfeld lost control over his car due to a rear suspension failure on the way into a corner, causing it to spin across the infield and back across the circuit, spinning backwards into the side of Sato's car. Sato suffered minor injuries but got stuck in the wreckage and it took several minutes for the race track stewards to cut him out from the vehicle.
Qualifying
Edit
Rubens Barrichello grabbed his second pole position of the season in spectacular style by beating last year's pole time by a massive 1.5 seconds and beating his team-mate Michael Schumacher by over 0.6 seconds, which was unheard of. Ralf Schumacher proved to the world that Williams is still close to Ferrari after managing to split the two Ferraris and Juan Pablo Montoya managed 4th but over a second off the pace after having a bad session and having to jump into the spare car and go through scrutineering. Nick Heidfeld in the improved Sauber managed to qualify in 5th ahead of Kimi Räikkönen in the disappointing McLaren. This marks first time in the 2002 season that Kimi doesn't qualify in 5th. Young Brazilian Felipe Massa didn't disappoint either managing 7th ahead of David Coulthard. Olivier Panis and an impressive Mika Salo make the top 10. The Arrows pair of Frentzen and Bernoldi are in 11th and 12th ahead of the first Renault with Button on 13th but his team-mate only managed 16th. McNish was 14th with the rest of the field made up of the 3 remaining Honda runners, the Jaguars and the Minardis.
The session started very slowly with Mark Webber going out after 10 minutes. Montoya followed him a couple of minutes later but pitted just after one lap. A few drivers set lap time and by the 24th minute, Ralf Schumacher had taken provisional Pole but with a relatively slow time. A couple of minutes later Raikkonen then Coulthard top the timesheets. Just as most of the cars were on the track for their first runs, Trulli spins due to an engine failure spilling oil on the track. Several cars go off harmlessly and the session is stopped as the marshals clean the track.
After the restart, Ralf Schumacher took provisional pole back while Montoya once again aborts his run returning to the pits without setting a time. Moments later Barrichello takes provisional pole as Michael hits traffic and goes second.
With 10 minutes to go, Ralf Schumacher managed to split the Ferraris on his 3rd run. Montoya manages 7th.
5 minutes to go and both Michael and Rubens go out again with Michael in the spare and appearing frustrated, Barrichello goes off on his first flying lap trying to avoid Salo but on his second flyer improves his time at the top again. Michael meanwhile doesn't improve and settles for 3rd. In the final minute Ralf tries to grab pole but fails while Montoya manages to improve into 4th after racing with time when he was called for scrutineering.
Interestingly, Michael Schumacher, Heinz Harald Frentzen and Jacques Villeneuve and Alex Yoong set times slower than their best times this morning. The first 3 were Bridgestone runners, possibly indicating a degraded performance under warmer conditions.
The field was too close as drivers fourth to eighteen have a gap of only 0.94 seconds
In the battle of the team-mates, Webber continues to outqualify his team-mate by a massive margin of 0.948 seconds this time. Ralf Schumacher qualified superbly while Montoya just managed to get 4th and 0.754 seconds behind while Michael Schumacher struggled with his car and ended up 0.622 seconds behind his team-mate. Enrique Bernoldi continues to prove he is becoming a worthy contender being just 0.052 seconds behind his more experienced team-mate Heinz Harald Frentzen while Felipe Massa was just 0.099 seconds behind his team-mate Nick Heidfeld.
Ralf Schumacher, Nick Heidfeld, Felipe Massa, Olivier Panis, Enrique Bernoldi and Allan McNish had their best qualifying positions so far in the season. Rubens Barrichello and Mika Salo equalled their best positions. While Michael Schumacher, Kimi Raikkonen, David Coulthard, Jenson Button, Jarno Trulli and Jacques Villeneuve had their worst qualifying positions so far in season. Giancarlo Fisichella, Mark Webber and Alex Yoong equalled their worst positions.[3]
The race started with Rubens Barrichello retaining the lead with Michael Schumacher taking second. Nick Heidfeld had a great start from 5th taking both Ralf Schumacher and Juan Pablo Montoya however a mistake saw him give back those 2 places. Raikkonen had a good start but started dropping back and eventually retired.
Race order after the first 5 laps ; Rubens Barrichello, Michael Schumacher, Ralf Schumacher, Juan Pablo Montoya, Nick Heidfeld and David Coulthard.
The 2 Ferraris started building a gap of over a second per lap over Ralf Schumacher indicating they were running a light fuel load. Jacques Villeneuve, who started from 17th was storming up the field also indicating a light fuel load.
By lap 15, Barrichello lapped Alex Yoong and the gap between the 2 Ferraris and Ralf Schumacher was over 24 seconds. The top 6 remained the same.
On lap 23, Olivier Panis suffered an engine failure and his car locked up and became stranded on the track forcing a safety car situation. Both Rubens Barrichello and Michael Schumacher pitted at the same time. Rubens rejoined in the lead while Michael rejoined behind Ralf Schumacher. Jacques Villeneuve, who was up in 7th also pitted.
As the safety car went into the pits and the race got underway again, Nick Heidfeld appeared to have locked up and went into a spin collecting Takuma Sato who was being lapped. Heidfeld's Sauber hit the side of Sato's car. Heidfeld was visibly shaken from the accident while Sato had to receive medical attention. He was later flown to a nearby hospital for further checks but the word on him is that he has no serious injuries. The safety car was deployed as a result and all the remaining runners made their pit stops with the exception of the two Williams.
Race order before the restart on lap 35 ; Rubens Barrichello, Ralf Schumacher, Michael Schumacher, Juan Pablo Montoya, David Coulthard and Giancarlo Fisichella. Jacques Villeneuve was given a drive through penalty for causing an incident with Heinz Harald Frentzen at the start of the race.
On lap 47, Ralf Schumacher pits from 2nd for his only pit stop, Michael Schumacher moves up into second. A few laps later Juan Pablo Montoya pits and as he was on the harder compound Michelin tyre he only stops from fuel. He rejoins in front of his team-mate.
With just 10 laps to go, the two Ferraris pit, Barrichello first and then Michael. They rejoin in first and second with Montoya in 3rd ahead of Ralf Schumacher.
2 laps from the end and Rubens Barrichello starts slowing down as the team inform him that he needs to give way to Michael. On the final corner Barrichello yields and Michael Schumacher wins the race. Montoya finishes third ahead of his team-mate Ralf Schumacher while Giancarlo Fisichella manages to finish 5th ahead of David Coulthard. Jenson Button, Mika Salo, Allan McNish, Jacques Villeneuve (who retired on the final lap), Heinz Harald Frentzen and Mark Webber were classified as finishers.
Michael Schumacher and Juan Pablo Montoya are the only 2 drivers to have scored points in every race so far in the season. Jenson Button has also been classified as a finisher in every race. On the other hand Enrique Bernoldi and Olivier Panis have yet to finish a race in the season.[4]
Qualifying
Edit
Classification
Edit
Jacques Villeneuve received a drive-through penalty for causing an accident while Mark Webber received the same penalty for ignoring blue flags.[7]
Standings after the race
Edit
| | |
| --- | --- |
| Drivers' Championship standings | Constructors' Championship standings |
Note: Only the top five positions are included for both sets of standings.
References
Edit
External links
Edit
Ad blocker interference detected!
Wikia is a free-to-use site that makes money from advertising. We have a modified experience for viewers using ad blockers

Wikia is not accessible if you've made further modifications. Remove the custom ad blocker rule(s) and the page will load as expected.