2001 Malaysian Grand Prix

Race details
Race 2 of 17 in the 2001 Formula One season


Date
Sunday, 18 March 2001
Official name
X Petronas Malaysian Grand Prix
Location
Sepang International Circuit
Sepang, Selangor, Malaysia
Course
Permanent racing facility
5.543 km (3.376 mi)</td></tr>
Distance
55 laps, 304.865 km (185.680 mi)</td></tr>

<tr> <td>Scheduled Distance</td><td colspan="2">56 laps, 310.408 km (189.056 mi)</td></tr>

Weather
Early Monsoon, Dry Later, Air Temp at start: 32°C
Pole position
Driver
Michael Schumacher
Ferrari
Time
1:35.220
Fastest lap
Driver
Mika Häkkinen
McLaren-Mercedes
Time
1:40.962 on lap 48
Podium
First
Michael Schumacher
Ferrari
Second
Rubens Barrichello
Ferrari
Third
David Coulthard
McLaren-Mercedes
The 2001 Malaysian Grand Prix was a Formula One motor race held at the Sepang International Circuit in Sepang, Malaysia on Sunday, 18 March 2001 at 14:30 MST (UTC+08:00). The race, contested over 55 laps, was won by Ferrari's Michael Schumacher. His teammate, Rubens Barrichello, finished second whilst McLaren driver, David Coulthard, completed the podium by finishing in third place.
Race report
Edit
The race began at 14:30 local time, Heinz-Harald Frentzen drastically slowed during the parade lap due to a computer-hardware error. It was thought he would fail to make the start; however, Giancarlo Fisichella bought the Jordan driver some time when he lined up on the incorrect side of the grid, and failed to take his correct grid point after attempting to cross the grid. This caused an aborted start, allowing both the Jordan and Benetton to take the restart.
That was not the end of the dramatic start however: Juan Pablo Montoya's Williams then broke down and refused to fire. The Colombian was forced to take to the T-Car and start from the pitlane.
Michael Schumacher had a great start from pole position to maintain a large gap after the first corner. Ferrari teammate Rubens Barrichello did not have such a start and had slipped from second to fourth by the approach to the first corner. Barrichello managed to overtake Jarno Trulli on the outside, but immediately after tapped the back end of Ralf Schumacher's Williams. This forced Ralf into a spin which put him from second to the back of the pack, after he had started fourth. The McLaren of David Coulthard had a great start, going from eighth to fourth within the first two corners. Kimi Räikkönen had a driveshaft failure which left him stuck on the grid.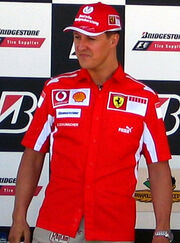 On the third lap, rain began to fall and both Ferraris ran wide across the gravel allowing Trulli to take the lead. This may have been caused by the oil leak from Olivier Panis' BAR which retired on lap 1. Schumacher ran further across the gravel than Barrichello which meant he fell behind his teammate. Thus, the order became on lap 3: Trulli, Coulthard, Barrichello, Frentzen, Verstappen, Villeneuve, Schumacher and Häkkinen. The safety car came out on lap 4 to cope with the downpour which had suddenly occurred. Leader Trulli went off the track and slipped down the order soon after this. Barrichello pitted and endured a one minute twelve second pit-stop, with Schumacher queueing behind. After the chaos of the safety car period and all the pit-stops which it included, the order had changed to: Coulthard, Frentzen, Verstappen, Häkkinen, Trulli, Alesi, Fisichella, and Ralf, when the race restarted on lap 10.
The two Ferraris had dropped to tenth and eleventh, and Barrichello was soon overtaken by Schumacher. Frentzen lost places to Verstappen, Häkkinen, and Ralf to fall to fifth within the next few laps. It was not long before the two Ferraris were on the back of Frentzen, and Schumacher pulled an overtaking move around the outside. Schumacher was going quickly and overtook Häkkinen, again around the outside, of the final corner. Barrichello soon overtook both Frentzen and Häkkinen too. Schumacher then overtook Verstappen and Coulthard to take the lead on lap 15 as the track began to dry. Barrichello elevated himself to second place as well - the performance of the Ferraris suggesting that they were on a different tyre compound. Many drivers then pitted, but Schumacher stayed out, stretching his lead to more than a minute over Barrichello and lapping at three seconds faster a lap on occasion.
Ferrari recorded a 1-2 finish with Schumacher winning and Barrichello finishing 23.6 seconds down the road. David Coulthard completed the podium by finishing in third place. Ralf overtook Häkkinen and Verstappen to take fifth place before the pair started a battle of their own which allowed Frentzen to overtake then both at once at the final corner; Verstappen just managed to edge back in front on the straight. Verstappen would however, slip down to seventh, when Häkkinen took the final point position of sixth place. Häkkinen was eventually sixth, only narrowly beaten by Ralf (fifth) and Frentzen (fourth).
Classification
Edit
Qualifying
Edit
Standings after the race
Edit
| | |
| --- | --- |
| Drivers' Championship standings | Constructors' Championship standings |
Note: Only the top five positions are included for both sets of standings.
Juan Pablo Montoya did not start the race from the grid.
This race was run under wet/dry conditions.
Before all the cars even started the race, Kimi Räikkönen's Sauber was already stuck. It was originally said that Kimi had transmission problems but later confirmed as a drive shaft problem.
Arrows driver Jos Verstappen ran a high of 2nd position in the race, despite starting the race from 18th position.
External links
Edit
Ad blocker interference detected!
Wikia is a free-to-use site that makes money from advertising. We have a modified experience for viewers using ad blockers

Wikia is not accessible if you've made further modifications. Remove the custom ad blocker rule(s) and the page will load as expected.