2000 United States Grand Prix

Race details
Race 15 of 17 in the 2000 Formula One season


Date

September 24, 2000

Official name
XXIX SAP United States Grand Prix
Location
Indianapolis Motor Speedway
Indianapolis, Indiana
Course
Permanent racing facility
4.195 km (2.606 mi)</td></tr>
Distance
73 laps, 306.235 km (190.238 mi)</td></tr>
Weather
Cloudy, drying, Air Temp: 13°C (55.4°F)
Pole position
Driver
Michael Schumacher
Ferrari
Time
1:14.266
Fastest lap
Driver
David Coulthard
McLaren-Mercedes
Time
1:14.711 on lap 40
Podium
First
Michael Schumacher
Ferrari
Second
Rubens Barrichello
Ferrari
Third
Heinz-Harald Frentzen
Jordan-Mugen-Honda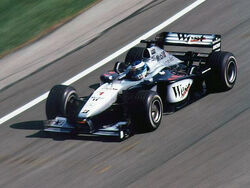 The 2000 United States Grand Prix was a Formula One race held on September 24, 2000 at Indianapolis Motor Speedway in Indianapolis, Indiana. This was the largest crowd to ever attend a Formula 1 race, eclipsing the mark of 210,000 set at the Australian Grand Prix (Adelaide) in 1995.
After a nine-year absence, the United States Grand Prix returned in front of the largest Formula One crowd ever (250,000+) as Michael Schumacher won from the pole at the Indianapolis Motor Speedway. Engaged in a World Championship battle with Mika Häkkinen and McLaren for the third straight year, Schumacher and Ferrari reclaimed the lead in both the Driver's and Constructor's Championships with two races to go in the season, as Schumacher's teammate Rubens Barrichello placed second ahead of the Jordan of Heinz-Harald Frentzen.
The massive crowd contained veteran F1 fans who had seen drivers like Jim Clark, Jackie Stewart and Ayrton Senna race and win in the United States, as well as curious NASCAR, CART and IRL fans attending their first GP. Many long-time Indianapolis 500 attendees cheered Jacques Villeneuve's return to the place that skyrocketed his reputation, and with grandstand access included in a General Admission ticket on Friday and Saturday, fans were able to move around the massive circuit and view the new track from every angle. On Friday morning, a line of cars formed at the pit exit to begin the first practice session, and the sight and sound of the first F1 car (Johnny Herbert's Jaguar) sweeping through the traditional Turn One of the oval (Turn 13 of the GP course)– backwards!– gave notice that this was a historic weekend in both American and international racing.
In warm and sunny conditions, Friday's first practice times were not quite as fast as computer simulations had predicted for the new track, as only Schumacher and the two McLarens of Mika Häkkinen and David Coulthard were under 1:15. Overnight rain produced a damp surface for the start of morning practice, but as the track dried, the times began to match those from Friday's sessions and several drivers improved. Most of the teams had begun their search for an optimal compromise setup by running very little downforce to take advantage of the long front straight, where drivers were on full throttle for an unprecedented 24 seconds. Gradually, however, they found that this strategy cost them more time in the tight infield section than it saved on the straight.
At the start of qualifying, threatening skies caused everyone to take to the circuit immediately and Schumacher posted the quickest lap of the weekend at 1:14.492 just six minutes into the session. With 30 minutes to go and the track still dry, Alexander Wurz's Benetton was the only car on the track, but Schumacher returned and quickly improved his pole-sitting time to 1:14.266 with 25 minutes still remaining. Mika Häkkinen then bumped Barrichello off the front row, but with nineteen minutes left, had already used all his laps. When Coulthard was ready for a last effort, Häkkinen led him around the final banked turn in order to slingshot his teammate down the straight, as the Ferrari drivers had done. Coulthard missed taking the pole by .127 seconds, but joined Schumacher on the front row, ahead of Häkkinen.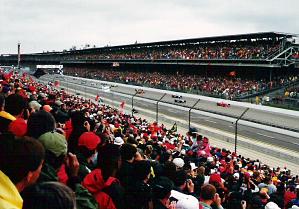 The long-predicted rain appeared for about an hour on Sunday morning and as the cars formed on the grid, there were effectively two different tracks– the nearly dry oval portion and an infield still wet enough to cause all but Herbert to start the race with wet tires. As the lights went out, the crowd of over 250,000 waited to see who would lead into the first corner. With surprising ease, it was Coulthard's McLaren...but anyone who could see the cars leave the grid knew immediately that the Scot had moved much too early and was sure to be penalized.
Realizing he would indeed have to serve a stop-and-go (along with Giancarlo Fisichella) caused Coulthard to begin slowing his pace ahead of Schumacher to allow Häkkinen to close the gap to the Ferrari. Schumacher, who narrowly avoided a false start himself, took the lead from Coulthard down the main straight and around the outside of Turn One– touching wheels briefly– on Lap 7. Häkkinen went through as well, in Turn Four, then immediately pitted for dry tires.
When the Finn rejoined the race, he was fifth behind the Minardi of Gastón Mazzacane, who was still on wet tires. For five laps, with the oval section dry but the infield still quite wet, Häkkinen was unable to pass Mazzacane. Finally on Lap 14, the Minardi pitted and Häkkinen immediately began charging. He reduced his best time by nearly five seconds, going almost two and a half seconds faster than Schumacher, and Ferrari quickly called the German in for dry tires.
When he returned, Schumacher was ten seconds in the lead, but as the track continued to dry, Häkkinen was closing in dramatic fashion. He set the race's fastest lap eight times in ten laps, as the gap narrowed to 4.1 seconds. Then suddenly, on Lap 25, the McLaren slowed instead of accelerating onto the oval in Turn Twelve as flames curled from the left rear of the engine cover. Häkkinen coasted back to the pit lane with a Mercedes rotisserie in the back of Car Number One, and the race was all but decided. Mercedes-Benz Motorsport chief Norbert Haug later attributed the failure to a problem in the pneumatic valve system, caused simply by a bad batch of parts.
While Barrichello and Coulthard fought their way back into the points from fifteenth and sixteenth, exchanging fastest laps between each other, Schumacher led lap after lap, followed by brother Ralf's Williams, then Frentzen's Jordan and finally Barrichello. With just over four laps to go, Schumacher hooked his right front wheel over the curb and spun onto the wet grass. He returned to the track in the lead and radioed his crew, "Don't worry, I am awake now". He remained 12.118 seconds ahead of Barrichello.
The win was the 42nd of Schumacher's career– putting him alone in second place all-time– and the first in the US for Ferrari since 1979 at Watkins Glen when Gilles Villeneuve and World Champion Jody Scheckter also finished first and second. It also helped Schumacher finally gain the upper hand in his three-year struggle with Häkkinen as the win put him in a position to clinch his third Driver's title, the first for a Ferrari driver since Scheckter, at the next race in Japan.
Frentzen held on to third for Jordan from Jacques Villeneuve's BAR. With seven laps to go, Villeneuve dived inside Frentzen at the end of the main straight and passed the apex ahead of the Jordan but slid wide and across the grass. He recovered to take fourth, ahead of Coulthard and his BAR teammate Ricardo Zonta. "Today was a lot of fun," Villeneuve said, "and we were really quick in the race, but it's frustrating to get so close to a podium. I made a couple of mistakes, but it probably wouldn't have made a difference in the end. I wasn't really close enough to pass Frentzen, but I just decided there was no sand trap and no tire wall, so I'd take a chance. I lost track of where the corner was, and as soon as I touched the brakes I knew I was not going to be able to stop."
Classification
Edit
David Coulthard and Giancarlo Fisichella were each awarded a 10 second stop and go penalty for a jumped start.
David Coulthard's fifth place was not enough to keep him in title contention, and he dropped out with two rounds remaining, leaving just Mika Häkkinen and Michael Schumacher to fight for the title.
This was the first F1 race in the United States since 1991.
This was also the first non-oval event ever held at Indianapolis Motor Speedway.
Villeneuve narrowly missed reaching the podium at Indianapolis for the third time in three tries; he finished second in his first Indy 500 in 1994, and won the race the following year.
Jaguar drivers Eddie Irvine and Johnny Herbert held an unusual test session on Tuesday before the race in New York City. With ear plugs distributed by the team, a huge Manhattan crowd saw Irvine in an F1 test chassis and Herbert in a Yellow Checker Taxi cab "race" down Broadway. The race pit crew reported that the taxi won.
On Sunday morning, it was announced that both Ferrari and McLaren had convinced the FIA to move the grid positions back one row to avoid wheelspin on the famous "Yard of Bricks" at the line.
The checkered flag at the finish was waved by Speedway President Tony George, who had realized his dream of bringing Formula One back to America at his family's track.
In the UK this was the first grand prix not to be shown live on ITV1 since they acquired the rights in 1997, and instead was shown on ITV2.
Standings after the race
Edit
Bold text indicates who still has a theoretical chance of becoming World Champion.
| | |
| --- | --- |
| Drivers' Championship standings | Constructors' Championship standings |
Note: Only the top five positions are included for both sets of standings.
References
Edit
Bob Judd (December, 2000). "SAP United States Grand Prix: Back home in Indiana". Road & Track, 104-107.
Ad blocker interference detected!
Wikia is a free-to-use site that makes money from advertising. We have a modified experience for viewers using ad blockers

Wikia is not accessible if you've made further modifications. Remove the custom ad blocker rule(s) and the page will load as expected.